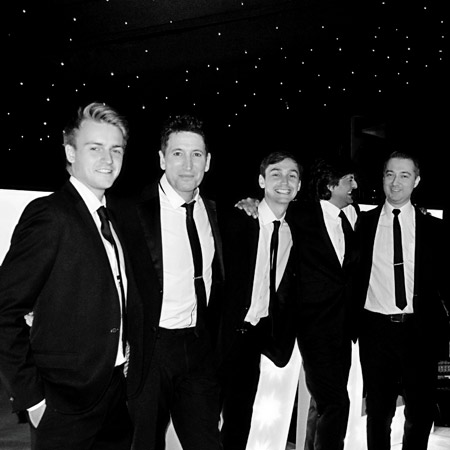 Kevin's Jazz Swing Band
Cover all era's of jazz from 1920s - 1960s, bossa nova and Latin
Can also add a sprinkling of jazz-ed up swinging re-works of pop classics
A huge range of line ups to choose from, to appropriately suit your event
Provides superb over-dinner entertainment, wow-factor and broad appeal
Based in the UK and available to perform at events worldwide
Kevin's Jazz Swing Band VIDEOS
Kevin's Jazz Swing Band PHOTOS
Kevin is a multi-talented London born jazz singer/songwriter/bandleader with a charismatic stage presence, lauded by jazz critics for his innate sense of swing. His musicians are also world-class (described by Jazzwise Magazine, UK's premier jazz authority as "the cream of UK straight-ahead jazz musicians) and are carefully selected for their experience working in the event/wedding/function sector at every level. Kevin has enjoyed sell-out shows with his band at world-famous Ronnie Scott's, recently released a jazz album to critical acclaim, featured on Jazz FM in a live one hour concert, sings at some of UK's best jazz clubs, appeared at several jazz festivals and headlined in Athens in concert with pioneers of Greek jazz scene, The Dimitris Kalantzis Quartet. He's also entertained royalty twice and booked by many celebrities & sports stars for important private gigs.
Clients can choose from a huge repertoire from the American Songbook: everything from hot 20s jazz Charleston style, via 30s favourites, 40s swing and jive, 50s/60s swing and rat pack, right up to modern swing a la Michael Buble and modern cool jazz. By also adding a sprinkling of jazzed up swinging re-works of pop classics too, Kevin's Jazz Swing Band makes the perfect group for weddings, parties or corporate events. For vintage-themes there's the option for the band to change clothes to suit a different era in 2nd set, eg, 1st set 1920s jazz age, changing clothes to wear rat pack style for 2nd set. Kevin's Jazz Swing Band is particularly impressive just with piano and upright bass backing for more intimate events: perfect for wedding breakfasts, drinks receptions, garden parties and soirees – an appropriately entertaining finishing touch that will stay long in the memory of your guests.
Ain't she sweet
Ain't that a kick in the head
All I do is dream of you
All of me
All or nothing at all
All the way
Anything goes
Autumn in New York
Bare Necessities
Beyond the sea
Birth of the blues
Blue moon
Brazil
Buena Sera
Bye bye blackbird
Call me irresponsible
Can't take my eyes off you
Cheek to cheek
Chicago
Come dance with me
Come fly with me
Cruella de Vile (Louis Prima jump-jive style)
Cry me a river
Enjoy yourself (It's later than you think)
Everybody loves somebody sometime
Everything
Feeling good
Fever
Fly me to the moon
For once in my life
Girl from Ipanema
Have you met Miss Jones
I don't get around much anymore
I get a kick out of you
I left my heart in San Francisco
I only have eyes for you
Is you is or is you ain't my baby
It don't mean a thing (If it ain't got that swing)
It had better be tonight
It had to be you
I've got the world on a string
I've got you under my skin
I wanna be like you (oh oo bee doo)
I won't dance
Just in time
King of the road
Kissing a fool
Lets face the music and dance
Lets fall in love
Let there be love
A fine romance
Love me or leave me
Luck be a lady
Mack the knife
Mambo Italiano
Me & Mrs. Jones
Minnie the Moocher
Moondance
Mr. Bojangles
My Baby just cares for me
My kinda town (Chicago)
New York New York
Nice and Easy
Night and day
Old devil moon
Papa Loves Mambo
Perhaps Perhaps Perhaps
Puttin on the Ritz
Quando Quando Quando
Rags to riches
Route 66
Something stupid
Steppin out with my baby
Strangers in the night
Summertime
Summerwind
Sway
S'wonderful
That old black magic
That old devil moon
That's amore
That's life
The best is yet to come
The Charleston
The good life
The lady is a tramp
The look of love
The most beautiful girl in the world
The tender trap
The way you look tonight
They can't take that away from me
Things
Too marvelous for words
Unforgettable
Volare
When I fall in love
When you're smiling
Witchcraft
You make me feel so young
You're nobody till somebody loves you
You've got a friend in me
& many more...
L.O.V.E.
Radio 1 DJ/ TV Presenter Matt Edmondson
President Obama's Ambassador to London Louis B. Susman Liverpool & England
Jamie Oliver Fabulous Feasts
ky Sports TV & ex-Harlequins Rugby star Mike Wedderburn
Monkey Kingdom Productions (E4 Made In Chelsea)
NBC Universal
Louis Vuitton
The Royal Horticultural Society
Dunhill International The Law Society
Ronnie Scotts Jazz Club
The Club @ The Ivy
And Many More
BBC TV 'Dragon' Peter Jones
Actress Samantha (Janus) Womack
footballer Glen Johnson
Yorkshire & England Cricketer Anthony McGrath S
Swan Lake 3D Live film premiere
AEG(owners of The O2 Reel Art Press
Hermes-Paris
The Body Shop Foundation
Reed Exhibitions
The Metropolitan Police
Birdland Jazz Club New York
The Kabbalah Centre
HRH Princess Margarita of Romania Trust
" We are so pleased we had you at our wedding...LEGEND! "

Samantha Womack (TV Star)
" A thoroughbred jazz singer who can even swing a superior rock song "

Jazz Press Critic, Stephen Graham (MARLBANK)
" I just thought Kevin & band were amazing and created a great atmosphere last night. "

Mosimann's Party Services, Caterers By Royal Appointment
" A brilliant sound by singer and band alike "

Latest 7 Magazine
" Kevin was so good – we would usually need to book a much bigger band to create the kind of impact Kevin created with just a small band "

C. Hines, Events Manager, Madame Tussauds
" We thank you from our hearts for a spectacular evening. Your voice is 'flawless' and unique with such a beautiful quality, effortless. The jazz musicians were also excellent – our wedding guests were equally captivated. "

Mr. & Mrs. G. Thistle, Hampshire
" You & the band were fantastic "

NBC Universal
" Wow "

Pete Jones, BBC Dragons Den star