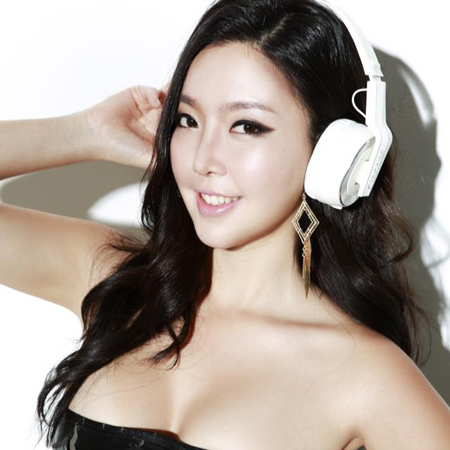 Korean Female DJ
One of finest EDM female DJs in Asia
Perfect party music DJ with live MCing
Excellent performer well known on the party scene
Club DJ is also an entrepreneur, model and producer
Based in South Korea and available internationally
Highly respected and appreciated all over Asia, our Korean female DJ is the perfect addition to any event to really get the party going. If you're want party music and you don't want any old club DJ then our luscious Model DJ and female MC is your perfect choice. Guaranteed to have the audience bouncing up and down on the dance floor, your event will be a sure fire hit.
Our fabulous and versatile Korean Female DJ has a very strong following in Asia and regularly performs everywhere from Hong Kong to Sweden playing at some of the most respected venues on the scene. Bringing a lively atmosphere to any event she is great entertainer who really knows her crowd. Focusing her DJ sets on mainstream EDM she is also a fantastic female MC who sings whilst DJing. Labelled as the only Korean female DJ who can play various genres from techno to house other than mainstream EDM, she has mass appeal and will make your event one to remember.
Having made a name for herself through her music and DJ sets she is also recognised for performing her gigs in lingerie or slightly kinky outfits. Just take a look for yourself in the photos above. If the client doesn't specify she will chose her own outfit, however , she is open to suggestions and customisations as well as adhering to cultural demands.
This talented and fabulous all-rounder is not only a wicked female MC and club DJ but a model, producer, entrepreneur and the CEO of her own public relations company.
The excellent club DJ will bring the party vibes and guarantee to fill the dance floor. You can book the model DJ for parties, private functions, events, clubs and special appearances all over the world. Don't wait, contact our team of entertainment specialists today and book her for you event.
Big Bird Festival
Carpe Dlem
F.Club
Grand Hyatt
Octagon
The Monkey (Finland)
Bungalow
Ella
Gothenburg Festival
Modo Ultra Club
TAG Heuer
World DJ Festival 2015