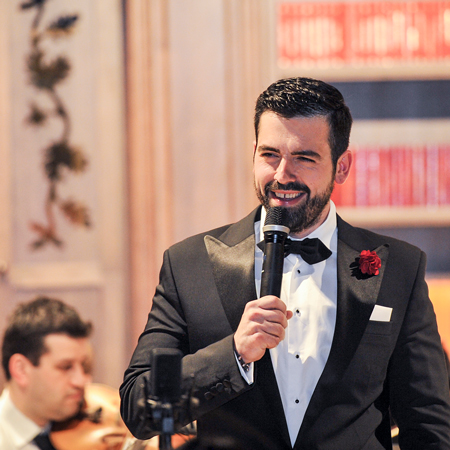 Macedonia Showtime Singer
Superbly stylish international singer with the calm charisma of legends such as Frank Sinatra and Dean Martin
Tailorable repertoire of Italian-Neapolitan, French, Spanish songs and Big Band crooner classics
Excellent singing shows backed by jazz groups, full orchestras or single musicians
Excellent after-dinner singer or entertainment for concert halls and corporate events
Based in Macedonia and available throughout Europe or internationally
Macedonia Showtime Singer VIDEOS
Macedonia Showtime Singer PHOTOS
This very talented and very stylish singer has been impressing audiences in his home country of Macedonia. His elaborate singing shows with large backing bands have been a huge success giving him the opportunity to become a brilliant after-dinner singer for special soirées and corporate clients.  
Stylish international vocalist reminiscent of iconic singers 
Our Macedonia Showtime Singer manages to effortlessly combine the stylish swagger and vocal delivery of our generation's most celebrated crooners such as Frank Sinatra, Dean Martin and Michael Bublé whilst also being able to belt out songs with the power of a fine opera singer. His charismatic and superbly elegant stage presence is highlighted by his impeccable suited appearance and powerful live shows without even breaking a sweat. 
Sophisticated singing shows for multi-national audiences 
As the perfect choice of theatre, concert hall or after-dinner singer, the stylish international vocalist always delivers a superbly-cool and highly impactful singing show. Regardless of whether our Macedonia Showtime Singer is backed by a small jazz trio or a full orchestra, he always dominates the stage and takes a proud centre-spot. His excellent delivery of songs in English, Italian, French and Spanish make him very admirable. 
Stylish Singer with a repertoire to suit many tastes
The very classy international vocalist can accommodate the tastes of different audiences and demographics of different event types. 
The stylish singer is able to curate a bespoke singing show for his clients thanks to his carefully crafted repertoire. From a choice of the most popular Italian-Neapolitan songs, French chanson and Spanish songs to crooner and big band classics of Frank Sinatra, Dean Martin, Tom Jones and Michael Bublé, this after-dinner singer can impress anyone. 
If you'd like to book this stylish singer form events in Macedonia, Europe or anywhere around the world, get in touch with our multi-lingual team at Scarlett Entertainment. 
Dean Martin – Blue Moon
Dean Martin – Every body love somebody
Dean Martin – Gentle on my mind
Dean Martin – Sway
Elvis Presley – Cant help falling in love
Elvis Presley – Fever
Engelbert Humperdinck – Tell me Quando Quando Quando
Frank Sinatra – All the way
Frank Sinatra – Aqua the beber
Frank Sinatra – Fly me to the moon
Frank Sinatra – For once in my life
Frank Sinatra – Girl from Ipanema
Frank Sinatra – My Way
Frank Sinatra – New York New York
Frank Sinatra – Strangers in the night
Frank Sinatra – That's life
Mambo Kings – Beautiful Maria of my soul
Michael Bubble – Feeling good
Michael Bubble – Moondance
Michael Bubble – You'll never find another love like mine
Nat King Cole – L.O.V.E.
Tom Jones – Delilah
Tom Jones – She's A Lady
American / English Repertoire:
Agustin Lara (Spanish song) – Granada
Andrea Bocelli – Champagne
Andrea Bocelli – I found my love in Portofino
Andrea Bocelli – La Vie En Rose
Andrea Bocelli – Les feuilles Mortes
Andrea Bocelli – Nelle tue mani
Bruno Cherubini – Chitarra Romana
Carlos Eleta Almaran – Historia de un Amor
Cesare Andrea – Parlami d'amore
Consuelo Velazquez (Spanish song) Besame Mucho
De Curtis – Torna a suriento
Domenico Modugno – Volare
Giovanni Capurro (Neapolitan song) – O sole mio
Joe Dassin – E si tu n existais pas
Lucio Dalla – Caruso
Mario Frangulis - Sometimes I dream (inspired by the aria E Lucevan le stelle from  the 3th act of the Opera Tosca)
Nino Rotta – Parla Piu Piano
Renato Rascel- Arrividerci Roma
Salvatore Cardillo (Neapolitan Song) – Core Ngrato
Mediterranean Repertoire: