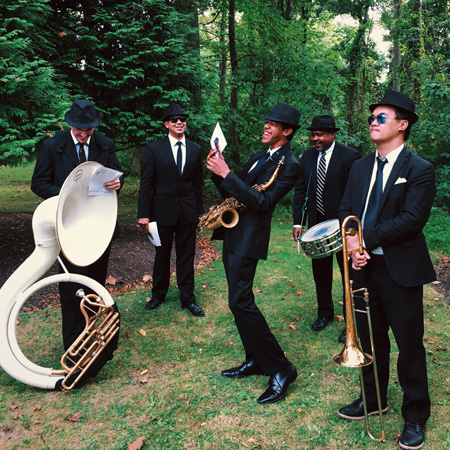 New York Brass Band
The New York Brass Band perform familiar tunes as well as original compositions, arranged in their own unique, urban and energetic style
Comprised of a trumpet, sax, trombone, sousaphone, and drums, the strolling band perform completely acoustically, suitable for any size venue
Featured on ABC's Good Morning America as well as in publications by the New York Times, NY Daily News, Queens Tribune and more
The New York Brass Band can perform in a stationary position or they have the ability to stroll through your event space
Based in New York USA and available for worldwide events
New York Brass Band VIDEOS
New York Brass Band PHOTOS
Influenced by the multiculturalism of NYC, our New York Brass Band plays a diverse mix of brass-based music. The band's repertoire includes familiar tunes as well as original compositions, arranged in their own unique, urban and energetic style. 
From New Orleans Jazz, Swing, Funk, Oompah, Latin, Gospel, Klezmer, music from movies and more, they will tailor their setlists and style of playing to suit your event.  
Highly Accomplished Marching Brass Musicians
This strolling band is comprised of well-established marching brass musicians, each hand-picked member is a conservatory-trained Jazz musician, all veterans of Broadway, Frankie Valli, Count Basie, and Glenn Miller touring bands. 
When not performing with the New York Jazz Band these marching brass musicians are performing in Broadway shows, teaching at the New York Jazz Academy, or performing and recording as freelancers throughout NYC.
Renowned New York Brass Ensemble 
This highly accomplished brass ensemble has been chosen by the US State Department to officially represent American culture on multiple international tours and they were the opening act for the New York Philharmonic Orchestra. 
The strolling band has appeared on many national TV networks featuring on shows such as ABC's Good Morning America and NY1. They have also been covered in publications by the New York Times, NY Daily News, Queens Tribune and more. 
Versatile Strolling Band
The mobility of the New York Brass Band makes them highly versatile, they can perform in a stationary position or they also have the ability to stroll through your event space or lead a parade, no one will forget seeing and hearing the high-energy spectacle of our walkabout musical act! 
Available as a duo up to a five-piece, the brass ensemble is comprised of a trumpet, saxophone, trombone, sousaphone, and drums, they perform completely acoustically and are suitable for any size venue. The perfect walkabout musical act for parades, private parties, concerts, weddings, festivals and more! 
To find out how to book the New York Brass Band for your event, contact our team of Entertainment Specialists.
American Broadcasting Company (ABC Television)
Bike New York Inc.
Bronx Columbus Day Parade
Cannonball Productions
Columbia University
Current Media
DoSomething.org
Entertainment Solutions Inc.
Franklin Early Childhood Center PTA
GrowNYC
Hilarity for Charity
Hunter's Point Park Conservancy
Jewish Board of Family & Children's Services Inc.
LIC Flea & Food
MM.LaFleur
Mother Ad Agency
NYC Parks and Recreation
National Broadcasting Company (NBC Universal)
New York City Economic Development Corporation
New York University
Northern Woodside Coalition
Planting Fields Foundation
Radegast Beer Hall
Re-Create Queens
Sunnyside Shines Business Improvement District
Titan Advisors
Two Roads Brewing Company LLC
What?If!
34th Street Partnership Inc.
Bierstrasse Harlem
Boston Beer Company
Bryant Park Corporation
Circle Line Sightseeing Cruises
Compass Group USA
DUMBO Business Improvement District
East Coast Music & Entertainment
Firstborn
Glassnote Records
Henry Street Settlement
Horizon Media
IMG Live
Kings Beer Hall
MAP Inc.
Morris Park Community Association
Myriad Supply
Nassau Country Club
New Jersey Korean American Chamber of Commerce Inc.
New York Philharmonic
Nitehawk Cinemas
Paulaner USA
QuintEvents
Radegerber Brewing Company
Somerville Concerts
The Cleaver Co.
Town of Pennington NJ
US Embassy-Caracas
Adirondack Sport and Marine Inc.