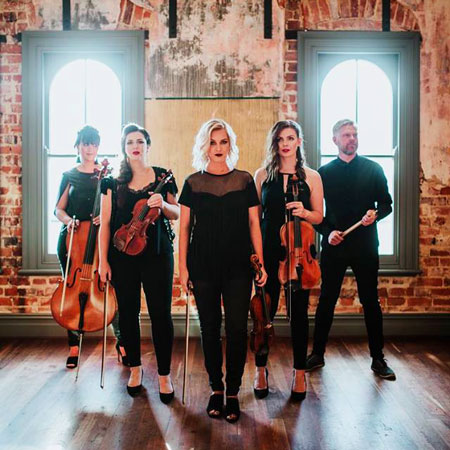 Perth String Quartet and Drums
Incredible fusion of classical training and contemporary music with strings and drums
String quartet and drummer perform unique renditions of pop and rock
Vast repertoire spans from Amy Winehouse and the Beatles to Metallica and Lady Gaga
Book for everything from luxurious dinner parties to corporate brand launches
Based Perth and available throughout Australia and internationally
Perth String Quartet and Drums VIDEOS
Perth String Quartet and Drums PHOTOS
The fantastic Perth String Quartet and Drums is an exciting live music concept that brings all the glamour of a string quartet but brought to life with the rhythm and percussions of a drummer. The Perth string quartet manages to restrain their enchanting instrumental renditions of popular songs but the addition of a drummer gives a far greater live music experience and a real alternate take on string ensembles and live bands. 
The Perth string quartet is a stylish, classically trained string ensemble that features some of Perth's most up and coming musicians. Their backgrounds orientate around performing the likes of Bach, Beethoven and Mozart but they put their talents into this exciting live music concept and put their talents into covering more contemporary music. 
Our Perth String Quartet and Drums has a vast repertoire of completely original arrangements and reinterpretations of artists spanning from Amy Winehouse to Metallica and the Beatles to Lady Gaga. They are constantly adding new songs to their repertoire in order to provide clients with the freshest most current live music options. The string ensemble also has a selection of jazz and laid-back easy listening tunes for more intimate events. 
The Perth string ensemble's live performances cross the line between classical and contemporary music together which is very appealing for a diverse range of audiences and highly suited to a range of events. From luxurious dinner parties to corporate brand launches, this alternative Perth string ensemble always makes a huge impact. 
Contact us at Scarlett Entertainment if you are interested in booking the Perth String Quartet and Drums for your event. 
A Hard Days Night- The Beatles
A Sky Full of Stars - Coldplay
A Thousand Years- Christina Perri
A Whole New World- From the movie 'Aladdin'
Adventure of a Lifetime - Coldplay
Africa- Toto
Ain't No Mountain High Enough- Marvin Gaye
Ain't Nobody- Chaka Khan
Alejandro- Lady GaGa
All I Want Is You- U2
All My Loving- The Beatles
All Of My Love- Led Zeppelin
All The Small Things- Blink 182
All of Me- John Legend
All of You - Cole Porter
All you Need Is Love- The Beatles
Another One Bites The Dust- Queen
Applause- Lady GaGa
Are You Gonna Go My Way- Lenny Kravtiz
At Last - Etta James
Baby One More Time- Britney Spears
Back in Black- ACDC
Back to Black- Amy Winehouse
Bad Romance- Lady Gaga
Beautiful Day- U2
Begin the Beguine - Cole Porter
Bennie and the Jets- Elton John
Better Together- Jack Johnson
Bittersweet Symphony- The Verve
Blue Moon - Arr. Matt Turner
Bohemian Rhapsody- Queen
Break On Through - The Doors
Breakaway- Avril Lavigne
Bring me to life- Evanescene
Bye Bye Blackbird - Arr. Bud Caputo
Call Me Maybe- Carly Rae Jepsen
Call Me- Blondie
Can You Feel The Love Tonight- Elton John
Can't Feel My Face- The Weeknd
Can't Take My Eyes off of you- Frankie Valli
Careless Whisper- George Michael
Chandelier- Sia
Changes- David Bowie
Chasing Cars- Snow Patrol
Clocks- Coldplay
Come On Eileen - Dexy's Midnight Runners
Come Together- John Lennon/McCartney
Crazy- Gnarls Barkley
Creep- Radiohead
Cry Me A River- Arthur Hamilton
Dance Dance- Fall Out Boy
Do I Wanna Know? - Arctic Monkeys
Dog Days Are Over - Florence & the Machine
Don't Stop Me Now- Queen
Eleanor Rigby- The Beatles
Enjoy the silence- Depeche Mode
Everlong- Foo Fighters
Every Breath You Take- Sting
Every Time We Say Goodbye - Cole Porter
Everything- Michael Buble
Fall At Your Feet- Crowded House
Feel- Robbie Wiliiams
Feeling Good- Muse/Michael Buble
Fields of Gold- Sting
Fix You- Coldplay
Fly Me to The Moon - Frank Sinatra
Follow You Follow Me- Genesis
From This Moment On- Shania Twain
Frozen- Madonna
Gabriel's Oboe (from the soundtrack 'The Mission'- Ennio Morriconne)
Get Lucky- Daft Punk
Gimme! Gimme! Gimme!- ABBA
God Only Knows (slow version)- The Beach Boys
Gold On The Ceiling- The Black Keys
Good Riddance (time of your life)- Greenday
Hallelujah- Leonard Cohen
Halo- Beyonce
Happy- Pharrell Williams
Heartbeats- Jose Gonzalez
Hey Jude- The Beatles
Hey Now - London Grammar
Hey Soul Sister- Train
Hey You- Pink Floyd
Ho Hey- The Lumineers
Holocene- Bon Iver
Hoppipolla- Sigur Ros
Horses- Daryl Braithwaite
Hot Stuff- Donna Summer
Hotel California- The Eagles
How Deep is Your Love- The Bee Gees
How High The Moon - Arr. Thom Sharp
Hysteria- Muse
I Believe in a Thing Called Love - The Darkness
I Don't Wanna Miss A Thing- Aerosmith
I Feel It Coming- The Weeknd ft. Daft Punk
I Get a Kick Out of You - Cole Porter
I Gotta Feeling- The Black Eyed Peas
I Want to hold your hand- The Beatles
I'll Stand By You- The Pretenders
I'm Yours- Jason Maraz
If I Ain't Got You- Alicia Keys
If I were a boy- Beyonce
Imagine- John Lennon/McCartney
Is This Love?- Bob Marley
It Had To Be You - Arr. Martin Norgaard
It's Only a Paper Moon - Arr. Bert Ligon
Just The Way You Are- Bruno Mars
Just- Radiohead
Karma Police- Radiohead
​Kashmir - Led Zeppelin
Kids- MGMT
Killer Queen- Queen
Killing In The Name Of- Rage Against The Machine
Killing Me Softly- The Fugees
1234 - Feist
Let It Be- The Beatles
Let It Go (from the movie 'Frozen'- Kristen and Robert Lopez)
Like A Rolling Stone- Boby Dylan
Livin On A Prayer- Bon Jovi
Love Is All Around- Wet Wet Wet
Love Is a Loosing Game - Amy Winehouse
Love Song- The Cure
Love Story- Taylor Swift
Mamma Mia- ABBA
Master of Puppets- Metallica
Medley- Daft Punk
Message In A Bottle- The Police
Moon River- Henry Mancini
Morning Has Broken- Cat Stevens
Moves Like Jagger- Maroon 5 feat. Christina Aguilera
Never Let me Go- Florence and the Machine
Never Tear Us Apart- INXS
New Slang- The Shins
Nights In White Satin- The Moody Blues
Nightswimming- R.E.M
Nothing Else Matters- Metallica
Numb- Linkin Park
One Love- Bob Marley
Over The Rainbow (Hawaiian version)- Israel Kamakawiwo'ole
Over The Rainbow- Harold Arlen
Paradise- Coldplay
Paranoid Android- Radiohead
Pirates Of The Caribbean- Klaus Badelt
Radioactive- Imagine Dragons
Rather Be- Clean Bandit ft Jess Glyne
Rebellion Lies- Arcarde Fire
Resistance- Muse
Riders on the Storm- The Doors
Rock With You- Michael Jackson
Rolling In the Deep- Adele
Roxanne- The Police/Sting
Royals- Lorde
Runnin (lose it all)- Beyonce
Satisfaction- The Rolling Stones
September- Earth Wind Fire
Skinny Love- Bon Iver
Skyfall- Adele
Smells Like Teen Spirit- Nirvana
Smooth Criminal- Michael Jackson
Somebody I Used To Know- Gotye
Somebody To Love- Freddie Mercury
Somebody Told Me- The Killers
Somewhere Only We Know- Keane
Stairway To Heaven- Led Zepellin
Stand By Me- Ben E.King
Starlight- Muse
Summer of 69- Bryan Adams
Summertime Sadness- Lana Del Ray
Supreme- Robbie Williams
Sweet Child of Mine- Guns n Roses
Sweet Disposition - The Temper Trap
Sweet Dreams - The Eurythmics
Sweet Home Alabama- Lynrd Skynyrd
Take Five - Arr. Bert Ligon
Take Me Out- Franz Ferdinand
Take Me To Church- Hozier
Take On Me - A-Ha
Tears In Heaven- Eric Clapton
The Best Of Queen- Queen
The Call- Regina Spektor
The Quiet Things No One Ever Knows- Brand New
The Scientist- Coldplay
The Show Must Go On- Queen
There is a Light that Never Goes out- The Smiths
Thinking Out Loud- Ed Sheeran
This Love- Maroon 5
Thriller- Michael Jackson
Thunderstruck- ACDC
Time After Time- Cyndi Lauper
Time To Pretend- MGMT
Tiny Dancer- Elton John
Titanium- David Guetta ft Sia
Toxic- Britney Spears
Up Where We Belong- Joe Cocker
Use Somebody- Kings Of Leon
Viva La Vida- Coldplay
Wake Me Up When September Ends- Greenday
We Are the Champions- Queen
We Found Love- Rhianna ft. Calvin Harris
We Go Together- From 'Grease'
What A Wonderful World- Loui Armstrong
Who Am I - Counting Crows
With Or Without You- U2
Without You- David Guetta
Wonderful Tonight- Eric Clapton
Wonderwall- Oasis
Wouldn't It Be Nice- The Beach Boys
Wrecking Ball- Miley Cyrus
Yellow- Coldplay
Yesterday- The Beatles
You're Beautiful- James Blunt
Zombie- The Cranberries
La Vie En Rose- Edith Piaf
IDEA ARTICLES RELATED TO Perth String Quartet and Drums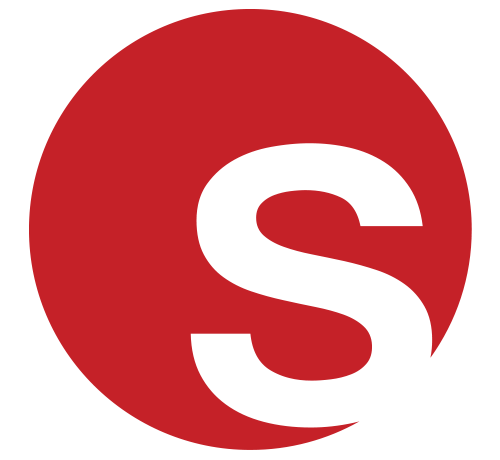 Top UK Bands & Live Music To Book This Summer
Top UK Bands & Live Music Ideas for Summer Events
Grace Henley
|
11/05/2021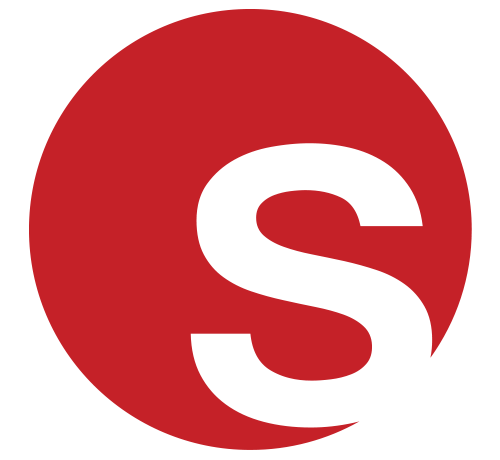 How to Surprise Millennials and Draw Social Influencers to Your Event Using Experiences
How to Surprise Millennials and Draw Social Influencers to Your Event Using Experiences
Grace Henley
|
12/10/2018