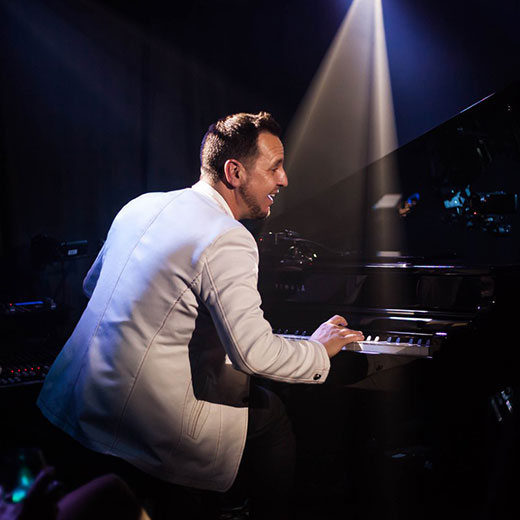 Piano Virtuoso Sebastian
World-class piano performance will leave you on the edge of your seat
Plays a range of songs from classical masterpieces to modern renditions
5ft baby grand prop piano can be fitted with a smoke machine
Can also perform with a full ensemble group, or with other solo musicians
Based in California & available to perform at events worldwide
Piano Virtuoso Sebastian PHOTOS
Sebastian's world-class piano performances will blow audiences away. His shows are a mixture of outstanding musicianship and incredible special effects. His electrifying musical performances will appeal to audiences of all musical tastes and nationalities, as he plays newly arranged renditions of classics, combining elements on classical, rock, pop, and Latin music to create a genre entirely of his own. His repertoire features favourites such as: Phantom of the Opera, Chariots of Fire, My Heart Will Go On, Love Story and Chiquitita, Canon in D, Moonlight Sonata, The 5th Symphony and Fur Elise.
Performing as solo pianist, he can play either a black line piano or his very own 5ft baby gran piano prop, which is mounted onto a custom hydraulic stand which allows him to perform while standing up. A fog machine can also be inserting into the piano shell, adding an amazing additional visual element to the show and giving the illusion of a smok'n piano! With this hihg-end show he has sold out audiences at venues such as the Downey Theatre, OC Pavilion and The Brixton Theatre to name a few, and opened for artists like the Motels with Martha Davis, Berlin, Missing Persons, Ambrosia, Dramarama and Greatwhite.
Sebastian brings a unique and refreshing element to the genre, his charismatic stage presence and dynamic performances will engage audiences across the globe. Available to perform as a soloist or alongside a full ensemble group, he will provide explosive, jaw-dropping entertainment for your event.