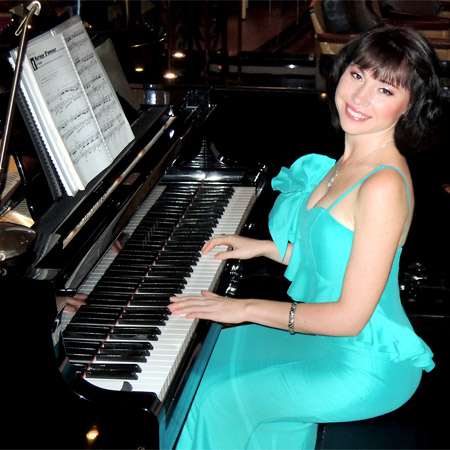 Professional Pianist Ukraine
Gifted piano player will bring the perfect soundtrack to your special occasion
Fantastic live music entertainment covering a wide range of genres and styles
Talented instrumentalist is professional musician who tailors her act to suit
Ideal for weddings, parties, drinks receptions, corporate functions, ceremonies, etc.
Pianist available to hire for events worldwide
Professional Pianist Ukraine VIDEOS
Professional Pianist Ukraine PHOTOS
Add instant sophistication and style to your event with our fantastic pianist, an accomplished instrumentalist who will delight guests with her beautiful playing. Providing exceptional live music entertainment that will expertly set the tone for your special occasion. Our professional musician effortlessly creates the perfect atmosphere that can be enjoyed by everyone through her extensive and eclectic repertoire. A truly gifted piano player who will help make your event unforgettable, this talented performer is bound to prove a popular addition to your occasion.
Able to cater for a range of events and tastes, our versatile pianist strives to deliver musical distinction is every performance, and will enchant attendees at your function as she supplies delicate background music. Tailoring her act to exactly suit the occasion, this professional musician is certain to provide you with a charming ambience for your celebrations as she demonstrates her natural flair for the piano, playing just the right music to match your requirements.
A skilled instrumentalist who is well versed in a variety of genres and styles, our piano player can offer an impressive range of music to create the perfect setlist for your event. Sure to have universal appeal as she delivers wonderful renditions of everything from classical pieces to jazz standards, evergreens to film scores, and world music through to modern day hits, this sensational musician offers something for everyone.
Bringing an enjoyable and relaxing feel to every occasion, our pianist is ideal for weddings, cocktail receptions, corporate events, private parties, ceremonies, conferences and more, and is available to book for events throughout Ukraine.
Popular with both private and corporate events, piano players are a great entertainment option. As global specialists, here at Scarlett Entertainment we can provide such acts to perform at occasions all over the world, as well as countless other solo musicians and ensembles and plenty more besides.
For more information on the live music entertainment we can supply for your event, contact our co-ordinators today.
Bach - Air In D Major
Bach - Aria
Bach - Jesus Bleibet Meine Fleude
Bach - Prelude In C Major
Bach Preludio In C-Mole
Bach-Canon In D
Bach-Theme From Solfeggietto
Beethoven - A Song Of Joy
Beethoven - Fur Elise
Beethoven - Sonata No14 - Moonlight
Beethoven-Theme From The Fifth Symphony 2nd Movement
Beethoven-Theme From The Pathetique Sonata
Bizet-Themes From Carmen
Boccherini Luigi - Minuet
Borodin-Theme From Polovtsian Dances
Brahms - Wiegenlied
Can Can
Chaicovski - Swan Lake
Chaicovski - Waltz
Chopin - Nocturne Opus 9 No.2
Chopin - Etude E Durr
Chopin - Nocturne Cis-Moll
Chopin - Nocturne Op72 No1
Chopin - Prelude In E Minor
Chopin - Waltz Op 69 No1 No2
Chopin - Waltz Op 64 No1
Debussy - Reverie
Faure-Pavane
Grieg-Morning
Lascia Chio Pianga
Liszt-Liebestraum
Mendelssohn-Wedding March
Mozart - Theme From Piano Concert No21
Mozart - Theme From Simphony No40
Mozart-Theme From Symphony 40 1st Movement
On Wings Of Song
Quiero Ser Tu Sombra-Vals Venezolano
Rubinstein - Wenn Du Allein Bist
Saint Saens - The Swan
Schubert - Ave Maria
Schubert - Serenade
Schuman - Reveries
Schumann-Traumerei
Smetana - Vitava
Strauss - Waltzes
Tchaikovsky-Theme From Concerto 1 1st Movement
Tchaikovsky-Valtz From Swan Lake
Verdi-La Donna E Mobile
Jazz Blues Bossa
All The Things You Are
Aqua De Beber
Blue Moon
Blues For Bessie
Caravan
Don't Get Around Much Any More
Dream A Little Dream Of Me
Estate
Feel Like Makin' Love
Fly Me To The Moon
Georgia On My Mind
Hello Dolly
How Hie The Moon
I'll Never Smile Again Until I Smile At You
I'll Remember April
In A Sentimental Mood
In The Mood
Laura
Man I Love
Masquerade
Melody From Thapsody In Blue-Gershwin
Misty
Nightshift
Onlyou
Paris Bounce
Peace
Quiet Nights Of Quiet Stars
Satin Doll
Slinghly Out Of Tune
Smile
So Nice
Solitude
Some Day My Prince Will Come
Some Day My Prince Will Come
Sophisticated Lady
Star Dust
Summertime
Sunny
Sweet Georgia Broun
Take A Train
Tea For Two
The Ballad Of Bonnie And Clyde
The Girl From Ipanema
The Shadow Of Your Smile
Tin Roof Blues
Tribute To Meade Lux - Lewis
Why Don't You Do Right
Evergreens
Amapola
Angel Eyes
As I Love You
As Long As You Need Me
As Time Goes By
Autumn Leaves
Beautiful Dreamer
Besame Mucho
Can't Help Falling In Love With You
Charade
Cry Me A River
Daydream
Days Of Wine And Roses
Don't Cry For Me Argentina
Don't Worry Be Happy
Embraceable You
Emmanuelle
Eternaly
Fascination
Feelings
Fly Me To The Moon
For Once In My Life
Green Leaves
Happy Together
Harlem Nocturne
I Love You Because
I Only Want To Be With You
I Say A Little Prayer
I Want You I Need You I Love You
In The Misty Moonlight
It's Impossible
I've Got The World On A String
La Donna E Mobile
La Vie En Rose
Lara's Theme From "Doctor Zhivago"
Laura
Listen To Your Heart
Love Is Blue
Love Me Tender
Love Story
Memory
Misty
Mona Lisa
Moon River
Moonlight Serenade
Murmures
My Way
New York New York
Over The Rainbow
Que Sera Sera
Santa Lucia
Slightly Out Of Tune - Bossa Nova
Smile
Smoke Gets In Your Eyes
Something There
Somewhere
Spanish Eyes
Speak Softly Love
Stardust
Strangers In The Night
Summertime
The Girl From Ipanema - Bossa Nova
The Shadow Of Your Smile
The Summer Knows
Things
This Is My Song
This Masquerade
Traumerei
Valentine
What A Wonderful World
When You Smile
When You're Smiling
You Are The Sunshine Of My Life
1950s – Present Day
100 Years
A Toi
A Whole New World
A Woman In Love
Abba - I Have A Dream
Abba - Thank You For The Music
Abrazame
All I Have Is To Dream
All Of Me
All The Man That I Need
And I Love Her
Angels
Annie's Song
Apologize
Arrivederci Roma
Be With You
Beauty And The Beast
Because I Love You
Big Big World
Blue Eyes
Bohemian Rhapsody
Camarade
Can You Feel The Love Tonight
Cant Help Falling In Love
Chanson D'amour
Come In From The Rain
Comme Ils Disent
Confessa
Dancing Queen
Demain N'existe Pas
Do You Remember
Don't Know Much
Dust In The Wind
Earth Song
Endless Dreams
Endless Love
Enrique Iglesias-Hero
Esli B Ne Bilo Tebya
Eternity
Evergreen
Everything I Do I Do It For You
Everytime You Go Away
Felicita
Fields Of Gold
Fly On The Wings Of Love
Fragile
From Souvenirs To Souvenirs
Girl
Goodbye My Love Goodbye
Greensleeves
Have A Told You Lately
Have You Ever Really Loved A Woman?
Have You Never Been Mellow
Heal The World
Hello
Hello-Adele
Hey Jude
Honesty
Hotel California
How Can We Be Lovers
How Could An Angel Break My Heart
How Do You Keep The Music Playing
I Don't Want To Miss A Thing
I Feel Good
I Just Call To Say I Love You
I Surrender
I Will Always Love You
If We Hold On Together
I'll Be Loving You Forever
I'm Still Loving You
Imagine
Italiano
Je Suis Malade
Je T'aime
Julia
Just Once
Just The Way You Are
Killing Me Softly
La Boheme
La Vie En Rose
Let It Be
Listen To Your Heart
Longfellow Serenade
Looking For Love
L'orologio
Love Is
Love Of My Life
Luna-Park
Classical Music
Margherita
Mariah Carey-Hero
Maybe I Maybe You
Mi Va
Michale
Missing You
My All
My Heart Belongs To Me
My Way
Natalie
Nobody Loves Me Like You Do
Nothing Gonna Change My Love For You
Now And Forever
O Sole Mio
Ob La Di Ob La Da
Oh! Darling
Our Language Of Love
Padam Padam
Parole Parole
Pue Que Poui
Put Your Head On My Shoulder
Right Here Waiting For You
Right Time Of The Night
Roses Of Picardy
Russian Roulet
Sacrifice
Sad Eyes
Salut
Save The Best For The Last
Send In The Clowns
Serenata
Shape Of My Heart
Show Me The Meaning Of Being Lonely
Soleded
Soli
Stand By Me
Stop!
Strangers In Paradise
Strret Of London
Summer Nights
Take A Bow
Take My Breath Away
Tears Of Heaven
Tell Him
That's The Way It Is
That's What Friends Are For
The Color Of The Night
The Greatest Love Of All
The Lady In Red
The Next Time I Fall
The Power Of Love
The Sweetest Days
The Way You Look Tonight
The Wind Beneath My Wings
The World We Knew
Think Of Me
This One's For You
Time To Say Goodbye
Truly
Un Po' Artista Un Po'no
Unbreak My Heart
Vecgnaya Lubov
Vivo Per Lei
Volare
We Are The World
What Kind Of Full I Am
When The Smoke Is Going Down
When You Believe
Why
Wind Of Change
Without You
Woman
Woman In Love
Wonderful Tonight
Yesterday
Yesterday Once More
You Are My Everything
You Are My Lady
You Are So Beautiful
You Are Still The One
You Are The Inspiration
You Give Good Love
You Needed Me
You Smile
You Were Meant For Me
You'll Be In My Heart
You'll See
Your Song
You're Still The One
Romantic/Instrumental Piano
27 Of May
A Tousand Winds
All Myself To You
Alone
Alouette
And I Love You So
Andrea
Ballade Pour Adeline
Berceuse
Bittersweet
Brian's Song
Chaconne
Childhood Remembered
Corazon De Nino
Couleur Tendresse
Dream
First Of May
Forever In Love
Friends
Going Home
Golubka
Guantanamera
Happy Ever After
Havana
Historia De Un Amour
Hymne A De L'amour
I
I Like Chopin
I Miis You Even When I Sleep
I'm Always Chaising Rainbown
In The Morning Light
Inintended
Innocence
Jardin Secret
Kiss The Rain
La Cumparsita
La Fiute Du Temps
La Reve
La Tendresse
La Vraie Musiqie De L'amour
Lady Di
L'amour Exile
Le Premier Chagrin D'elsa
Le Vent Le Cri
Les Chagrins Oublies
Les Premiers Sourires De Vanessa
Les Regrets
Les Roses De Sable
Les Shamps Flers
L'espoir
Lettre A Ma Mere
L'heure Bleue
L'ocean
Long Ago
Long Long Journey
Love
Love Is Blue
Love Me
Love Story
Love Theme From Flashdance
Lyphard Melody
Maktub The Law Of The Desert
Mariage D'amour
Maybe
Meditation
Melancholy Of Love
Melody-Pauls
Midnight Lady
Miracle
Moonlight
Murmures
Music Box Dancer
My Immortal
My One And Only Love
Ne Dis Rien Je T'aime
Nostalgy-Toussan
Odinokiy Pastuh
Only Time
Passing By
Piano Ballerina
Plaisir D'amour
Playing Love
Promenade Dans Les Bois
Reason
River Flows In You
Romantica Serenada
Rondo Pour Un Tout Enfant
Sad Angel
Secret Of My Love
Serenade To Spring
Sherburskie Zontiki
Shining Smile
Sleepy Night
Snowdream
Sometimes…Someone
Song From A Secret Garden
Souvenirs D'enfance
Tango
Tears
That Moment
The Day After
The Earth And Other Minor Things
The Meadow
The Memory Of Trees
The Moment
The Scenery Begins
The Things I Really
The Windmills Of Your Mind
Ti V Moem Sentyabre
Time Forgets
Toccata-Moria
Triste Coeur
Two Tunes
Unintended
Valder Fields
Wait There
Watermark
When I Close My Eyes
When The Love Falls
With The Wind
Movie Songs
All I Ask Of You
Babochki Na Snegy
Beauty And The Beast
Bella Notte
Belle
Bereg Morya
Beyond The Sea
Blues-Pauls
Chi Mai
Cinema Paradiso
Goodbye
Green Leaves Of Summer
Melody Bimbo
Melody From Angelica
Memory
Moon River
Music From Movie Prokajennaya
Once Upon A Time In The West
Poushie V Ternovnike
Reality
Romeo And Juliet
Shindler's List
Somewhere My Love
Somewhere-West Side Story
Speak Softly Love
Sunrise Sunset
Tango Por Una Cabeza
The Notebook
Titanik-My Heart Will Go On
Un Homme Et Une Femme
Unchained Melody
Vals Del Recuerdo
Valse D'amelie
Make You Feel My Love