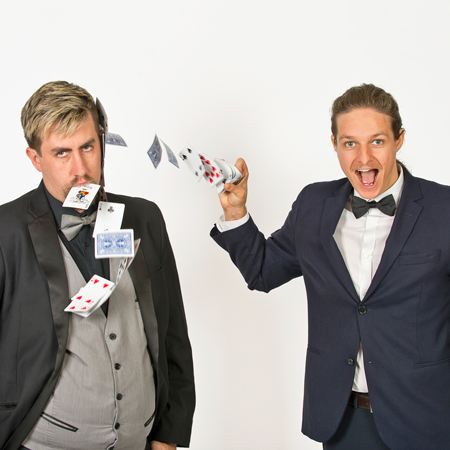 Queensland Corporate Magicians
Top tier Australian magicians perfect for the corporate market and special events
Deliver engaging and amusing interactive magic entertainment for all audience types
Hire stage shows or roaming magicians for personal close up magic
These magician also make great hosts for events whilst providing magic tricks
Based in Queensland and available for events throughout the Gold Coast of Australia
Queensland Corporate Magicians VIDEOS
Queensland Corporate Magicians PHOTOS
This duo of Australian magicians will make your guests laugh and cry. Cry with laughter. Specialising in corporate events, business functions, staff parties and special occasions, they provide some of the very best, humorous interactive magic entertainment. Either booked as roaming magicians offering personal close up magic or as a fantastic stage show, you can guarantee a range of amazement, laughter and smiles all around. 
Our Queensland Corporate Magicians are regularly hired by many of Australia's leading companies and big brands to create a great atmosphere with interactive magic entertainment. The roaming magicians are perfect for engaging with small groups and causing great reactions with close up magic and their stage shows are ideal for evening entertainment. 
The Queensland Corporate Magicians will put on an amazing stage based magic and illusion show for after dinner events, awards ceremonies and staff parties. all the guests are involved from the very start and its the kind of performance and interactive magic entertainment that your guests will be talking about the next day.
Hire the roaming magicians to interact with smaller groups of guests either at an intimate party or a larger function with many attendees. The friendly and fun duo of Australian Magicians are experts at engaging with people and their charismatic approach is highly entertaining for the guests. The roaming magicians work well in both a stand up or sit down situation as all the props needed for the close up magic is about their person. 
Top Tip:
The duo of Australian magicians can be hired as the event hosts or MCs for your event
If you would like to book the Queensland Corporate Magicians for your event, please contact us at Scarlett Entertainment. If this magic act isn't what you are looking for then explore our extensive Australian Entertainment Roster and we're sure you'll find an act or show suitable for your next event.