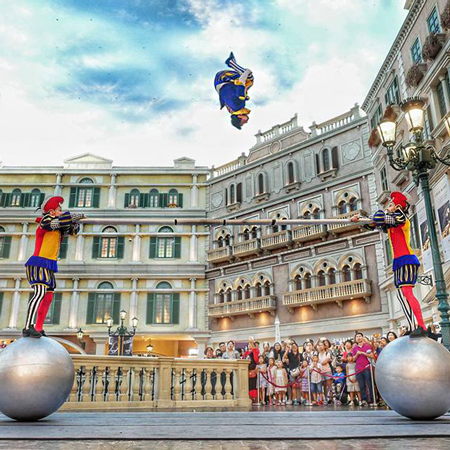 Russian Bar Acrobats on Balls
Highly impressive Russian bar act performed whilst standing on two large inflatable balls
Very customisable acrobats will tailor their costumes to fit the event theme or colour scheme
Exciting circus entertainment for anything from a corporate event to an outdoor city centre festival
Act has been seen on a national TV talent show competition and residencies in Asia
Based in Kiev, Ukraine, and available for events worldwide
Russian Bar Acrobats on Balls PHOTOS
The Russian bar is a highly disciplined type of circus entertainment performed by a trio of very agile and determined gymnastic performers. If that wasn't difficult enough, these Ukrainian acrobats do it on large inflatable balls which makes the show even more challenging. Our Russian Bar Acrobats on Balls is an incredible display that makes a fantastic additional performance option to anything from a corporate event to an outdoor city centre festival. 
Originally from Kiev in Ukraine, our Russian bar trio have taken their amazing acrobatic show to a wide variety of locations and events around the world. It has been seen on a national TV talent show competition and residencies in Asia. This extremely diverse circus entertainment is suited to any kind of audience regardless of age or nationality. With no spoken language, the Russian Bar Acrobats on Balls deliver a short, highly charged acrobatic show that never ceases to amaze. 
The Russian bar acrobatic show uses gymnastics and balancing skills. Using a large flexible pole, two anchormen launch the other into the air where he flips, twists and somersaults before landing back on the pole. It will have the audience on the edge of their seats..
Our Russian Bar Acrobats on Balls offer a range of customisation options to make this circus entertainment fit your event. The Ukrainian acrobats are more than happy to tailor their act to suit a theme with excellent costumes like you can see in the photos and videos above. 
Top Tip:
This acrobatic show takes no time to set up or pack down. Our team will be able to advise on their specific technical requirements such as the required ceiling height they need to perform.
To book our Ukrainian acrobats and their unique Russian bar act, please contact us at Scarlett Entertainment.