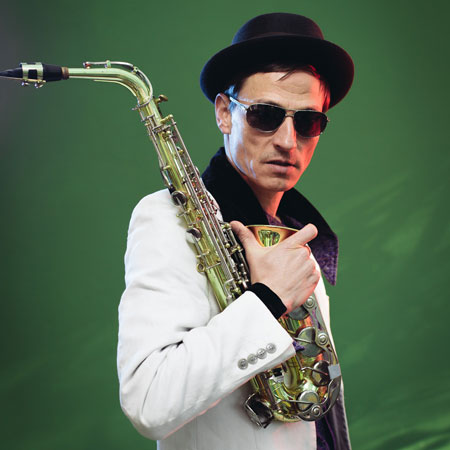 Saxophone Player Berlin
Our saxophone player is fantastic at improvising his live music to DJ's sets
Over 30 years of experience improvising saxophone to DJ sets without needing any rehearsal, our sax player uses 100% pure intuitive improvisation
Uses a vintage effect rack to DJ mixes covering styles from techno and house with elements of disco, pop, and soul as well as chilled music
Our performer can speak five languages fluently, including; French, Swedish, Spanish, German and English
Based in Berlin and available for worldwide bookings
Saxophone Player Berlin VIDEOS
Saxophone Player Berlin PHOTOS
Book our fantastic improvising saxophone player for spontaneous, completely unique and bespoke performances. A sax musician with a difference plays along to DJ sets and electronic music to create a totally different live music sound. 
With over 30 years of experience improvising his live music to DJ's electronic music in clubs, festivals and corporate events, our musician does not require any preparation or rehearsal and instead uses pure intuitive improvisation to guide him in performing astounding live music. A innovative way of experiencing the sax, our musician has created a unique act that allows for every performance to be completely new and never heard before sound, which creates a very special and bespoke package. 
Our saxophonist has performed in gigs and productions with Dr Alban, Mando Diao, Danijel Alpha, Cari Lekebusch, Heiko Laux, Ellen Alien, Housemeister, Mijs v. Dijk and many others. During his sets our saxophone player uses a vintage effect rack to DJ mixes that covers a variety of different genres including; techno and house with elements of disco, pop and soul as well as performing chilled music that is perfect as background music at dinners, corporate events or private parties. 
An extremely talented performer who breaks language barriers can speak in five different languages including French, Swedish, Spanish, German and English is the perfect act for international gigs and events.
A musician who can perform spontaneously to DJ sets also works extremely well as a soloist or as part of a duo with a guitar or piano and can also perform with a singer to create a very well rounded act.
To book our improvising sax player for completely bespoke performances, contact our knowledgable Entertainment Specialists.
Bar 25 / Kater Blau  - Berlin
Cap Gemini
Commerzbank
Destillery  Club Leipzig
Deutscher Städtetag / Galadinner hosted by  major of  Berlin
E-werk
Fusion Festival Germany  with Rico Loop
Global  Village
Grundig / Beko
Investitionsbank Berlin
Loveparade
Melt festival  with Heiko Laux/ Ornaments
Nike
Sage-Club
Solar Berlin
SunJam festival Central America
Tresor  Club
WMF  Club
90° Club Berlin
Café Opera Stockholm / Dr. Alban record release party
Catwalk  Berlin
Cookies Club Berlin
Deutsche Bank
Dschungel  and Cha-Cha Berlin
Felix Berlin
Gagnef  Festival Sweden
Golf Club Seddin
Hennessy
Jazzfestival  Potsdam
Maria am Ostbahnhof
Monkey bar
Nordic Ambassy Berlin
Scandic Hotels
Sonar 2000
Swedish Chamber of Commerce
Volkswagen
BVR