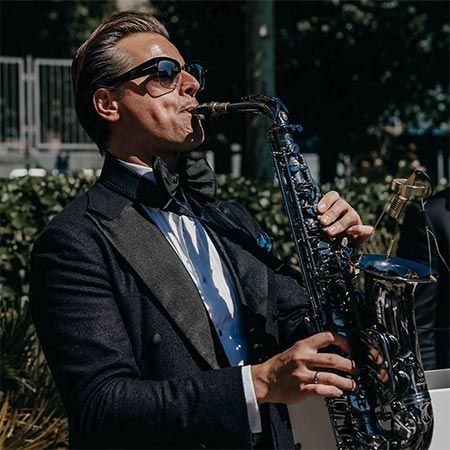 Solo Saxophonist Amsterdam
Our solo saxophonist is renowned for his high energy and his ability to entertain the guests with freestyle performances on the saxophone
He has performed for high end clients such as Leonardo Dicaprio, Craig David, Tom Ford, Mercedes or BMW.
Our saxophonist has toured with top 100 DJs including Armin van Buuren, Afrojack or Danny Howells!
Perfect to amp up the mood at any event, from corporate events to private parties and weddings
Based in Amsterdam but also available to book for events in the UAE
Solo Saxophonist Amsterdam PHOTOS
Book our solo saxophonist to accompany your event with a sensational performance. With high energy and a dazzling smile, this saxophonist will create an electric atmosphere. His extensive musical knowledge and talent allow him to add an original twist to any soundtrack by incorporating the saxophone into the song. His showmanship skills are sure to bring all of your guests to the dance floor.
Whether it is as a solo performance or accompanied by other instruments, his act can be adapted to the theme and mood of your evening. From a more discreet and smooth atmosphere all the way up to catchy and captivating tunes, our solo saxophonist has a fantastic range of music.
Armin van Buuren
Afrojack
Danny Howells
Leonardo Dicaprio
Paris Hilton
Craig David
Nikki Beach
BMW
Mercedes Benz
Porsche
Tom Ford
Guess
Liu Jo
" Shure Wireless, Oger Fashion, Schaap & Citroen, Cannonball, Saxpoint and Red Qrystal "

Endorsed by