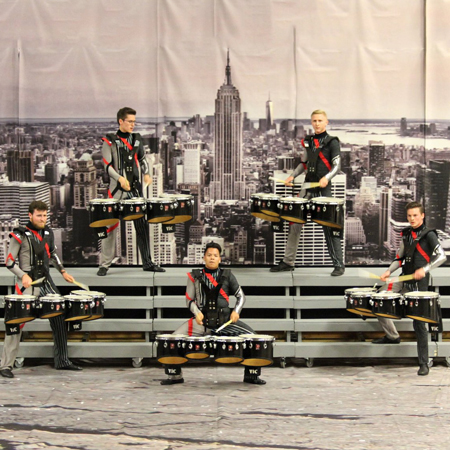 Texas Drumline
Championship-winning marching percussion ensemble with a very contemporary approach
Earned global recognition and medals for their national and international competitions
Offer very complex, choreographed shows with theatrics and top musicianship
Excellent for sporting events, competitions, opening ceremonies and special events
Based in Fort Worth, the marching drummers are available throughout Texas and beyond
Our championship winning Texas Drumline is a contemporary percussion ensemble based in the D.F.W. (Dallas–Fort Worth metroplex) area. This is a team of young enthusiastic local musicians that not only compete on national competition but offer tailorable marching drummer style shows for a variety of events. 
Competition-winning percussion ensemble
Our Texas Drumline regularly competes on the North Texas Colorguard Association (NTCA) circuit, won five consecutive circuit championships, completed in the Independent World Class division and has earned global recognition as a three-time Winter Guard International (WGI) finalist. The fantastic drumming group is also a two-time WGI medalist in the PIO class, taking the bronze and gold medals. 
Contemporary drumming group for events
This is a very exciting percussion ensemble that doesn't just deliver a drumming show, unless you want them to. Using a combination of marching drummers and static performers such as xylophones, they create highly complex musical compositions with and theatrical displays. Its both a musical backdrop and a visual performance all in one. The Texas drumline has performed shows tailored to many themes, as you can see in the promo above, and they are happy to work on a theme for your event.  
Quality and experienced drumline
The drumming group constantly looks to improve its performance and abilities. They are managed by some of the region's finest instructors who have experience with high-level marching groups. The drumline has some brilliant costumes and the best equipment as they are endorsed by Premier Percussion UK, Vic Firth, Remo and Lone Star Percussion. 
If you are interested in this or any of our drumming groups, please contact us today.