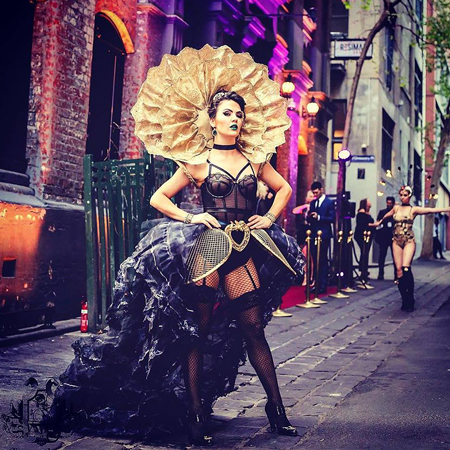 Unique Costume Designs
Astonishing and unique costume designs to create visually memorable experiences at all types of events
Perfect for unique brand experiences, VIP parties, product launch events and much more
Clients include Katy Perry, Belvedere Vodka, Moet & Chandon, Hit Network, Gary Peer, Bond and S.M.A.R.T.
Book just one or multiple completely unique costumes to suit your event
Tailor made costumes are created in Melbourne and available for events all over the world
Unique Costume Designs VIDEOS
Unique Costume Designs PHOTOS
If you are looking to make an impact at your event with something visually captivating that will not only stun your guests, but also give them something to remember the experience, then our Melbourne-based Unique Costume Designs can make client's wildest visions come to life with outstanding outfits for performers to wear. Each and every outfit is hand-made especially for the event by the talented custom costume designers guaranteeing no two events are the same.
Having crafted an expertise in the entertainments sector, the vision behind these fully customised costumed designs is to offer the client everything from a unique brand experience and visionary product launch to an unforgettable private party or VIP event. 
Having previously worked on some astonishingly unique brand experiences with high end clients such as Belvedere Vodka, Moet & Chandon as well as fully bespoke costumes for a performance with Katy Perry, these Australian custom costume designers are completely committed to making fantasies come to life. Taking onboard the client's brief and vision, the team behind Unique Costume Designs create completely mind-blowing concepts that are guaranteed to have an immense impact at the event. 
The incredible unique costume designs come hand in hand with a team of experienced performers who will provide a range of walkabout and welcoming services as well well as having several trained skills under their belts such as fire performance, circus tricks and more. The tailor made costumes can also be created to be worn by any performer around the world. 
If you are looking for some stunning tailor made costumes for your event, speak to our team at Scarlett Entertainment. They will arrange for our Australian Unique Costume Designs designers to fulfil your desires.