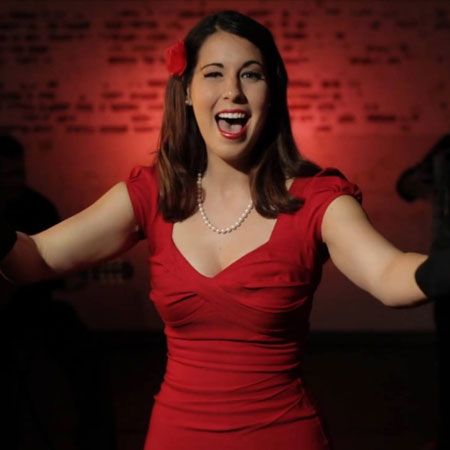 Versatile Vocalist
Superb vocal performances will send shivers down your spine!
Expertly sings in a range of styles from jazz and Broadway to opera crossover
Can perform solo or part of a vintage swing-jazz trio
Has performed at Disney's Tokyo Resort, Seaworld and Universal Orlando
Based in Florida and available to perform at events worldwide
Versatile Vocalist PHOTOS
A musical artist renowned for her exquisite soprano voice and beguiling stage presence, she has been dubbed the female Andrea Bocelli and her live concert gives a nod to the great Sophia Loren in her hay day - sassy red dress and all! 
A born performer she began adding to her long list of performance credits whilst completing her Bachelor of Arts degree in vocal performance at the University of Central Florida and has gone on to perform for huge corporate clients leaving audiences breathless in her wake! She performed Renaissance music at Disney's Tokyo Resort in a year long residency, and has performed for Westin Hotels and Resorts, Seaworld Orlando, Universal Studio Orlando to name just a few of her big name clients. 
Demonstrating the definition of versatile she can perfectly perform a range of genres from pop, jazz and swing, to Broadway, French Chansons, Italian and Spanish, to classical and opera crossover! Expertly executing each style with flair and originality she will captivate audiences of all ages and nationalities, her unique tone and sensitivity to text adding a mesmerising depth to her performances. 
Able to offer a solo show or perform with a vintage swing trio, she can tailor her performances to perfectly suit the tone of your event. Whether you're looking for a high-energy vintage style concert for a holiday resort or gala dinner, or an elegant classical crossover performance to create a sophisticated ambiance at a corporate event she can devise a performance perfect for you. 
A truly talented and professional vocalist she will be an asset to your event!
Loews Portofino Bay Hotel
Tokyo Disney resort
Cypress Village Jacksonville
The Choral Society of Pensacola
Central Florida Community Arts
American Queen Steamboat Company
Osceola Country Association of Realtors
Sunshine Chapter
Universal Orlando Resort
Westin Hotels & Resorts
Lexington Fairness
SeaWorld Orlando
International Pool, Spa & Patio Expo
The Krewe of Italia
Mount Dora Music Festival
Bergamo's Italian Restaurant
" …a gem! Beautiful voice and personality that made everyone at the party get the chills! Perfect addition to a party that wants to add pizzazz! "

Jean Melendez, Quality Vascular Imaging, Inc
" From start to finish she was an amazing performer to work with. She seemed to just draw the crowd of 400 in. She is such a joy and I would highly recommend her to anyone that would ask. "

Josh Mers, Lexington Fairness
" Sahe served it up to perfection with All That Jazz and a breathtaking Nessun Dorma. Who can do all that..? We are still talking about her - it was a Show, not just musical entertainment. "

Ed Tessaro, Director of Corporate Giving, Boys & Girls Club-Metro Atlanta
" As she walked through the crowd singing, our attendees were mesmerized by the strength and beauty of her voice. We would recommend her for any type of event. She is definitely a professional in both her look and her presentation. "

Robert Angelini, Board of Directors, Tampa Krewe of Italia