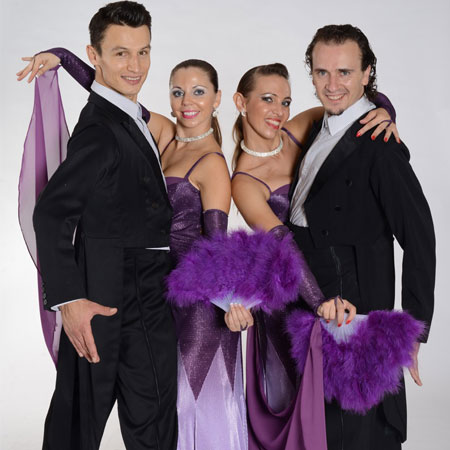 Waltz Dancers
Bring a touch of class to your special occasion with a beautiful ballroom act
Our professional dancers can be hired as a duo or full troupe of performers
Whether you are looking for a full dance show or roaming dance act, our Waltz artists can accommodate your event requirements
Perfect for themed events, corporate functions and galas, our ballroom dancers can adapt their soundtrack and choreography for your special occasion
Book Waltz Dancers for events in Austria and across Europe
Award-winning booking agency Scarlett Entertainment UK provides high-quality entertainment acts and live shows for events in the UK and internationally. Our Austria-based Waltz Dancers are an eye-catching ballroom act featuring amazing professional dancers. Offering a dance show or roaming ballroom dancers, these experienced live dancers will bring your event to life with a smooth glide of their feet. 
Evolving from Austrian and German folk dances from the mid-18th century, the Waltz became very popular in Vienna in the early 19th century and then spread as a dance from across Europe and the world. Using triple time, Waltz music is famous for its lyrical melodies, sometimes featuring several melodies in the same piece. Due to its progression from folk dance to worldwide phenomena, there are a wide variety of Waltz styles in existence including Viennese, Slow, Irish, American, American Smooth, Scandinavian, Peruvian and Mexican. A truly beautiful and elegant dance to behold, the Waltz is often identified by the gliding motion and closeness of the dancer's faces.
From an internationally renowned dance company, our ballroom dancers are all professionally trained in a wide variety of contemporary, classic and Latin styles. Able to perform beautiful choreography especially for your event, our professional dancers can design choreography to suit your chosen music and wearing traditional or contemporary costumes. 
Offering both a walkaround ballroom act or full dance show, our waltz performers can be hired in any combination from a pair to a whole troupe. Whether you are looking to bring a touch of class to your historical themed corporate event or you would like to amaze guests with a full Strictly Come Dancing inspired stage show at a gala, our waltz dance artists are the perfect option.
For more information about hiring our fabulous Waltz Dancers for your special occasion, please speak to our team at Scarlett Entertainment today.