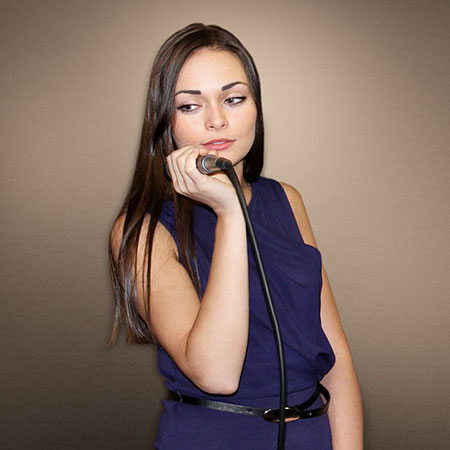 Wedding & Event Singer
A multitalented and versatile event singer ideal for weddings and other special occasions
Her wide repertoire includes pop, jazz, soul and sacred music and can perform acoustic covers
Can perform alongside musicians such as guitarists, pianists and also live bands
Can perform alongside musicians such as guitarists, pianists and also live bands
Our Wedding and Event Singer is based in Zurich and available for worldwide bookings
Wedding & Event Singer PHOTOS
Are you looking for the right live music entertainment option for your event of wedding? Then look no further. This amazing and multi-talented female vocalist is the ideal choice for your special occasion. Our Wedding and Event singer is a multifaceted artist that will make your event or celebration an occasion to be remembered.
This talented female vocalist has a wide repertoire that includes different music genres. She can perform a wide variety of styles to satisfy the different music tastes of your event's guests. From jazz, pop and soul to classical and sacred music, this versatile event singer can create a bespoke set list especially for your day.
Her melodious and sophisticated voice makes her the ideal choice for ceremony performances. As you can see in the pictures above, she can even sing in churches and wear the appropriate clothing for the occasion. Our live solo singer can also perform background music for drinks receptions and some acoustic covers that create a pleasant atmosphere while your guests have a nice meal and share a conversation.
When the night falls, our versatile event singer can change clothing for an evening gown and ask some live musicians to join her. Together with a guitarist, a pianist or a complete live band, this multitalented singer will offer live wedding music for every taste. She can perform covers of famous songs such as 'Happy' by Pharrell Williams, 'Moon River' so couples can enjoy a slow dance or 'I Will Always Love You' so everybody sings at the top their lungs.
Scarlett Entertainment offers a wide variety of event singers for weddings and parties and all around the world.
If you are interested in booking this wonderful Wedding and Event Singer, don't hesitate to contact us today and make an enquiry. Our dedicated team of entertainment experts will be delighted to provide further details on our talented female vocalist and guide you through the booking process.
ABBA - Mama mia
Adele - Rollinng in the Deep
Afric Simone - Hafanana
Alicia Keys - IF I aint got you
All green - Lets stay together
Audrey Hepburn - Moon River
Avicii - Wake me up
B. Withers – Aint no Sunshine
Beatles - Cant buy me love
Boney M - One way ticket
Boney M – Bahama Mama
Boney M – Sunny
C.C. Catch  – Cause You Are Young
Calvin Harria & Disciples – How deep is your love
Calvin Harris - My way
Calvin Harris - Outside
Calvin Harris - Summer
Calvin Harris - Summer
Calvin Harris - Well be coming back
Chaka Khan - Aint Nobody
Clean Bandit - Rockabye
Clean Bandit – Rather be
DNCE - Cake by the ocean
Daft Punk - Get Lucky
Dancing queen – ABBA
David Guetta and SIA - Titanium
Duffy – Mercy
Earth wind & fire – September
Elie Goulding - Love me like you do
Elie Goulding - Love me like you do
Elie Goulding - Your Song
Euphoria – Loreen
Europe - Final Countdown
Fergie - Little Party
Frank Sinatra - Love me tender
Frank Sinatra - What a wonderful world
Frank Sinatra – I love you baby
Global Dj - The sound of San Francisco
Gloria Estefan - Conga
Gnarls Barkley - Crazy
Haddaway - What is love
Happy - P Williams
Helene Fisher - Atemlos
Irene Cara - What a feeling
James Brown – I feel good
James Morrison - You give me something
Jeniffer Lopez – Lets get loud
Jessie J – Price Tag
Katy Perry - Firework
Kosma – Autumn Leaves
La Bouche - Be my lover
Lady - Mojo dancing version
Lady Gaga - Bad Romance
Li Lykke - I Follow Rivers
Maroon 5 – Moves like a Jagger
Martin Solveig - Intoxicated
Meghan Trainor - All about that bass
Michael Bubble – sway
Modern Talking –Cheri cheri lady
Moloko - Sing it back
Opus - Life is life
Radiohead – Creep (eigene interpretation)
Rihanna - Stay
Rihanna - We Found Love
Rihanna -Please dont stop the music
Saxobeat - AleksandraStan
Shakira - Dare
Sting - Every step you make
Sting – Every breath
Sting – Fragile
Summertime
Summertime
Tina Turner  - Simply the best !
Tom Jones–Sexbomb
Velile & Safri Duo – He le le
Venus - dancing
Whitney Houston - I wanna dance with somebody
Whitney Houston – I have nothing
Whitney Houston – I will always love you
English
Artik pres Asti - Никому не отдам
Astik – ПОЛОВИНА
А Студио  - Так же как все
А Студио – Улетаю
Алексей Вороьев – Сумасшедшая
Анатолий Днепров – Радовать
Ани Лорак  - Зажигай сердце
Ани Лорак - Для тебя
Апина А. -  Американ Бои
Блестящие - За четыре моря
Блестящие – Восточные сказки
Вайукле - Еще не вечер
Город 312 – Останусь
Группа Цветы – Мы желаем счастья вам
Давай полетаем – Тамерлан и Алена
Ёлка - Прованс
Егор Крид - Самая Самая
Елка – На большом воздушном шаре
Ирина Алегрова/ Сосо Павлиашвили – Помолимся за родителей
Ирина Аллегрова - Свадебные цветы
Ирина Дубцова - Люби меня долго- долго
Катя Лель – Мой мармеладный
Лазарев  - Это все она
Лазурный берег - Хочу я замуж
Лолита - Пошлю его
Мила Нитич - Песня про маму
Мираж - Музыка нас связала
Мы желаем счастья вам – гр Цветы
Натали – О Боже какой мужчина
Нюша – Чудо
Полина Гагарина – Колыбельная
Потап и Настя Каменских – Хуторянка
Тина Кароль – Намалюю
Украинская Народная песня – Сорочка
Улыбайся – iowa
Юрий Антонов – Не забывай
Russian and Ukrainian