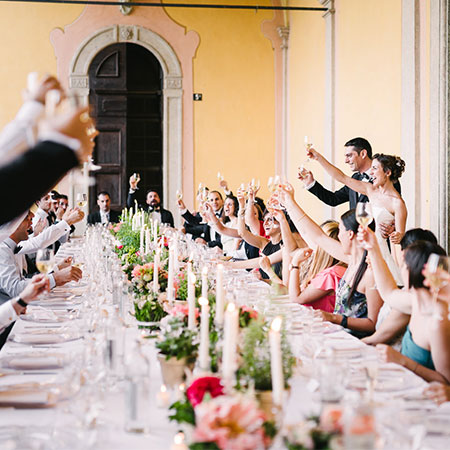 Wedding Photographer Milan
Experienced wedding photographer will capture the most memorable moments of your big day
Wedding photography service includes professional DSLR cameras and more than 600 pictures in high resolution
Our expert is an advocate of natural poses and spontaneity and will ensure the image reflect the essence of the celebration
Retouches and edits all pictures and can create an all in one image where all guests look their best
This Wedding Photographer is based in Milan and available for bookings across Italy and abroad
Wedding Photographer Milan PHOTOS
Make sure your big day's photos are in safe hands by hiring this Wedding Photographer from Milan, a specialist in capturing the most memorable moments of special occasions like this. 
An experienced wedding photographer, this expert takes care of the slightest detail. Creative and meticulous, this Italian event photographer always captures the magic of the moment and every tear of joy and smile. A specialist in documenting spontaneous moments, by booking this local wedding photographer you can be sure your wedding pictures will reflect the essence of your celebration.
An advocate of natural poses, this wedding photographer defends freshness and spontaneity against unnatural poses. However, he always listens to what brides and grooms prefer and he adapts his style to your requests.
This creative wedding photographer also offers an all in one picture, an original and innovative way to have a spontaneous group photo. The advantage of this type of picture is that everyone will look their best! This wedding photography service has been trusted by numerous couples in Italy and some of the fabulous results can be seen above.
This wedding photography service includes:
Nikon or Canon professional DSLR cameras with fixed lenses
Photo retouching and edition
Flash system controlled remotely for evening pictures
A DVD with more than 600 pictures in high resolution
This local wedding photographer is based in Milan and is available for bookings across Italy and overseas. He is happy to travel abroad and share his expertise and art with brides and grooms from around the world.
Would you like to hire this Wedding Photographer from Milan for your special day? Then contact our dedicated team of Entertainment Experts and make an enquiry. They will be delighted to provide further information about this Italian event photographer and guide you through the booking process.