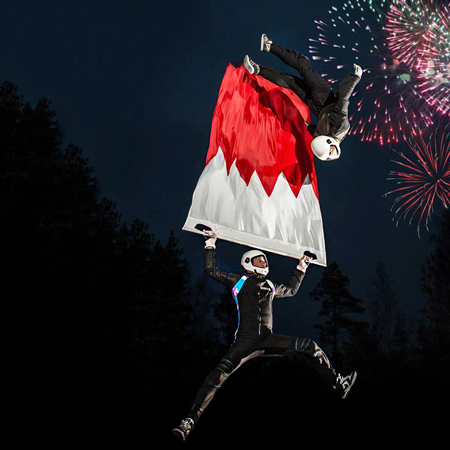 Wind Tunnel Display Team
Pioneering skydiving entertainment that brings a completely unique WOW factor to any event
Land-based wind tunnels allow flying acrobats to perform stunning solo or group skydiving shows
All equipment and costumes are brandable, routines and props can be tailored to your needs
Great for large celebrations, brand promotions and marketing events, publicity stunts and public events
With multiple locations worldwide, the skydiving shows are available anywhere you like
Wind Tunnel Display Team PHOTOS
With their own ground-breaking technology, our Wind Tunnel Display Team is able to provide incredible skydiving entertainment but on land. Using open land-based wind tunnels, this display team create incredible choreographed skydiving shows that are great for large celebrations, brand promotions and marketing events, publicity stunts and public events. 
Pioneering skydiving entertainment for event WOW factor
Our Wind Tunnel Display Team is the only company in the world that uses wind tunnel technology to offer unique flight shows. The company behind the stunt display team not only had the world's first public wind tunnel but they created the first ever fully transparent flight chamber and were responsible for the first flying acrobats show and more. Thanks to their amazing and transportable wind tunnels you can book flying acrobats for events anywhere around the world. Their unique skydiving entertainment is based around airborne acrobatics which mimics freefall flight and the stunt display team are also able to devise routines using props such as windsocks, giant flags. LED suits and even handheld fireworks. The customisable flying acrobats will reach heights of 15 metres as you can see in the above promo, it really brings the WOW factor to any event. 
Taking brand awareness to new heights with flying acrobats
With a variety of wind tunnels to choose from, fully brandable equipment and customisable routines, you can have a unique skydiving show for your event. The  Wind Tunnel Display Team has worked with leading corporate clients like Mercedes-Benz, F1 and Red Bull. Some of their custom projects have involved the Torino Olympic Games, Superman Returns movie premier, Untold Music Festival, Mexico City 200th Year Anniversary and a Red Bull promotional event in Thailand. 
If you would like to book a skydiving show with these experienced flying acrobats, contact our multi-lingual team at Scarlett Entertainment for quotes and availabilities. You can also hire the wind tunnels for audience or guest experiences.