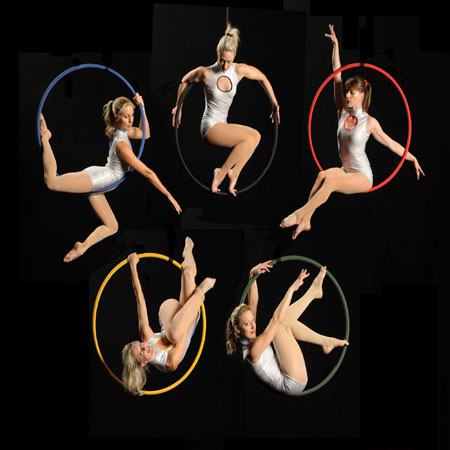 Aerial Acrobatics Show
Specialise creating bespoke aerial show for a wide range of events
Tight choreography, beautiful coloured silks and a range of costumes
Can perform almost anywhere: over water, amongst trees and from cranes
As seen on BBC1's red silks IDENT which ran for 4 years
Based in Perth, Australia, and available to perform at events worldwide
Aerial Acrobatics Show PHOTOS
This incredible aerial acrobatics group specialise in multiple silk performances and creating bespoke aerial acrobatic shows for corporate events, launches, film and television. They have been performing across the UK and abroad since 1999 and have built up a strong reputation for high quality performances at high profile live events and have now relocated to Australia.
These talented aerialists have the technical skill and ability to give stunning performances in unusual locations such as over water, amongst trees and hanging from cranes - they are adept at bringing any event space to life. The girls can perform breath-taking shows on a range of aerial apparatus including silks, hoops, trapeze and harnesses, depending on the venue and event requirements. Clients can also choose from a wide range of costumes and coloured silks to suit the theme of their event, as well as live musical accompaniments including Taiko drummers and an electronic string quartet.
Their tightly choreographed, graceful performances, featuring swinging splits and synchronised somersaults, create a stunning visual spectacle and thrilling performance that will WOW any audience!
To book the Aerial Acrobatics Show, contact our team at Scarlett Entertainment.
" A wonderful performance, your artistic ability and attention to detail are formidable. "

Susan Wetherall-King, Starlight Design
" The Angels and I would like to whole heartedly thank you for your hard work producing last weekend's event, your performance was a huge success and I would like to thank you for the time, attention and care you took in the run up to and during the event. We are very proud of what we produce but are very aware we are only able to produce the level of work we do with the support of our suppliers. The care you take shines through in your performance and we are very proud to work with you. We look forward to working with you again soon. "

Eleanor Richardson, The Angels Events