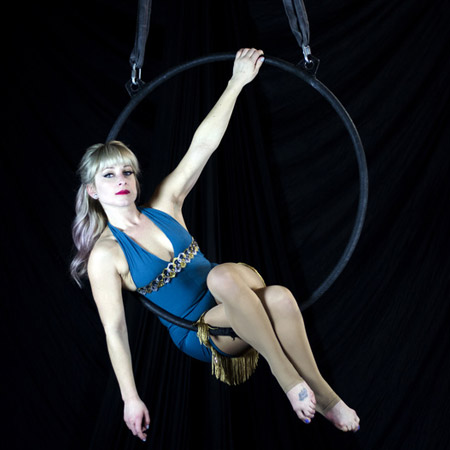 Aerial Circus Artist USA
Graceful silk aerialist that will leave the audience in awe and amazement.
An aerial show that will bring elegance and fun to any event.
Our aerial performer uses aerial hoops and aerial straps for a marvelling performance.
Hire aerial hoop artist for a fun-filled time at your next corporate event, private party, and more.
Book Cirque aerialist to perform at events throughout North America and worldwide.
Aerial Circus Artist USA PHOTOS
Our sensational aerial performer is bound to enchant and amaze guests. Putting on a mesmerizing aerial show, our cirque aerialist provides the best in circus entertainment. An amazing aerial hoop artist and silk aerialist, she will wow audiences with her skilful performances.  
A highly skilled cirque aerialist that offers graceful movements, versatility, and beauty as she moves through the air with exact precision. Our silk aerialists performance is sure to offer that wow factor to your upcoming special occasion as guests won't be able to take their eyes off our amazing aerial hoop artist that combines her flexibility, stamina, and aerial prowess to perform breath taking feats in the air.  
Our aerial performer will inspire guests as she dangles above their heads putting together the right amount of joy and love for each of her performances. With years of experience performing across the globe with her beautifully woven aerial fabrics and performing other thrilling and uplifting aerial tricks, you can expect nothing but the best in world class and high quality cirque entertainment that will keep your guests' hearts pounding and palms sweaty as they abrupt to thunderous applause and cheers.    
Our performer will bring the glitz and glamour of the cirque experience in a more intimate and exhilarating setup that's perfect for corporate events, weddings, galas, and more. Our phenomenal aerialist will make sure your gathering is one to remember. If you're interested in booking our beautiful Aerial Circus Artist for your next event or gathering, get in contact with any of our fantastic Scarlett Entertainment experts who are always more than happy to help  you book the best in aerial performance.