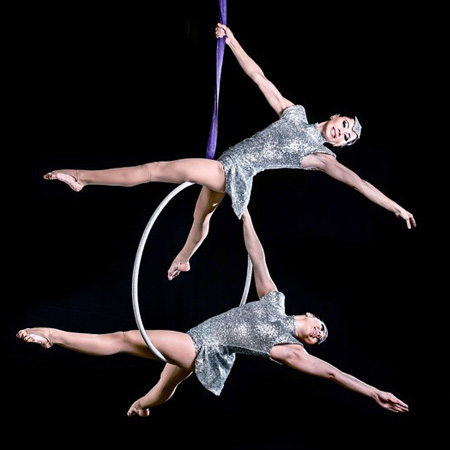 Aerial Performers Dubai
One or more aerialists perform beautiful and breathtaking aerial artistry
Combining remarkable strength, extreme flexibility and creativity
Performances include aerial lyra, hammock, trapeze, silk, straps
Impressive visual spectacle for corporate events & product launches
Based in Dubai & available to perform at events throughout the UAE
Aerial Performers Dubai VIDEOS
Aerial Performers Dubai PHOTOS
Book an amazing aerial circus act to add 'wow factor' to your event
These Dubai based Aerialists are a wonder to behold with beautiful and breathtaking aerial artistry guaranteed to wow guests at any event!  They are a popular choice with those looking to push the boundaries and offer guests a dramatic and truly impressive visual spectacle, making them an ideal entertainment option for corporate events and product launches throughout the UAE!
These versatile aerialists offer unique entertainment with definite 'wow factor' and can perform using a range of apparatus.
Acts:
Aerial Lyra Duo (Ring)
Glamorous and Classy Aerial Ring performance for corporate events, weddings, private Parties and product launches. 
Aerial Hammock (Slick)
Aerial artistic creation performed from inside to outside of piece of Fabric and gives a memorable and uniquely graceful performance on the air.
Aerial Sphere Duo
Beautiful performance inside the Globe shaped equipment. 2 female artists gives out powerful yet graceful aerial performance inside an aerial revolving Sphere. 
Aerial Trapeze
Would say circus?! Not only, it is Glamour looking equipment for glamour kind of occasion or classy corporate events. Absolutely fancy and entertaining performance.
Aerial Silk Duo
Aerial Silk (Tissue) – long fabric comes down from the ceiling to the floor and danced away with soul and passion of the artist. 
Aerial Dancing Straps
Custom made Aerial straps. Performance gives away a dancing flying sense on the air on revolving long straps.
Aerial Harness Performance
Harness performances are very unusual and unique. At first it gives a sense of flying in the air without any flying support.
Aerial Ropes
One of a kind performance in the air on two parallel ropes, Very powerful and at the same time graceful performance in one breath.
Aerial Lyra Solo (Ring)
Mesmerizing Aerial Lyra (Ring, Hoop) dance performance. Glamorous costumes, graceful movies all on a revolving Aerial Lyra solo.