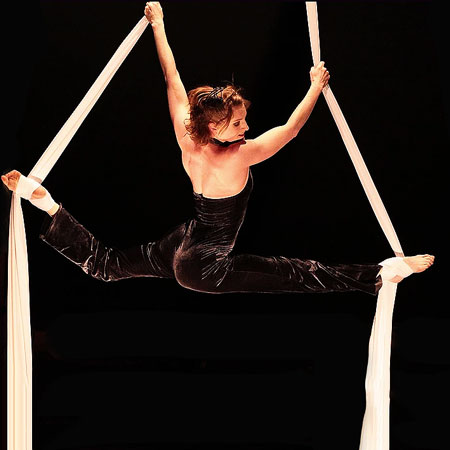 Aerial Silks Performer France
Graceful and highly elegant aerial silks performer
Aerial dancer delivers beautiful ambient shows
Tailorable shows will fit with event themes or colour schemes
Clients include Toyota, Porsche, Ford and Airbus
Based near Nantes, France, Available worldwide
Aerial Silks Performer France PHOTOS
Providing stunning elegant aerial Shows high up above the crowds, our Aerial Silks Performer France is an absolute delight to watch and she will add a beautiful focal point to your event. 
The highly experienced aerial silks performer has been providing her visually captivating aerial shows for a wide range of events in France for several years and has even more experience within the entertainment industry. Starting with classical dance studies in Tours, she relocated to Paris for a professional career as a dancer and vaudeville artist. Now based in Nantes, She combines the gracefulness of classical dance with elegant aerial silks making her more of an aerial dancer than an acrobat.
Using a range of beautifully colourful silks and fabrics, the aerial dancer's performances are very fluid and graceful. This adds an eye-catching touch of class to any kind of occasion.  Our Aerial Silks Performer France is available for everything from corporate events, product launches and opening ceremonies to special soirée and gala events. Her aerial shows are great as either the main attraction or a combined form of entertainment with other performers or live music. 
This elegant aerial dancer can fully tailor her aerial shows to best suit the event. She has multiple costumes and silk colours that can be tailored to suit a theme or colour scheme. Additionally, the aerial silks performer can choreograph a routine using music the client chooses. 
Contact us at Scarlett Entertainment if you would lie to book our Aerial Silks Performer France for your next event.