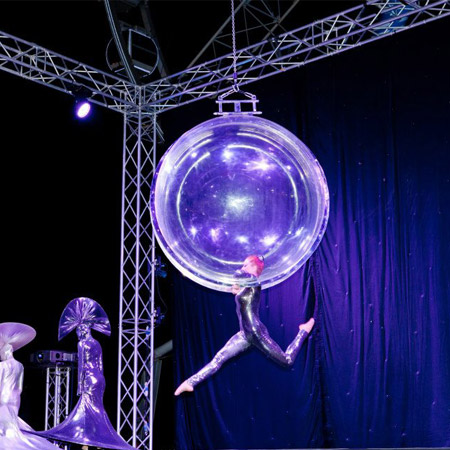 Aerial Sphere Performer Dubai
Exceptional aerial act that will put your guests in a fun filled trance.
Incredibly talented aerial performer will captivate and amaze with aerial routines.
Performing with a unique aerial sphere to create a dynamic atmosphere.
Perfect aerialist for private parties, themed occasions, festivals, corporate events, and more.
Fantastic female aerialist available for booking across the UAE and worldwide.
Book our dazzling and sensational aerial performer who performs with incredible grace, elegance, and sophistication! Treat your guests to our phenomenal female aerialist and watch as they are captivated with ease, as our exceptional aerialist takes to the sky and performs her unique aerial act with her fantastic aerial sphere. Performing a variety of different aerial tricks and manoeuvres inside and outside of her wonderful aerial sphere, our beautiful and lovely aerial performer is bound to leave lasting impressions at your events as she floats high above your on looking audience. 
A wonderful aerial sphere experience that showcases the dynamic skill set showcased by our exceptional aerial performer. Flowing throughout your venue, our female aerialist performs alongside a variety of different music options that are customisable, and will help create an immersive aerial act experience for your wide eyed guests. A daring and skilled aerial performance featuring our sensational aerialist transforms the traditional circus act into an explosive show. Perfecting her performance each chance she gets, our phenomenal performer will not disappoint.
Our lovely aerial act can be tailored to fit almost any theme or style, as our exceptional female aerialist can cater to most occasions, create fun and unique aerial performances that is family friendly, creating endless conversational topic points along the way. Performing high above the ground, our beautiful aerial performer will leave your guests with unforgettable memories and experiences as they witness wonder and amazement. The perfect live aerial act experience for private parties, corporate functions, theatre performances, gala dinners, drink receptions, and whole bunch more.  
If you are interested in hiring our fantastic female aerialist for your upcoming special occasion, contact any of our incredible team members who will be more than happy to answer your questions, and guide you through our booking process.