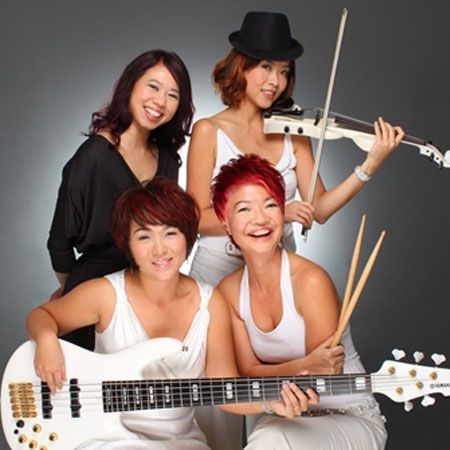 All female Jazz Band
Singapore's newest, freshest premier all-female modern jazz ensemble
One of the most indemand Jazz groups in Singapore for Corporate Events
Played with acclaimed artists inc Mel Gaynor (Simple Minds), Shaggy...
Performed at high profile events inc 2010 Singapore Wine & Jazz Festival
Based in Singapore and available to perform internationally
All female Jazz Band PHOTOS
This act is Singapore's newest, freshest premier all-female modern jazz ensemble featuring an eclectic collaboration of musical minds & artistic visions. In the formative process of finding its voice, the group draws influence from the provocative, progressive, outspoken nature and backgrounds of its members.
Comprising Sharon, Wendy, Yap Shu Mei, Melissa & Audrey, these 5 musicians were initially curated for the Singapore Wine & Jazz Festival 2010 at Fraser's Robertson Walk. After a few rehearsals, it became evident that a musical chemistry had blossomed and is taking shape.
Jazz aficionados, veteran musicians & casual audiences alike gave a rousing stamp of approval to the groups playful, inventive & organic maiden performance on 2 July, 2010.
Not long after, on 27 July 2010, they appeared on an interview on on Channel News Asia's Prime Time Morning, performing an original piece, "In-You-It".
August 26, 2011 marked a major milestone for the band as it performed its debut ticketed event to a sell-out audience at the Esplanade Recital Studio. "D.U.I. -- Dreaming under The Influence" comprised original material & covers seamlessly knit together in a 5-part improvised suite. Both the dynamic music & evocative multimedia visuals transported the enraptured audience into a shared dream-state.
Apart from the obvious "all-female" marketing trait of the band, it is the dissimilarity of each member's musical & life journeys, which synergises a revitalised sound & approach to jazz, extending it beyond the traditional & standard offerings in the market.
The common thread which stitches these women together is a shared musical destiny. Audiences will, hence, see more original music & expressions born out of The All Female Jazz Band.
A Night In Tunisia - Latin
Agua De Beber - Bossa Nova
All The Things You Are - Swing
Beatrice - Ballad
Besame Mucho - Latin
Beyond The Sea - Latin
Blue Moon - Swing
Can't Take My Eyes Off You - Pop
Cheek To Cheek - Swing
Chorinho Pra Ele - Latin
Come Fly With Me - Swing
Cubano - Latin
Donna Lee - Swing
Dream A Little Dream - Swing
Fee-Fi-Fo-Fum - Swing
Fields Of Gold - Bossa Nova
Fly Me To The Moon - Swing
Groovy Samba - Samba
I Wish You Love - Swing
Invitation - Latin
It's Only A Paper Moon - Swing
Just The Way You Are - Pop
La Vie En Rose - Swing
Let's Fall In Love - Swing
Love Is Here To Stay - Swing
Mas Que Nada - Samba
Moon River - Ballad
Night And Day - Bossa Nova
Oleo - Swing
Over The Rainbow - Samba
Peel Me A Grape - Swing
Quando Quando - Latin
Red Baron - Swing/Funk
Sister Sadie - Swing
So Nice - Bossa Nova
Someone To Watch Over Me - Ballad
Sukiyaki - Funk
Sway - Latin
What The World Needs Now - Swing
You Make Me Feel So Young - Swing
A Vontade Mesmo - Samba
All Of Me - Swing
Armando's Rhumba - Latin
Bemsha Swing - Latin
Better Days Ahead - Even Eights
Blackbird - Swing
Bright Size Life - Latin
Caravan - Latin
Chega De Saudade - Bossa Nova
Circle Of Friends - Swing
Confirmation - Swing
Dindi - Bossa Nova
Doxy - Swing
Elm - Ballad
Feliz Navidad - Latin
Flor De lis - Samba
Gloria's Step - Swing
I Remember You - Swing
If I Were A Bell - Swing
It Had To Be You - Swing
Jordu - Swing
L-O-V-E - Swing
Let There Be Love - Swing
Look Of Love - Ballad
Maiden Voyage - Swing
Misty - Ballad
My Little Suede Shoes - Swing
No Truce With The Furies - Swing
One Note Samba - Samba
Partido Alto - Latin/Funk
Peri's Scope - Swing
Recorda-me - Latin
Scrapple From The Apple - Swing
Skylark - Ballad
Softly As In A Morning Sunrise - Swing
Stompin At The Savoy - Swing
Summertime - Latin
Tea For Two - Swing
Wave - Bossa Nova