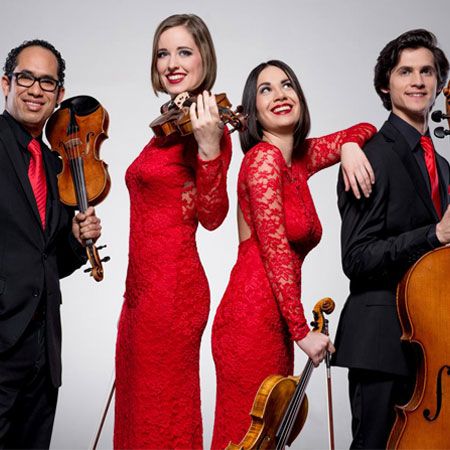 Berlin String Quartet
Elegant and versatile they create a sophisticated ambiance at any event
Make any occasion unforgettable with their first-class performances
Repertoire includes tango, jazz, soundtracks, pop, rock & classical
Perfect for concerts, promotional events, galas, weddings & more
Based in Berlin and available to perform at events worldwide
Berlin String Quartet PHOTOS
Make your event unforgettable with this elegant and versatile string quartet. All first-class performers and professional musicians, their musical abilities are unparalleled and they have captivated audiences at concerts, promotional events, galas, weddings, and special occasions across Europe. They have also performed on stage with the likes of David Garrett, Roland Kaiser, Unheilig, and Lana del Ray.
Having a string quartet at your event will create a relaxed and sophisticated ambiance for guests to enjoy, both as subtle background music and as a centre stage performance. Their eclectic repertoire features a huge range of genres from classical to tango, jazz, pop, rock and famous pieces from film soundtracks, ensuring that they have something to suit all musical tastes. They are more than happy to welcome any special requests, personalising your special event and making it even more unforgettable.
Their beautiful ensembles and incredible passion make their performances enchanting and will be sure to impress you guests!
Bach - Air
Boccherini - Menuett
Dvorak - Humoreske
Mozart - Eine kleine Nachtmusik, Divertimento D-Dur
Pachelbel - Kanon in D
Satie - Gymnopedie
Vivaldi - Die vier Jahreszeiten
Abba - Mamma Mia
Gotye - Somebody That I Used To Know
The Beatles - Yesterday, Hey Jude, Let It Be
Queen - Who Wants To Live Forever, Bohemian Rhapsody, The Show Must Go On
Gade - Jalousie
Piazzolla - Libertango, Adios Nonino, Oblivion
Mancini - Pink Panther
Morricone - Gabriels Oboe
Arlen - Over The Rainbow
Joplin - The Entertainer
Mancini - Moon River
Weiss - What A Wonderful World
Brahms - Ungarischer Tanz Nr.5
Debussy - Claire de Lune
Elgar - Salut d'amour
Monti - Csárdás
Rachmaninov - Vocalise
Schubert - Ave Maria
Wagner - Hochzeitsmarsch
Coldplay - Fix You, Viva La Vida, The Scientist
Guns N' Roses - November Rain
M. Jackson - Smooth Criminal
Sting - Every Breath You Take
Gardel - Por una Cabeza (aus "Der Duft der Frauen")
Adele - Skyfall
Zimmer - Fluch der Karibik
Norman - James Bond Theme
Gershwin - Summertime
Kaempfert - Strangers In The Night
Miller - Moonlight Serenade
Eurovision Song Contest
Radio Regenbogen Award
SWR Latenight show
Musicvideo Award Frankfurt
Weihnachtskonzert MDR
Lichtertanz der Elemente, Zingst
Ball der Wirtschaft, Interconti Berlin
Kabel Deutschland
Frank Schöbel
Echo Verleihung
ARD Morgenmagazin
ZDF Frühlingsshow, Fuerteventura
Willkommen bei Carmen Nebel
Die goldene Henne
Pillnitzer Schlossnacht
Opernball Frankfurt am Main
Sofia Gubaidulina