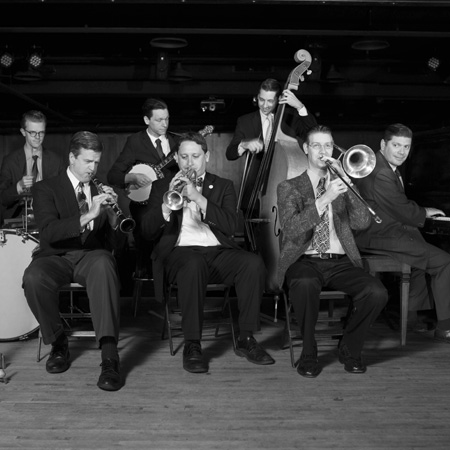 Chicago Classic Jazz Band
Seven piece jazz band interprets classic styles of the 1920s & 1930s
Perform music by the likes of Irving Berlin and George Gershwin
Known as some of the finest purveyors of authentic Chicago style jazz
A popular favourite for both dancers and listeners alike
Based in Chicago & available to perform at events throughout the US
This Chicago based seven piece jazz band interprets classic styles of the 1920s and 1930s and are known as some of the finest purveyors of authentic Chicago style jazz. Founded in 2010 by string bass player Beau, its members include Andy (cornet), John (reeds), Dave (trombone), Jake (banjo and guitar), Paul (piano), and Alex (drums).
The repertoire these young musicians play is from their grandparents' heyday, but they dispatch the music of Irving Berlin, George Gershwin, Jelly Roll Morton, and King Oliver with verve, style, and buoyant dance rhythms.
Their hard-driving swing has made them a popular favourite for both dancers and listeners alike. The band has appeared numerous times for high profile swing dance groups in Chicago, and is quickly gaining recognition throughout the Midwest.  Listeners and dancers alike will find fresh and exciting renditions of both familiar and unfamiliar songs in the their performances.