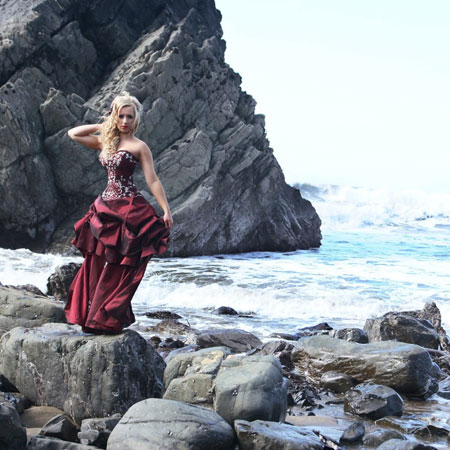 Classical Crossover Artist
Performed at prestigious venues incl London's West End & The O2 Arena
Repertoire blends classical music & jazz, musical theatre & pop
Her beautifully smooth voice resonates both power and tranquility
In huge demand with private & corporate events, weddings, charity galas
Based in South West England & available to perform at events worldwide
Classical Crossover Artist PHOTOS
Tamsin, is the ultimate Classical Crossover Artist with a repertoire that blends classical music and other genres such as folk, jazz, musical theatre and contemporary pop. Her beautifully smooth voice resonates both power and tranquility at the same time, invoking an unparalleled depth of emotion guaranteed to touch your soul.
Classically trained and also a dancer, Tamsin has been performing since the age of four in concerts, theatre productions, shows, musicals and pantomimes. She has a wealth of performance experience from many concerts, private and corporate functions, weddings, charity galas and public events and has performed at a number of prestigious venues including London's West End and The O2 Arena.
She regularly tours the UK, performing, busking and raising thousands of pounds for the charity 'Help for Heroes'.
The George Hotel South Molton
The Masonic Temple Bideford
And many more...
Westfield-London
Ogbourne Golf Club
The Royal North Devon Golf Club
OK Magazine Wedding Launch-The Grange St.Paul`s Hotel London
" I thought you sang very well today, you're such a very talented young girl and you have a bright future ahead of you and I love the charity your raising money for probably one of the best out there. What time are you in West Quay tomorrow, I'll come buy one of your CD's, how much were they again? "

Steve Probert
" Saw you at Southampton West Quay and was blown away by your voice. Bought the CD which you kindly signed. Sincerely hope you get the break you deserve soon. Love and good luck. "

Kevin Squibb
" One of the best singers and performers I've seen in a contest over the past years "

Rosalind Fountain
" Thank you for the CD. What a lovely voice and a nice looking girl. We both wish you a very successful future "

Ben & Maureen
" Oh my, you have the whole package, a beautiful girl with a beautiful voice, nearly had me in tears (and I don't do tears, publicly anyway) when Carol and I came to watch you in Swindon. It's not much of a prediction but I'm sure you will be known in every household before too long. Best of British to you "

David Messam