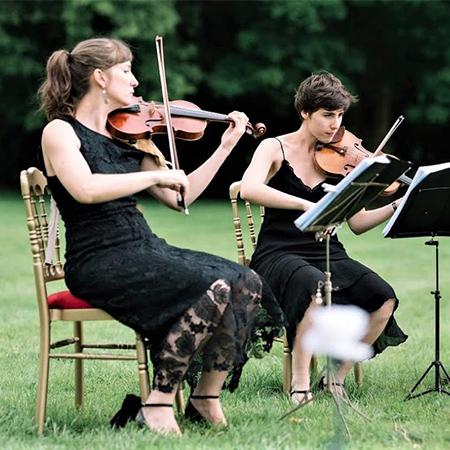 Classical Strings Paris
Four elegant, glamorous females - musically trained to the highest level
Popular at wedding ceremonies, corporate functions and garden parties
Huge repertoire inc classical, blues, tango and popular music
Performed at the Musée des Arts Décoratifs and Chateau de Versailles
Based in Paris and available for events throughout France
Classical Strings Paris PHOTOS
This Paris based string quartet formed in 2004, are the ideal classical, dramatic entertainment option for a range of events from wedding ceremonies, product launches, exhibitions, corporate functions and garden parties throughout France.
This talented and highly trained string quartet performs traditional classical music, as well as a whole range of musical genres including pop, blues, and tango.
The String quartet have performed for high profile clients, multinational corporations and at prestigious events including at the Musée des Arts Décoratifs in Paris (cocktail business), Circle Interallié (ceremony decoration of Chevalier of Arts and letters), the church of Saint-Eustache (Masses of Christmas and Easter), and at the Chateau de Versailles.
In addition they have played at various festivals such as Music in Vaults (Burgundy) in 2005, 2007 and 2009, the Summer Festival du Grand Jardin (Haute Marne), Les Vacances de Monsieur Haydn (Poitou-Charentes), and in the concerts of the Academy of Pont-sur-Yonne. Tthe classical String Quartet regularly accompanies the choir of the Church of Saint-Eustache in Paris, and performed at the Cathedral of Bayeux in the company of the Oratory choir Louvre.
Book this scintillating act to take your event to the next level, get in contact touch with our specialist team who will talk you through the booking process.
PURCELL
Trumpet tune
CLARKE
Trumpet's Voluntary
HAENDEL
Entrance of the Queen of Sheba
MOURET
Rondeau
BACH
Jesus that my joy might remain
HAENDEL
Aria from "Xerxes"
MENDELSSOHN
Wedding March
Variety
HAROLD ARLEN
Over the Rainbow (from the Wizard of Oz)
Hoagy Carmichael
Star dust
EDUARDO DI CAPUA
O Sole Mio
LESLIE SEARLE
Tango evening shadows
Jacques Revaux / CLAUDE FRANCOIS
My way
Louiguy
La vie en rose
BUCK RAM
The Great pretender
CHARLES TRENET
Sea
THE BEATLES
Songbook (Hey Jude Yesterday ...)
LEROY ANDERSON
Sandpaper Ballet
Wedding Album
SCHUBERT
Waltzes Scottish Valses Nobles
SCHUMANN
Various transcriptions of piano pieces: Song village Song of the reapers The Gay Laboureur ...
BORODINE
Prince Igor (extract from Polovtsian Dances)
DVORAK
Humoresque
VERDI
Andantino (extract from The Force of Destiny) Brindisi (extract from La Traviata)
ALBENIZ
Tango
HAYDN
Serenade quartets ...
BIZET
extracts from Carmen (Habanera Toreador Canzonetta)
RICHARDY
Polka Harlekin
VIVALDI
extracts of the Four Seasons
RIMSKY-KORSAKOFF
The Young Prince and Princess (Sheherazade extract)
RUBINSTEIN
Melodie
STRAUSS
Various waltzes
PACHELBEL
Canon in D
BACH
Aria
CORELLI
Concerto Grosso for the night of Christmas
MOZART
Divertimento KV 136 various quartets ...
Classic