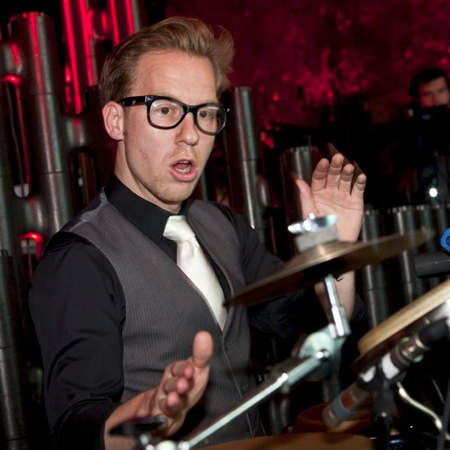 Club Percussionist London
A renowned drummer and club percussionist based in London
Played for artists including Avril Lavigne, Fedde Le Grand, Eminem
Popular with nightclubs, event openings, festivals & product launches
Performed at the Brits, Party in the Park, the Royal Albert Hall...
As seen on MTV, T4, Popworld, Top of the Pops & CITV
Club Percussionist London PHOTOS
Richard is a a renowned drummer and club percussionist who has performed at all of the major clubs in London, throughout the UK and across the Globe. Rich has played for many international artists including Avril Lavigne, Fedde Le Grand, Steve Smart (Kiss FM) and Eminem.  He has performed on some of the biggest stages including the Brits, Party in the Park, the Royal Albert Hall and the Smash Hits Awards. 
Alongside this he has written and played on 3 top 20 singles including performances on Top of the Pops, CD:UK, Popworld, T4 and MTV. Rich has played in Azerbaijan for the Eurovision celebrations, in Miami, Alexandria in Egypt, Monaco, Singapore, Doha in Qatar and at the premiere for Ridley Scott's new film, at the British Grand Prix Ball at Silverstone, at all of London's top clubs and is recently the resident Friday night drummer at Café de Paris and Saturdays at the Playboy Club.
The Playboy Club
Cafe de Paris- Electric Circus
LoungeLover- NYE '10
Soho House
Amika- Kensington High St
Quaglinos
Debut London
Gilgamesh
Dukes
Sound
MetParties
Brandon Block: Max Power
Sam Young
DJ Philly
David Hasselhoff- Bristol
Drums:
Eminem
Freefaller- co writing 3 X Top 20 hits
TV:
T4
The Brits
Top of the Pops
Percussion:
GB Paralympics Closing Party- Stratford
2012 Eurovision Opening Party- Baku
MetParties- NYE- '11
Madame JoJo's- Soho
Home House
Beach Blanket Babylon
Mayhem- Southend
Shaka Zulu
Kensington Roof Gardens
Sanghamitra PR
Alex P
Steve Smart (Kiss FM)
Blue
Avril Lavigne
Clock
MTV
Popworld
Smash Hits Poll Winners
CITV
Fedde Le Grand: Manchester