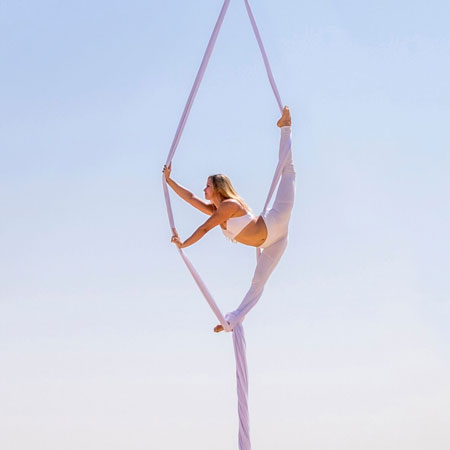 Dubai Silk Aerialist
Mesmerising Dubai silk aerialist takes audiences on a journey as see dances high up in the air
A multi talented aerialist who specialises in aerial silk, aerial hoop, crescent moon, pole dancer and more
Also available as a aerial silk duo
Previous clients include Atlantis, Ritz Carlton, GMC, and many more
Based in Dubai and available for worldwide bookings
Dubai Silk Aerialist PHOTOS
Boasting an unforgettable experience, this Dubai silk aerialist captures audiences of all ages with her stunning routines, elegant costumes and thrilling choreography. A multi talented performer who specialises in a wide range of aerial disciplines, this circus performer wows audiences and creates remarkable atmospheres wherever she goes.
Dancing high up in the air, this silk aerialist is perfect for adding an extra dynamic to your event as she tailors each and every performance to suit the occasion perfectly. Whether it be wearing costumes that complement your colour scheme or theme, or choreographing her performance to your chosen music, providing ambient sets or stage show spectaculars, whatever the event, our aerialist will astound your audiences. 
In addition to offering captivating performances as a solo performer, our silk aerialist can also be booked as a duo. A brilliant feature at any event our aerial silk duo move as one, intertwining and performing incredible feats of strength, balance and elegance. 
Our multi talented performer can be booked as a hoop aerialist, acro balance duo, crescent moon aerialist, human flag duo or pole dancer. 
Top Tip:
For a real show stopper, our aerialist can create routines to combine all of her disciplines and truly astound your audience and guests with her diversity and talent. 
If you're interested in finding out more about aerialists please go to our aerialist section of the website to find more outstanding performers. 
To book our Dubai silk aerialist contact our Entertainment Specialists or to see more from our talented performer visit our Dubai Pole Dancer, Dubai Hoop Aerialist and Dubai Crescent Moon pages.