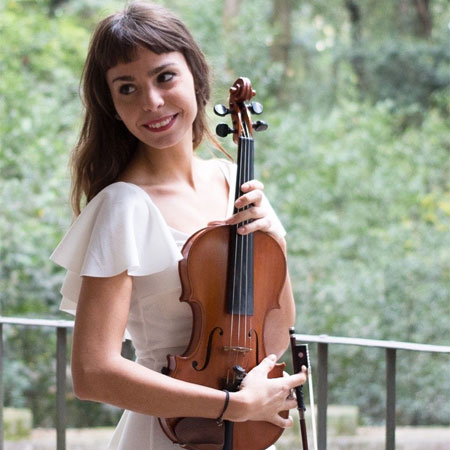 Electric & Classical Violinist
Versatile female violinist can play both the classical and the electric violin
Fully customisable repertoire ranges from classical music to jazz, electronic, chill out music
Happy to perform along with other artists and adapt her style to different situations and audiences
Perfect live music entertainment option for weddings, themed events, nightclubs, drinks receptions
This Classical and Electric Violin player is based in Italy and available for international bookings
Electric & Classical Violinist VIDEOS
Electric & Classical Violinist PHOTOS
This versatile Classical and Electric Violin player from Rome, Italy will ensure your event or celebration is an occasion to be remembered by providing an unforgettable performance.
Passionate about music in general and violin sounds in particular, this versatile female artist knows how to connect with different types of listeners by playing both the classical and the electric violin. With both academic and professional experience, she delivers first-class live performances that captivate spectators regardless of their musical taste or age.
Our female violin player's repertoire ranges form classical music to jazz, electronic and chill out music. She feels comfortable adapting her style to different situations, types of events and audiences. Whatever the occasion, she is happy to customise her set list to suit your requirements.
On top of that, this live electric violinist always welcomes the opportunity to share the limelight with other performers. She regularly performs along with other artists such as singers, orchestras, sax players, DJs or dancers.
If you're looking for a musician who can offer roaming performances, our classical violin player is the performer your event needs. She enjoys interacting with people and playing her violin whilst she roams around your venue encouraging your guests to join the fun by dancing!
Suitable for a wide range of celebrations, this live electric violinist is the ideal live music entertainment option for cocktail lounges, nightclubs, corporate events, private parties, and many more! As a classical violin player, she's also suitable for weddings, concerts and drinks receptions, among others.
At Scarlett Entertainment we pride ourselves on providing high-end live music entertainment for events all over the world.
Contact us today if you would like to enquire about this sensational and versatile Classical and Electric Violinist. Our in-house team of Entertainment Specialist will be more than happy to provide further details on our female violin player and assist you in the booking process.
Adele – Hello
Adele – Someone like you
Adriano Celentano – L'emozione non ha voce
Alan Walker - Faded
Alan Walker – Alone
Alicia Keys – Girl on Fire
Alok – Hear Me now
Amy Winehouse – Back to Black
Amy Winehouse – Love is a losing game
Amy wineHouse – You know i'm no good
Anna oxa – Un'emozione da poco
Aretha Franklin- I say a Little Prayer
Astor Piazzola – Oblivion
Bastille – Pompei
Besame Mucho
Bhudda Bar – Bhromor Koio Giya
Blondie – Heart of Glass
Buddha Bar Touch & Go
Buddha Bar – Dualis
Buddha Bar – Tango serenata
Buddha Bar – Tango to Evora
Cafe del Mar I hope the yesterday
Cafe del Mar – Afterlife
Cafe del Mar – Free Your MInd
Cafe del Mar – Madalay
Cafè del mar – Love in Spain
Camilla Cabano – Havana
Carla Bruni – Quelqu'un m'a dit
Cat Stevens – Father and son
Chantal Chamberland – La mer
Charlie Parker  - Summertime
Charlie Put – We dont talk anymore
Clean Bandit – Rockabye
Clean Bandit – Symphony
Cohen  – Halleluja
Coldplay – A sky Full of Stars
Coldplay – Adventure
Coldplay – Fix you
Coldplay – Hymn for the weekand
Coldplay – Viva la vida
Coralie Clement – samba de mon coeur
DAve DK- Immer Gut
David Guetta – Titanium
David Guetta – Whitout you
Django Renhardt – Minor swing
Dream A little Dream
Dua Lipa – IDGAF
Ed Sheeran – Perfect
Ed Sheeran – Shape of You
Ed Sheeran – Thinking out loud
Ellie Goulding – Love me like you do
Elvis – Strangers in the night
Enya – Caribben Blue
Enya – Only time
A thousand years
Finnebassen – Bella
French Lounge Music – Lemongrass
Future Loop Foundation – Monika's Summer
Gino Paoli – Una lunga storia d'amore
Grace Jones – Libertango
Guitar del Mar Balearic
Gwen Stefany – Cool
Infinity
Jake Isaac – Waiting Here
Jamail Slitine – Hobbi Lak
Jhon legend- all of me
Jhonathan Ryno – Slow Down
Over the rainbow
Jones Blue
Karen Souza – Wicked Game
Kygo feat Conrad Firestone
Kylie Minogue – Cat get you out of my head
La vie en rose
Lakki Pattey – Cahuita
Lana del rey – Summertime sudness
Lana del rey – Yuong and beautiful
Lighthouse – High
Loreena Mckennitt – Tango to Evora
Lost frequencies – Reality
Madonna – Hung Up
Marron 5 – She will be loved
Marron 5 – What lovers
Micheal Bublè – quando quando quando
Micheal buble – Home
Michel Jackson – Smooth Criminal
Miley Cyrus – Wrecking Ball
Morricone – C'era una volta il west
Morricone – Nuovo cinema Paradiso
Nat king Cole – Love
Norah Jones – Sunrise
Norah Jonesdont – know whay
Norha Jones – Came Away whit me
One Republic – Apologize
One republic – Secret
Piovani - LA vita è bella
Piovani – Buongiorno principessa
Rude – Magic
Sam Smith – i'm not the only one
Sam aSmith – Stay whit me
Selena Gomez – It ain't Me
Sia – Cheap Thrills
Song from the secret garden
Stand by me
Stereo Love
The chainsmokers – Closer
The killers – Human
U2 – One
U2 – Whit or Whitout You
Zucchero – Diamante
Zucchero – Sere d'estate
Escala palladio