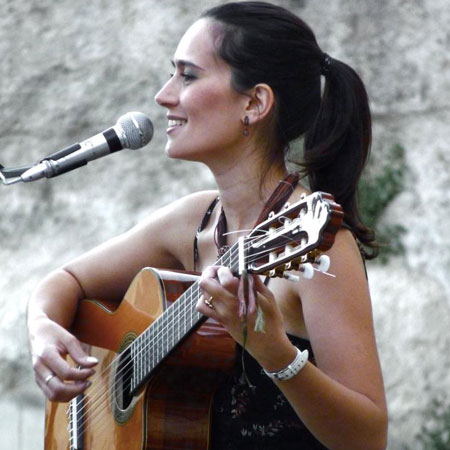 Female Guitarist Karelle
Captivating female vocalist with a vast performing experience
Singer/ Guitarist with a huge repertoire of songs
Popular with restaurants, corporate events, weddings and private parties
Performs French and International songs and jazz standards
Based in France and available to perform at events worldwide
Female Guitarist Karelle VIDEOS
Female Guitarist Karelle PHOTOS
Looking for guitarist with a melodious female voice to enrich your event? Then look no further! Our Female Guitarist Karelle is the entertainment option for you. This experienced musician and singer has captivated several audiences all over France with her charm and talent and she's ready to bring some of it to your upcoming celebration!
This captivating female vocalist has vast experience performing at restaurants, corporate events, weddings and private parties across France. You can check some of the clients she has performed for by clicking the tab above.
Her wide repertoire of songs makes her cover songs show the ideal option for different type of events and audiences. She can play French and international songs, and can sing in both French and English.
From Edith Piaf, to the well remembered 'Over the rainbow' from the Wizard of Oz's soundtrack until the more modern sounds brought by U2 in the 90s, this talented female guitarist can play it all.
Take guests at your wedding, fancy garden party or private evening party to a tour through music history with this cover songs show.
Our female guitar player offers a huge repertoire of French songs and is very happy to put together a set list to suit the occasion and learn new songs with notice.
As well as performing as a solo singer and guitarist, she can also perform as a duo, trio, or in a larger band line-up. You can watch some of her performances alongside other musicians in the videos above and see for yourself this captivating female vocalist and guitarist's talent and charisma.
Booking a guitarist/singer for your wedding, evening dinner and or private party has never been so easy!
Make your enquiry today about Female Guitarist Karelle by contacting our in-house team of entertainment coordinators. 
Inch'Allah Salvatore Adamo
Emmenez-moi Charles Aznavour
La Mamma Charles Aznavour
La Bohème Charles Aznavour
Tous Les Cris les Sos Daniel Balavoine
Dis quand reviendras-tu ? Barbara
Gottingen Barbara
La Complainte du Phoque en Alaska Beau Dommage
Chanson pour l'Auvergnat Georges Brassens
La Marche Nuptiale Georges Brassens
Amsterdam Jacques Brel
Quand on n'a que l'amour Jacques Brel
La Quête Jacques Brel
Ballade Irlandaise Bourvil
Le Petit Bal Perdu Bourvil
La Tendresse Bourvil
La Corrida Francis Cabrel
L'Encre de tes yeux Francis Cabrel
Je t'Aimais je t'Aime et je t'Aimerai Francis Cabrel
Petite Marie Francis Cabrel
La Demeure d'un Ciel Camille
Quand les hommes vivront d'amour Robert Charlebois
Ce n'est rien Julien Clerc
Laissons Entrer le Soleil Julien Clerc (Hair)
Les Enfants du Pirée Dalida
L'Histoire d'un Amour Dalida
Mon amant de Saint-Jean Lucienne Delyle
Aimer à perdre la Raison Jean Ferrat
Que serais-je sans toi Jean Ferrat
C'est Beau la Vie Jean Ferrat
Pauvre Rutebeuf Léo Ferré
Le Sud Nino Ferrer
La Maison près de la Fontaine Nino Ferrer
Fais comme l'Oiseau Michel Fugain
Chante comme si tu devais mourir demain Michel Fugain
Je n'Aurai pas le Temps Michel Fugain
Un Beau Roman Une belle Histoire Michel Fugain
La Chanson de Prévert Serge Gainsbourg
La Javanaise Serge Gainsbourg
Il y a Jean-Jacques Goldman
Si tu t'Imagines Juliette Gréco
Mon Vieux Daniel Guichard
Le Gitan Daniel Guichard
Les Portes du Pénitencier Johnny Halliday
Mon Amie la Rose Françoise Hardy
La Maison où j'ai Grandi Françoise Hardy
Le P'tit Bonheur Félix Leclerc
Comme un Arbre dans la Ville Maxime Leforestier
La Fugue d'Autrefois Maxime Leforestier
San Fransisco Maxime Leforestier
Je Chante Gérard Lenorman
Les Matins d'Hiver Gérard Lenorman
Deux Petits Chaussons Mireille Matthieu
La Paloma Adieu Mireille Mathieu
Dis moi Lune d'Argent Mecano
Le Temps des Cerises Yves Montand
Le Vent Nous Portera Noir Désir
A ton Etoile Noir Désir
Un Jour tu Verras Mouloudji
Dis Moi Céline Hugues Aufray
Ma Liberté Georges Moustaki
L'Oiseau et l'Enfant Marie Myriam
Bidonville Claude Nougaro
J'ai la Mémoire qui Flanche Jeanne Moreau
Le Tourbillon Jeanne Moreau
Au Café du Canal Pierre Perret
La Vie en Rose Edith Piaf
Sous le Ciel de Paris Edith Piaf
Les Amants d'Un Jour Edith Piaf
L'Hymne à l'Amour Edith Piaf
Holidays Michel Polnareff
Ma Fille Serge Reggiani
Avec les Anges Colette Renard
Mistral Gagnant Renaud
Drôle de Vie Véronique Sanson
Vancouver Véronique Sanson
T'en Souviens-tu la Seine Anne Sylvestre
La Mer Charles Trenet
La Maritza Sylvie Vartan
A Horse With No Name America
Dona Dona Joan Baez
Diamonds and Rust Joan Baez
Let It Be The Beatles
Yesterday The Beatles
Love me Do The Beatles
Stop Sam Brown
Running up that Hill Kate Bush
Talking About a Revolution Tracy Chapman
Sorry Tracy Chapman
The Partisan Leonard Cohen
Left in Peace Dan ar Braz
Hotel California Eagles
Killing Me Softly Roberta Flack
Lemon Tree Fool's Garden
Cry Me A River Georges Hamilton
Your song Elton John
Dust in The Wind Kansas
Dream A little Dream of Me The Mamas and the Papas
Redemption Song Bob Marley
Sway Dean Martin
The Rose Bette Midler
Nights in With Satin Moody Blues
The More I See You Chris Montez
Angie Rolling Stones
Bridge Over Trouble Water Simon and Garfunkel
The Sound of Silence Simon and Garfunke
The Boxer Simon and Garfunkel
My Lady d'Arbanville Cat Stevens
Sad Lisa Cat Stevens
Sailing Rod Stewart
Fields of Gold Sting
I Still haven't Found What I'm Looking For U2
One U2
Memory Barbara Streisand
Raindrops keep Falling on my Head B. J Thomas
Dany Boy Traditionel
Somewhere over the Rainbow Le Magicien d'Oz
A Day in the Life of a Fool (Manha de Carnaval)
Don't Cry For Me Argentina Evita
Mon Pot' le Gitan Mouloudji
Le Bouchon Saint-Emilion
La Pêcherie Le Verdon-sur-Mer
L'Arawak Le Verdon-sur-Mer
La Guinguette du Canal Lacanau
CE de la Caisse d'Epargne
Le Garden Café Carcans
Le Méduli Grayan et l'Hopital
La Pêcherie Hourtin
L'Escale Lamarque
Le Baron Gourmand Baron
Le Cinquième 7 Puteaux
La Cabane Breizh Castelnau
Le Chai d'Oc Bordeaux
Silja Line Suède - Finlande
Amélia Canta Saint-Emilion
Le Cap Dit Vin Le Verdon-sur-Mer
Camping Les Ecureuils Biscarosse
Le Sqar Bordeaux
Histoire de Famille  L'Isle Adam
Le Pitey Arès
Le Café du Port Saint-Pardon
Aux Saveurs d'Alice Enghien
Camping Bimbo Biscarosse
Le Bistrot de Paris Colombes
Le Zinc Authentique Libourne
La Rieuse La Teste
Le Plaisance Bourg-sur-Gironde