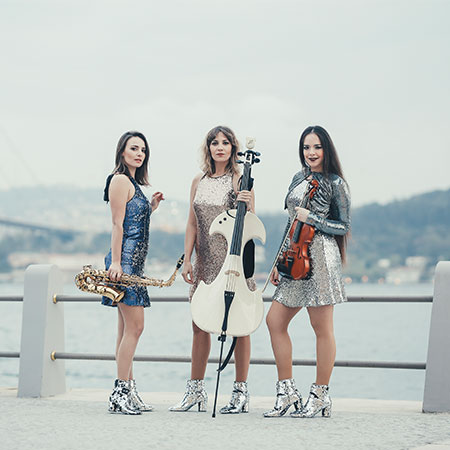 Female Live Music Trio Turkey
Incredible string performers will bring elegance and sophistication to your event
Professional female string act performs a variety of classic songs to pop covers
Sensational all female band that'll captivate with their musical styling
Fantastic string band ideal for wedding receptions, gala dinners, private parties and more
Wonderful Female Live Music Trio available for booking across Turkey and worldwide
Female Live Music Trio Turkey PHOTOS
Bring our dramatic and exciting live music show to  your upcoming event or gathering, featuring our skilled and beautiful string performers and sax player who will turn heads as guests are captivated by their sensational performance. A fantastic Female Live Music Trio that's comprised of professional musicians who will deliver the ultimate soundtrack to your special occasion. Musical experts, our sensational all female band perform with passion, elegance, and professionalism and are bound to leave a lasting impression among your guests. A dazzling music band that'll fill your event with an atmosphere built on sophistication and glamour.
Our exciting and dedicated string performers and sax player are made up of three beautiful musicians who deliver a spectacular performance with an impressive and vast repertoire of classical music, pop covers, and jazz standards. Our amazing all female band will provide your upcoming special event with an enticing live music show that's built to leave guests with unforgettable memories and experiences. Our skilled string band will captivate guests of all ages with their high energy performance that features loud music and masterfully crafted choreography that'll keep your event moving and shaking.
Stunning female string and sax act with a unique sense of performing arts and musical prowess, showcasing a distinctive sound that promises to keep guests engaged and entertained, helping your event stand out above the rest. Dynamic live performers are the ideal musical act choice for private parties, themed occasions, wedding receptions, festivals, corporate functions, and much more. Dedicated to making your event an unforgettable occasion, our string band won't disappoint. 
If you're interested in booking our fabulous Female Live Music Trio for your upcoming special occasion, contact any of our wonderful Scarlett Entertainment event specialists who are more than happy to assist you with your booking needs, as well as answering any questions you might have in regards to our sensational string and sax band.
Palladio
Smooth Criminal
Prides Of Caribbean
I Love Rock'n Roll
Nah Neh Nah CLUB
Samba
Sway CLUB
La Serenissima
Iko Iko
Game Of Thrones
Newyork Newyork
Come Fly With Me
Can't Take My Eyes Off You
Mr. Sandman
Let There Be Love
Mambo Italiano
La Cucaracha
Oye Como Va
Cheek To Cheek
The Girl From Ipanema
Portofino
Libertango
Fragile
Here Comes The Sun
She
Uptown Funk
Viva La Vida
Don't Stop Believin'
Twist And Shout
Back To Black
Save The Last Dance For Me
Puttin' On The Ritz
Sway
Sing Sing Sing
Zoot Suit Riot
Peroxide
Fly Me To The Moon
Autumn Leaves
Over The Rainbow
Je Ne Veux Pais
Hotel California
Donde Estas Yolanda
Fever
Every Breath You Take
Setur
Four Seaons Hotels & Resorts
Raffles Hotels & Resorts
Vodafone