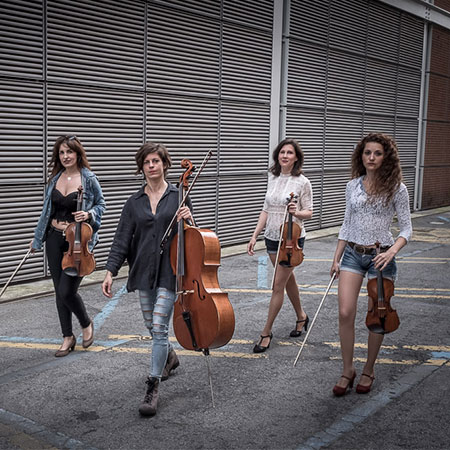 Female String Quartet Italy
Talented female string musicians specialists in classical string music also delight listeners with modern sounds
Quartet has performed along big names such as Andre Bocelli, Sting and Mario Biondi, to name a few
Italian string quartet has participated in numerous TV adverts and performed at events held by Gucci and Bulgari
Ideal live music entertainment for concerts, weddings, corporate events, receptions, cocktail lounges, themed events, etc.
This Female String Quartet from Italy is based in Genoa and available for international bookings
Female String Quartet Italy PHOTOS
Create the perfect atmosphere at your event or special occasion with classical string music by booking this exceptional Female String Quartet from Italy, a group of talented female string musicians with plenty of experience as soloists and as a quartet.
Our sophisticated Italian string quartet is guaranteed to bring glamour to any celebration. Always dressed appropriately for the occasion, our artists have a comprehensive selection of gowns and casual outfits they can wear for your party. On top of that, they can wear accessories like Santa hats for Christmas parties and other themed events. As you can see in the pictures above, our female string musicians won't hesitate to fully customise their outfits to fit your event's theme. 
Specialised in classical string music, our Italian string quartet has also explored other sounds and has experimented with rock music. Their repertoire is filled with beautigul melodies by Mozart and Vivaldi and it also includes contemporary songs by The Beatles, Radiohead and Lady Gaga.
Since they embarked on this project together, our female string musicians have shared the stage with big names such as Andrea Bocelli. Previously, they toured around Italy with other recognised musicians such as Fransesco De Gregori, Sting or Mario Biondi, to name but a few.
Suitable for a wide range of occasions, our Italian string quartet can delight listeners with classical string music at your upcoming social gathering, corporate event, wedding, reception, cocktail lounge, etc. Our artists have performed at events held by renowned brands like Gucci and Bulgari, have performed at numerous festivals and concerts and have participated in  several TV adverts and shows.
Scarlett Entertainment offers a variety of live music entertainment for events in Genoa and all over the world.
To book this Female String Quartet from Italy, don't hesitate to get in touch with us today and make an enquiry. Our in-house team of Entertainment Specialists will be more than happy to provide further details on these female string musicians and assist you in the booking process.
Albinoni - Adagio
Amazing Grace
Bach - Aria sulla Quarta Corda
Bach - Concerto per 2 Violini
Bach - Jesu Joy of our desiring
Brahams - Danza ungherese n5
Choen - Halleluja
Gounod - Ave Maria
Handel - Largo
Haydn - Quartetto Op.1 n.1
Mascagni - Intermezzo della cavalleria rusticana
Mendellsohn - Marcia
Mozart - Divertimento in re magg
Mozart - Heine Kleine
Pachelbel - Canone
Panis Angelicus
Schubert - Ave Maria
Verdi - Marcia dell'Aida
Vivaldi - Concerto alla Rustica
Vivaldi - Largo dell'inverno
Vivaldi - Le Quattro Stagioni
Wagner - Marcia
Soundtracks/Traditional
'O Sole Mio
Charade
E. Piaf - La Vie En Rose
Inno Di Mameli
Libertango (Frantic)
Mancini - Baby Elephant Walk (Hatari)
Moon River (Breakfast and Tiffany's)
Morricone - C'era Una Volta Il West
Morricone - Cinema Paradiso
Morricone - Gabriel's Oboe (Mission)
Nino Rota - the Godfather
Palladio
Piovani - La Vita è Bella
Pirati Dei Caraibi
Por Una Cabeza (Profumo Di Donna)
S.joplin - The Entertainer
Webber - Memory (Momenti Di Gloria)
Classical Music
Bad Romance - Lady Gaga
Clocks - Coldplay
Guns n Roses - Sweet Child O'Mine
Hey Jude - The Beatles
Human - Kings Of Leon
It's My Life - Bon Jovi
Michelle - The Beatles
No surprises - Radiohead
Nothing  Else Matters - Metallica
Resistance - Muse
Stairway To Heaven - Led Zeppelin
Sweet Dreams - Eurythimics
Titanium - David Guetta
Viva La Vida - Coldplay
Viva la Vida - Coldplay
Wrecking Ball - Miley Cyrus
Yesterday - The Beatles
Tango
Habanera
Libertango - Piazzolla
Mi Vida
Miraflor
Oblivion - Piazzolla
Por una cabeza - Gardel
Contemporary
Quattro Nel Delirio - Massimiliano Damerini
Pop/Rock