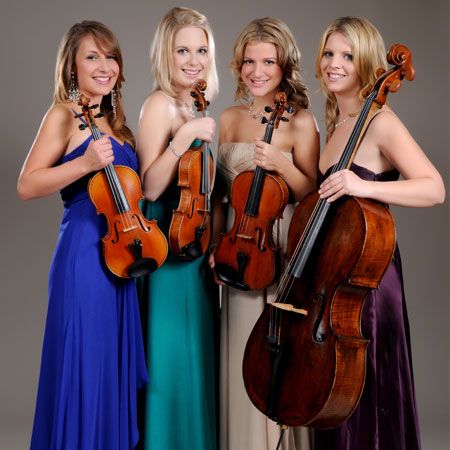 Glamorous String Quartet
A wide and varied repertoire, incorporating classical, opera, jazz and pop
Played at prestigious venues inc Wembley Arena, Millennium Stadium, the O2
Previous clients inc BBC, Barclays, HSBC, Vivienne Westwood, Endemol...
Popular with weddings, corporate events, product launches, cruise ships
Based in London & available to perform at events worldwide
Glamorous String Quartet VIDEOS
Glamorous String Quartet PHOTOS
The International String Quartet, Trio and Duo incorporate world-class female musicians for all kinds of events and are passionate about offering the highest level of musicality and elegant presentation, to ensure that your entertainment radiates perfection and becomes the personalized event you deserve.
They have performed for many well-established artists and venues, both within the UK and internationally, and are constantly in demand to perform at events ranging from weddings and corporate functions to parties, recordings and television appearances.
Having played for the Man Booker Prize Awards, the Monte Carlo Television Festival and the National Music Awards in London, this international string act are highly experienced at performing for all kinds of events, and are dedicated to ensuring that their programme creates the perfect atmosphere for your guests.
The string act have performed recitals aboard Holland America's and Cunard's luxury cruise ships, at prestigious venues such as the Grosvenor House and Hilton on Park Lane hotels, and at Westminster Abbey. They have also been invited to perform alongside a host of well-known popular artists, such as Jesse J, Enya, Rod Stewart and Stereophonics.
The group has a wide and varied repertoire, incorporating classical, opera, jazz and pop, and are dedicated to helping you find the perfect music for your event. They are happy to search for music that is not on their current repertoire lists, and can even offer to arrange music that is not in print. They have arranged music by artists such as Snow Patrol, Robbie Williams and The Feeling, and have built up an enviable reputation for performing arrangements of such modern classics.
With an extensive and diverse repertoire, plus a choice of ensembles, you are sure to find the perfect combination to complement your occasion.
String Duo
Their string Duo not only looks beautiful but has a warm, rich sound and is able to move around with ease, if needs be, playing at different locations throughout your event. The duo is a brilliant choice where space is limited, or the fuller sound of a string quartet is not needed. From providing an exquisite selection of classical repertoire to a more informal performance of popular pieces, the versatility of a string duo makes it ideal for setting the atmosphere and entertaining for all kinds of events.
String Trio
Their Trio is a unique and highly popular choice and has a more varied repertoire than the duo. With music ranging from Pachelbel's Canon to Can You Feel the Love Tonight, the trio will always consider arranging personal song choices upon request. The string Trio has a sound that carries beautifully across a room and is credited highly on its exquisite sound, varied repertoire and unique set up.
String Quartet
The Quartet has an extensive repertoire selection and also has the warmest and richest sound of their ensembles. The quartet is an excellent choice for larger scale events or those clients wishing to have a wider and more varied selection of repertoire from which to choose. The string quartet can cater for any sized event and previous clients include Harrods and Claridges in London.
Adagio- Albinoni
Air on the G- Bach
Arioso - Bach
Ave Maria - Bach ~ Gounod
Badinerie - Bach
Brandenburg Concerto No. 3 - Bach
Contrapunctus No.1 - Bach
Eine Kleine Nachtmusik - Mozart
Fur Elise - Beethoven
Jesu, Joy of Man's Desiring - Bach
Liebestraum - Liszt
Nutcracker Suite - Tchaikovsky
Pachelbel's Canon in D - Pachelbel
Pathetique - Beethoven
Piano concerto no. 21 (Andante) - Mozart
Radetzky March - Strauss
Rondo alla Turca - Mozart
Trumpet Tune in D - Purcell
Two Rondeaux from Abdelazar & The Fairy Queen- Purcell
Water Music Extracts - Handel
Ave Maria - Schubert
Bolero - Ravel
Girl with the Flaxen Hair - Debussy
Hungarian Dances (various) - Brahms
Meditation (from Thais) - Massenet
O Sole Mio - di Capua
Salut D'Amour - Elgar
Sleeping Beauty Waltz - Tchaikovsky
The Swan - Saint-Saens
Valse - Chopin
Waltz from Sleeping Beauty - Tchaikovsky
Blue Danube Waltz - Strauss
Czardas - Monti
Palladio - Jenkins
Simple Symphony- Britten
Amazing Grace - Traditional
English Country Gardens- Traditional
Londonderry Air - Traditional
Rule Britannia - Arne
The Irish Washer Woman- Traditional
Aria from Xerxes - Handel
Excerpts from 'Carmen' - Bizet
H.M.S Pinafore -Sullivan
Nessum Dorma from Turandot- Puccini
A Day in the Life of a Fool (Black Orpheus) - Louise Bonfa
Blue Moon - Richard Rogers
Blues in The Night (My Momma Done Tol' Me)- Harold Arlen
Cry Me a River - Arthur Hamilton
Everytime We Say Goodbye - Cole Porter
How High the Moon - Morgan Lewis
I Only Have Eyes for You - Harry Warren
It Don't Mean a Thing If It Ain't Got That Swing - Ellington
It's Only a Paper Moon - Harold Arlen
Makin' Whoopee - Donaldson
Pennies from Heaven - Arthur Johnson
Someone to Watch Over Me - Gershwin
Sweet Georgia Brown - Maceo Pinkard, Ken Casey & Ben Bernie
The Folks who Live on the Hill - Jerome Kern
They Can't Take That Away from Me - Gershwin
All You Need is Love - Lennon & McCartney
Bohemian Rhapsody - Queen
Chasing Cars - Coldplay
(Everything I Do) I Do it For You - Kamen
Greatest Love of All - Michael Masser
Have I told you lately - Van Morrison
Hey Jude - Paul McCartney
If I Fell - Lennon & McCartney
Money, Money, Money - Abba
Moonlight in Vermont - Suessdorf
Norwegian Wood - Lennon & McCartney
Paperback Writer - Lennon & McCartney
The Winner Takes it All - Abba
Tomorrow Never Knows - Lennon & McCartney
Viva La Vida - Coldplay
When I Fall In Love - Victor Young
Yesterday - Lennon and McCartney
Cafetin de Buenos Aires - Mariano Mores
La Cumparsita - Rodriguez
Por Una Cabeza - Gardel
As Long As He Needs Me - Lionel Bart
Anything Goes - Cole Porter
Empty Chairs and Empty Tables from Les Miserables - Claude-Michel Schonberg
I Don't Know How to Love Him- Andrew Lloyd Webber
Leaning on a Lamppost - George Formby
Love Changes Everything - Andrew Lloyd Webber
Maria from Westside Story - Leonard Bernstein
Moonfall - Rupert Holmes
Music of the Night - Lloyd Webber
Smoke get in your Eyes (from Roberta) - Jerome Kern
Tonight from Westside Story - Leonard Bernstein
A Whole New World from Aladdin- Alan Menken
Ashokan Farewell - Jay Ungar
Cavatina from The Deer Hunter- Stanley Myers
Days of Wine and Roses - Mancini
Harry Potter theme music- J.Williams
Jeeves & Wooster theme - Anne Dudley
Meggies Theme - Mancini
Moon River - Henry Mancini
Pie in the Face Polka - Mancini
She from Notting Hill - Elvis Costello
Somewhere Over the Rainbow - Harold Arlen
Speak Softly Love from The Godfather- Nino Roso
Star Trek, The Next Generation - J. Goldsmith
Theme from E.T. - John Williams
Theme from Molly Manguires - Mancini
Theme from Schindler's List - John Williams
Black and White Rag - George Botsford
Maple Leaf Rag - Scott Joplin
Adagio for Strings- Barber
Alleluja from Exultate Jubilate - Mozart
Arrival of the Queen of Sheba - Handel
Ave Verum Corpus - Mozart
Barber of Seville - Rossini
Canon - Pachelbel
Divertimento (Various)- Mozart
Excerpts from the 'Four Seasons' - Vivaldi
Hornpipe from the Water Music - Handel
La Rejouissance (Music for the Royal Fireworks) - Handel
Nimrod from Enigma Variations - Elgar
Ode to Joy - Beethoven
Panis Angelicus - Franck
Pavane - Faure
Prelude from 'Te Deum' - Charpentier
Rondeau - Mouret
Sheep May Safely Graze - Bach
Trumpet Voluntary - Clarke
Wachet Auf - Bach
Adagio from Violin Concerto No.1 - Bruch
Barcarolle - Offenbach
Bridal Chorus (Here Comes the Bride) - Wagner
Gymnopodie No 1 - Satie
In the Hall of the Mountain King - Grieg
Norwegian Dance No. 2&3 - Grieg
Polovtsian Dance - Borodin
Slavonic Dance No.8 - Dvorak
The Girl with the Flaxen Hair - Debussy
Traumerei - Schumann
Waltz - Grieg
Wedding Day at Troldhaugen - Grieg
Cock Linnet - Collins/Leigh arr. Martelli
Funiculi, Funicula - Denza
Pizzicato Polka - Strauss
A Scottish Selection- Traditional
Cockles and Muscles- Traditional
Greensleeves - Traditional
Nearer My God to Thee- Mason
Star Spangled Banner - Traditional
The Minstrel Boy- Traditional
Libiamo from 'La Traviata' - Verdi
Flower Duet from 'Lakme' - Delibes
Intermezzo Sinfonico from Cavalleria Rusticana - Mascagni
Ballata from 'Rigoletto' - Verdi
A Nightingale Sang in Berkeley Square - Manning Sherwin
But Not for Me - Gershwin
Byebye Blackbird- Ray Henderson
Don't Get Around Much Anymore - Ellington
Fly me to the Moon - Bart Howard
I Got Rhythm - Gershwin
I've got you under my skin - Cole Porter
It Had to Be You - Isham Jones
Let's Do It - Cole Porter
My Funny Valentine - Richard Rogers
S'wonderful - Gershwin
Summertime - Gershwin
Take Five - Paul Desmond
The Girl from Ipanema - Antonio Carlos Jobim
Angels - Robbie Williams
Bittersweet Symphony - The Verve
Bridge Over Troubled Water - Paul Simon
Eight Days a Week - Lennon & McCartney
Got to Get You Into My Life - Lennon & McCartney
Hard Day's Night - Lennon & McCartney
Hello Goodbye - Lennon & McCartney
I Feel Fine - Lennon & McCartney
Lady Madonna - Lennon & McCartney
Moondance - Van Morrison
Nobody Does it Better - M. Hamlisch
One Day Like This - Elbow
The Wind Beneath My Wings - Geoff Silbar & Larry Henley
(They Long To Be) Close to You - Bert Bacharach
Unchained Melody - Alex North
What a Wonderful World - Weiss & Thiele
When I'm 64 - Lennon & McCartney
You Raise Me Up - Graham & Lovland
Cristal - Mariano Mores
La Vi Llegar - Enrique Francini
Selection of Tangos by George Speckert
All I Ask of You from Phantom of the Opera - Andrew Lloyd Webber
Don't Cry for Me Argentina from Evita - Andrew Lloyd Webber
I Could Have Danced all Night - Lerner & Lowe
If I Were a Rich Man - Jerry Bock
Lord of the Dance- Ronan Hardiman
Lullaby of Broadway - Harry Warren
Memory from Cats- Andrew Lloyd Webber
Mr. Wonderful - Jerry Bock, Larry Holofcene and George David Weiss
New York, New York - Leonard Bernstein
Tea for Two - Vincent Youmans
Where is Love - Lionel Bart
All Time High from Octopussy - J. Barry
Baby Elephant Walk - Mancini
Charada - Mancini
Gabriel's Oboe - Ennio Morricone
James Bond Theme - M. Norman
Kissing You (Love theme from Romeo and Juliet) - Des'ree
Mission:Impossible - Lalo Schifrin
My Heart Will Go On from Titanic- James Horner
Schindler's List Theme - John Williams
Somewhere Out There from An American Tail- James Horner
Song from 10 (It's Easy to Say) - Mancini
The Magnificent Seven- E.Bernstein
The Throne Room - J. Williams
Theme from Inspector Clouseau - Mancini
Theme from Jeeves and Wooster - Julian Kershaw
Theme from The Thorn Birds - Mancini
Entertainer - Joplin
Ragtime Dance - Joplin
National Music Awards (performing at the VIP lounge)
Michael Jackson Tribute Concert at the Millennium Stadium
Britain's Got Talent (Backing strings)
Man Booker Prize Awards
Harrods
Houses of Parliament
The Savoy
Hilton on Park Lane hotel
Mandarin Oriental
National Television Awards (performing with Kimberey Walsh)
Strictly Come Dancing (Backing strings)
X Factor (Backing strings)
The Guardian First Book Awards
The Gherkin
All England Lawn Tennis Club
Claridge?s, Mayfair
Locanda Locatelli
Old Royal Naval College
" Their standard of playing was amongst the best I've heard with their tuning being spot on all the time, unlike many other string ensembles I've worked with before. Their high level of professionalism was much appreciated both on stage and off stage. I cannot recommend them highly enough. "

Colin Walker - Tour & Production Manager for Katie Melua
" Thank you so much for playing so beautifully at our wedding. So many people commented on how brilliant you were. You really made the day so special for us. "

Robert Popper, Director of Peep Show
" Thank you for making our event so special, everyone appreciated your music so much. "

Richard Lane, President of Diabetes UK
" Thank you again so much for your professionalism and great performance last week. "

Harrods Event Co-ordinator
" Wonderful and Charming, I didn't want you to stop playing! "

Christopher Biggins, Actor and Media personality
" It was lovely to work with you at the Fête Champêtre & Concours D'Elégance and I look forward to working with you again in the future. "

Jo Morris - House Admin Manager at The Hurlingham Club
" I wanted to say thank you to the Apollo Duo for performing at my wedding on 28th July 2012. They did an amazing job and all the guests loved the music they played. We will definitely be recommending you in the future. "

Shamiran Mary Azi