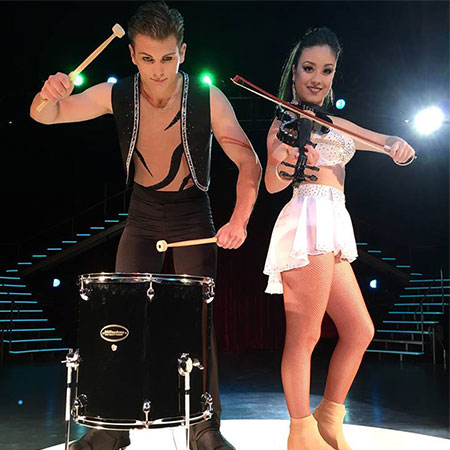 Instrumental Rollerskating Act
Acrobatic rollerskating show with instrumental intro
Guest will be amazed by their dynamic spinning perforamce
Musical elements make this circus act stand out
Customisation options available regarding staging, costumes and storylines
Based in Holland and available to perform at venues worldwide
Instrumental Rollerskating Act PHOTOS
This Instrumental Rollerskating Act can make the difference between a standard and a first-rate show. The ideal entertainment option for circus shows, cruise ships and festivals, our acrobatic roller skaters offer a unique act with a half live half taped instrumental intro.  
The rollersktaing duo can also adapt to different staging options though, which makes their act suitable for any type of venue.  Loved by both little ones and adults, our acrobatic rollerskating show can be the perfect entertainment option for your Circus show, your corporate event or any type of exhibition or product launch.
Our rollerskating duo's six minute performances usually tell a love story through acrobatic moves, drums and violin's sounds and corporal expression. A brand new storyline can be created upon customer request though.  More customisation options including costumes, personalised storylines and inclusion of logos, brand names and thematic aspects can also be discussed and agreed.
What makes this acrobatic rollerskating show even more spectacular if possible is the limited space used in their performances. As you can see in their video presentation above, they usually perform on a caster stand of limited dimensions. This makes their Instrumental Rollerskating Act be all about balance, coordination and precision.
Their chemistry and synchronisation make of their show an outstanding spectacle you can't afford to miss! Circus lovers will not be disappointed and demanding audiences will be more than satisfied thanks to their charm and charisma.
Our talented acrobatic roller skaters have performed for Benidorm Circus in the past and their roller skates have led them to perform at many venues around Europe and America.
If this acrobatic rollerskating show with instrumental intro is something suitable for your event's requirements, do not hesitate to get in touch with us and make an enquiry. Scarlett Entertainment specialists will be happy to advise you.