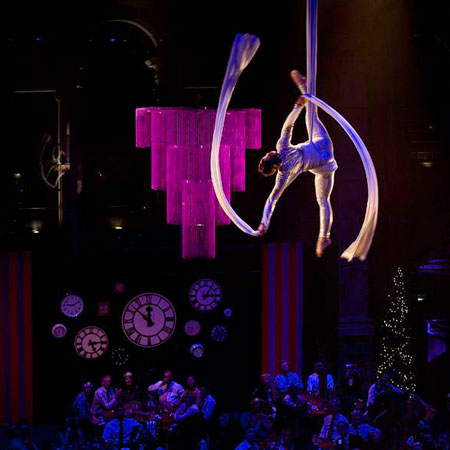 International Aerialists
Aerialists combine the grace of an angel with the dynamics of a demon
A seamless blend of strength, flexibility and balletic movement
Artists contort, weave and flow on aerial silks and white hoops
Dramatic aerial show with beautiful yet haunting melodies
Based in London and available to perform at events worldwide
International Aerialists VIDEOS
International Aerialists PHOTOS
With the grace of an angel and the dynamics of a demon, International Aerialists can at once be the most elegant of acts and also the most powerful. Whether you prefer beautiful, elegant and balletic, or fast moving dynamic and dangerous, this is aerial performance at its best.
This electrifying act is one to set everyone's pulses racing! High flying pure exuberance set to Michael Buble's sensational version of the classic 'Feeling Good'; this act is a real 'eyes towards the sky' head-turner. Utilising her dance background to the full, this talented aerialist contorts, weaves, and flows on white aerial silks. Dynamic tumbles add dramatic effect to this already stunning act.
Available as both a solo and synchronised duet, and fresh from performances in the UK, Beirut, Jordan, Madrid and the USA, this act with definitely leave you breathless and... 'Feeling Good'!
Also available is the World Class Circus Aerial Hoop, set in a white hoop suspended in the air, this is an exceptionally captivating act. The aerialist moves gracefully and elegantly, dancing in the air, in and around her hoop whilst the beautiful and haunting melodies add to this most graceful of performances. 
A seamless blend of strength, flexibility and balletic movement come together to create an elegance that will both move and uplift.
Also available as either a solo or synchronised duet.
Contact our team of Entertainment Experts who will be more than happy to help with your enquiry.