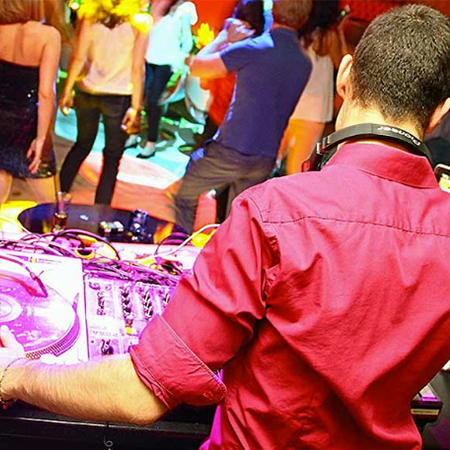 Live Event DJs
Exceptional corporate event DJs that can also perform at weddings, nightclubs and other parties
Can play different music genres, from club classics to slow dancing songs and pop and rock hits
They can use vinyl desks or advanced software and computers for their performances
In-demand wedding DJs, also suitable for corporate events, nightclub celebrations, etc.
Berlin-based and available for international bookings
Are you looking for wedding DJs for your special day or upcoming big celebration? Then look no further! Our live event DJs are specialists at performing at events such as weddings, corporate parties and nightclubs. They can offer both soothing background music for drinks receptions and cocktail parties or get party goers in the groove by mixing and playing different music genres, catchy tunes and disco music.
As wedding DJs, our versatile event performers can be booked to create a nice atmosphere at your drinks reception with some chill out music while people have some drinks or share a nice conversation. Later in the evening, they can become the soul of the party by playing and mixing some club classics who will put everyone in the party mood.
Besides being in-demand wedding DJs, our versatile event performers are also suitable for a wider range of occasions such as corporate events, product launches, exhibitions, trade shows, etc. These amazing party DJs from Berlin can customise their performances to they fit your specific requirements. Their set list can vary in order to satisfy your guests' different music tastes. They can play different music genres and mix club classics with slow dancing songs, or chart-topping tunes with some popular pop and rock hits.
Whatever the occasion, our live event DJs are guaranteed to be a hit at any party and they will make sure guests at your wedding, attendees at your corporate event or crowds at your nightclub enjoy themselves and dance until they feet hurt. Using either vinyl desks or advanced software and computers, they can fit both modern and vintage parties and perform both indoors or outdoors, weather permitting.
Scarlett Entertainment offers a broad variety of DJs for events and parties worldwide.
If you would like to book these fantastic party DJs from Berlin for your wedding or party in Germany or anywhere in the world, don't hesitate to get in touch with us today and ask to speak to one of our coordinators. They will be happy to guide you through the booking process.