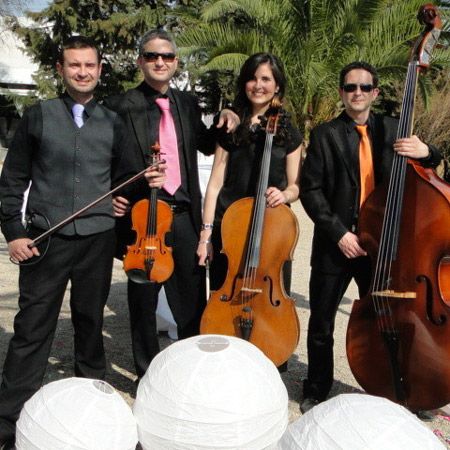 Live Event Musicians
Classically trained musicians will create the perfect ambience
Perform fantastic repertoire of classical, jazz, & contemporary music
Completely customisable line up to suit your requirements
Ideal for weddings, ceremonies, gala dinners, cocktail receptions, etc.
Based in Alicante and available to perform at events worldwide
Live Event Musicians PHOTOS
Our sensational musicians are certain to set the perfect tone at your event, performing with both passion and professionalism and providing an ambient soundtrack for all occasions. Versatile performers, these talented musicians are classically trained with a wealth of experience, and are specialised in playing a wide range of musical styles.
If you are after classical music for your event, the group offer a fully customisable repertoire, and can perform original arrangements of popular classical pieces, film scores, and contemporary music in a variety of line ups to suit your needs, with the option of adding vocals in the form of a soprano, tenor, or baritone. 
The group can also offer performances as a jazz ensemble in various line ups, playing contemporary jazz numbers, or interpreting a diverse repertoire of tangos, boleros, soundtracks, Bossa nova and jazz standards. As well as this, these exceptional musicians can perform a range of famous classical Spanish pieces and traditional dance styles such as tango, flamenco and rumba with the accompaniment of professional dancers to add a dynamic touch to your event.
Ideal for weddings, ceremonies, gala dinners, cocktail receptions, corporate functions and more, enquire today about bringing these fantastic musicians to your event.
"Canon" ( Pachelbel)
"Largo de la ópera Xerxes" (Haendel)
"Arrival queen of Sheba" (Haendel)
B.S.O "La vida es Bella" (Piovani)
"Aria de la Suite en Re" (Bach)
"Intermezzo" ( Mascagni)
B.S.O. de la Misión "Oboe de Gabriel" (Morricone)
"Barcarola de los cuentos de Hoffman" (Offenbach)
"Ave Maria" (Caccini)
"Aria de las variaciones Goldberg" (Bach)
"Primavera" Vivaldi
"Panis angelicus" ( Franck)
"Bist du bei mir" ( Bach)
B.S.O. de la Misión "Oboe de Gabriel" (Morricone)
"Concierto de Aranjuez" ( Rodrigo)
"Vals de las flores" ( Tchaikovsky)
"River Flows in You" (Yiruma)
"Greensleave" (Tradicional celta)
"Aleluya" ( Haendel )
"Arrival queen of Sheba" (Haendel)
B.S.O. La Misión "Oboe de Gabriel" (Morricone)
B.S.O. Forrest Gump
B.S.O. Tema de Lara (D. Zhivago)
"Trumpet tune" ( Purcell)
"Minueto" (Boccerini)
"Marry You" (Bruno Mars)
"Prince of Demmark´s March ( Clarke)
"O mio babbino caro" ( Puccini)
"Aria de la Suite en Re" (Bach)
B.S.O. El Cartero y Pablo Neruda
B.S.O. Gladiator
B.S.O. Pearl Harbor (Tennessee)
"Canciones gitanas"(Dvorak)
"Barcarola" ( Offenbach)
"Imagine" (John Lenon)
"Nothing Else Matters" (Metallica)
"Canticorum Jubilo " ( Haendel )
B.S.O "La vida es Bella" (Piovani)
"All You need is love" (The Beatles)
"I´m Yours" (Jason Thomas Mraz)
La vida es bella
Cinema Paradiso
El mago de Oz (Over the rainbow)
El cartero
Forrest Gump
Alma con alma
Bésame mucho
Tres palabras
Por una Cabeza
Desafinado
The shadow of your smile
Summer Samba
In a sentimental mood
What a wonderful world
These Foolish Things
Singing in the rain
Love of My Live (Freddy Mercury)
November Rain (Guns and Roses)
All you need is Love (The Beatles)
Your Song (Elton John)
"Benedicat Vobis" ( Haendel)
"Primavera" (Vivaldi)
"Marcha nupcial " (Wagner)
"Aleluya" ( Mozart)
"Arioso" (Bach)
"Gymnospedie" ( Satie)
"El cisne" (Saint Saens)
"Meditación de Thais" (Massenet)
"Ave María" ( Saint-Saens)
"Sarabande" (Haendel)
"Benedicat vobis" (Haendel)
"Ave verum" ( Mozart)
"Sonata Claro de Luna" (Beethoven)
"Adagio" (Albinoni)
"Aria de la suite en re" ( Bach)
Canciones gitanas op.55( Dvorak)
"Imagine" (John Lenon)
"Oh Danny Boy" (Tradicional celta)
Marcha Nupcial (Mendelsohn)
"Prince of Demmark´s March ( Clarke)
B.S.O. Leyendas de Pasión
B.S.O. El último Mohicano
"Everything I do" (Bryan Adams)
"Arioso" (Bach)
"Love of my life" (Freddy Mercury)
"Marcha nupcial" ( Mendelssohn)
"Cantata 147" (Bach)
"Gymnospedie" ( Satie)
"Intermezzo" ( Mascagni)
B.S.O. Cinema Paradiso
B.S.O. Moon River
"Danza Húngara" ( Brahms)
"El cisne"
"Liebesleid" (Kreisler)
"Yesterday" (The Beatles)
"Divenire" (Ludovico Einaudi)
"Aleluya" ( Haendel )
"Arrival queen of Sheba" (Haendel)
"Viva la vida" (Coldplay)
"Bitter Sweet Symphony" (R.Ashcroft, Mick Jagger)
La misión (Gabriel's oboe)
El último Mohicano
Dr. Zivago (Somewhere my love)
Los chicos del coro (Les avions)
Crepúsculo (River Flows in you)
Solamente una vez
Amapola
El día que me quieras
Uno
Wave
Chega de Saudade
All of me
Night and day
Caravan
Bloo Moon
La vie en Rose
Always (Bon Jovi)
Starway to Heaven (Led Zeppeling)
Yesterday (The Beatles)
Somebody to Love (Queen)
"Trumpet tune" ( Purcell)
"Minueto" (Boccerini)
"Prince of Demmark´s March ( Clarke)
"Aleluya" (Purcell)
"Benedicat Bovis" (Haendel)
"Sueño de amor" ( Liszt)
"Claro de luna" ( Debussy)
"Ave Maria" ( Schubert)
"Ave Maria" (Verdi)
"Dona Nobis Pacem" Mozart
"O mio babbino caro" ( Puccini)
"Laudate dominum" ( Mozart)
"Serenata" (Schubert)
"Lascia ch'io Pianga " (Haendel)
"Danza Húngara" ( Bramhs)
"Liebesleid" (Kreisler)
"Yesterday" (The Beatles)
"Canon" (Pachelbel)
Marcha Nupcial ( Wagner)
"Canon " ( Pachelbel)
B.S.O. El Cartero y Pablo Neruda
B.S.O. Gladiator
"Canon" ( Pachelbel)
"Largo de la ópera Xerxes" (Haendel)
"Your Song" (Eltohn John)
"Arrival queen of Sheba" (Haendel)
B.S.O "La vida es Bella" (Piovani)
"Barcarola de los cuentos de Hoffman" (Offenbach)
"Meditación de Thais" (Massenet)
B.S.O. Forrest Gump
B.S.O. Tema de Lara (D. Zhivago)
"Serenade" (Schubert)
"Claro de luna" ( Debussy)
"Hasta mi final" (Il Divo)
"All You need is love" (The Beatles)
"Can You Feel the Love Tonight" (Elton John)
Marcha Nupcial (Mendelsohn)
"Prince of Demmark´s March ( Clarke)
"Halo" (Beyoncé)
"Halo" (Beyoncé)
El padrino
Gladiator (Now we are free)
La lista de Schindler
Ghost (Unchained melody)
My way
Sabor a mi
Contigo aprendí
El Choclo
Volver
Black orpheus
A felicidade
Tea for two
All the things you are
Satin Doll
Fly me to the moon
Somethin´Stupid
Thank You for lovin me (Bon Jovi)
Nothing else Matter (Mettallica)
Halo (Beyoncé)
Imagine (John Lenon)
"Arioso" (Bach)
"Marcha nupcial" ( Mendelssohn)
"Cantata 147" (Bach)
"Hallelujah" (Leonar Cohen)
"Canticorum" (Haendel)
B.S.O. de "Cinema Paradise"
"Hallelujah" (Leonar Cohen)
"Ave Maria" (Gounod)
"Coral de la cantata 147" ( Bach)
"Andante de la Sonata en La M K.V. 331" Mozart
"Meditación de Thais" (Massenet)
"Agnus Dei" ( Mozart)
"Adagio del concierto en Re m para oboe" (Marcello)
"Sarabanda" ( Haendel)
Serenade ( Schubert)
"Hasta mi final" (Il Divo)
"All You need is love" (The Beatles)
"Canticorum Jubilo " ( Haendel )
B.S.O "La vida es Bella" (Piovani)
"Ombra mai fu" ( Haendel)
B.S.O. Cinema Paradiso
B.S.O. Moon River
"Benedicat Vobis" ( Haendel)
"Primavera" (Vivaldi)
"River Flows in You" (Yiruma)
"Marcha nupcial " (Wagner)
"Lascia chio pianga" ( Haendel)
"Hallelujah" (Leonar Cohen)
B.S.O. Leyendas de Pasión
B.S.O. El último Mohicano
B.S.O. La leyenda del Pianista sobre el océano
"Vals de las flores" ( Tchaikovsky)
B.S.O. de "Cinema Paradise"
"Amazing Grace"
"Starway to Heaven" (Led Zeppeling)
"Canon" (Pachelbel)
Marcha Nupcial ( Wagner)
"Liebesleid" (Kreisler)
"I say a little Prayer" (Aretha Franklin)
"Hasta mi final" (Il Divo, Wayne Hector)
Memorias de África
Amelie
La leyenda del pianista sobre el océano (Playing love)
Moon river
Contigo en la distancia
Esta tarde vi llover
El reloj
La Cumparsita
La chica de Ipanema
Blue bossa
Samba de una sola nota
Autumn leaves
The days of wave and roses
Misty
Strangers in the Night
Viva la Vida (ColdPlay)
With or withoutyou (U2)
Imagine (John Lenon)
I say a little Prayer (Aretha Franklin)
Yesterday (The Beatles)