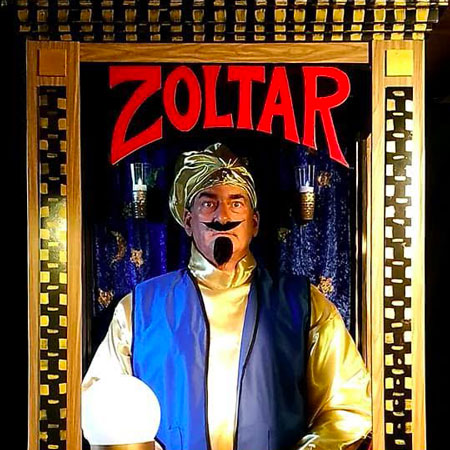 Living Arcade Fortune Teller
Our Living Arcade Fortune Teller machine entertains guests with comedy fortune readings
A hilarious comedy improv attraction based on the timeless arcade fortune teller machine
Entertaining passers-by with his magic & comedy, and gives out actual comical fortunes through the dispenser as a keepsake souvenir
Perfect for festivals, fun fairs, corporate events, private functions and any event looking for interactive entertainment
Based in New York, USA and available for worldwide bookings
Our Living Zoltar is a comedy improv attraction based on the timeless arcade fortune teller machine. Boasting interactive entertainment that is truly hilarious our Living Arcade Fortune Teller entertains guests of all ages with his comedy act fortune teller character.
A comedian who brings the Living Arcade Fortune Teller Zoltar to life and entertains passers-by with his character performing magic, comedy, and giving out actual comical fortunes through the dispenser as a keepsake souvenir.
Guaranteed to wow with his fast thinking and witty fortunes, our fortune teller machine gets your guests to laugh at themselves and one another in a friendly environment. 
Providing your guests with keepsakes that they can take home with them this comedy act is a fantastic addition to all events. Performing magic tricks that are guaranteed to draw a crowd, this interactive character moves and talks just like a real arcade fortune teller machine.
Dressed in the authentic fortune teller machine attire our comedy act provides interactive entertainment that is fun for the whole family. Tailoring his comedy act to suit all audiences our Living Arcade Fortune Teller draws people in and wows with his authentic fortune teller machine appearance. 
Bringing the funfair to your event our Living Arcade Fortune Teller adds a comedy aspect for your guests to get involved with, great for breaking the ice at corporate events and giving guests something to talk about. 
Perfect for festivals, fun fairs, corporate events, private functions and any event looking for interactive entertainment this Living Arcade Fortune Teller appeals to all ages and is fantastic for providing interactive entertainment that brings an arcade style to your event.
To book our Living Arcade Fortune Teller or for more information about our comedy act and booking interactive entertainment, contact our helpful team of Entertainment Specialists today.