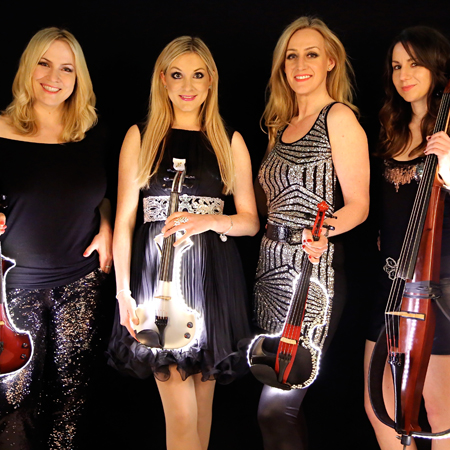 London Female String Quartet
Widely regarded as one of the UK's most sought electric and acoustic strings ensembles
Offer both instrumental and shows with vocals with scalable line-ups down to a duo or just solo violin
Perform a fantastic mix of classical crossover, pop and internationally known hits
Previous clients include global brands Sony/Ericsson, Zurich, BP oil, Linde, Ford and more
Can perform as an LED String Quartet to bring the extra wow factor to your event
London Female String Quartet PHOTOS
This truly International act and are widely regarded as one of the UK´s most highly sought after entertainment acts. Graduates of the Royal Academy and Royal College of Music in London, they have been attracting worldwide attention.  They are the UK's favourite acoustic and electric string quartet to incorporate tightly choreographed "show-stopping" routines with brand new backing tracks. The latter, being produced by "Westlife" and "X-factor's" Musical Director.
Their flexibility in being able to offer either a purely instrumental show or the fabulous option of vocals and playing offers a unique entertainment package second to none. Live options are very flexible with smaller line-ups down to a duo or even just solo violin and even a full LED instrument show. 
Their act incorporates a fantastic mix of well known tracks including Classical Crossover, Pop and Internationally well-known themes. A 2-in-1 package, they offer the wow factor as an elegant Classical background quartet who transform with different costumes and electric instruments for their spellbinding pop show.
Here are the options:
Up to 1 hour classical background/easy listening set where the girls wear beautiful long dresses and play acoustic instruments (no amplification required) then...
Pop Show(s)
1. Up to 30 minutes of high energy purely instrumental show on electric instruments.  Perfect for: Gala dinners, awards ceremonies and after dinner shows
2. Up to 30 minutes of high energy tracks with a combination of vocal and instrumental tracks.  Perfect for: Private parties and other events where there is a dance floor
3. 2x 20 minute POP shows comprising of: 1 x 20 minute instrumental and 1 x 20 minute vocal/instrumental show.
All of Me
A Thousand Years
Somewhere Only We Know
Eternal Flame
Skyfall
Someone Like You
Saving All My Love
Con Te Partiro
Chi Mai
Latika's Theme
Pallladio (karl Jenkins)
Storm (vivaldi - Summer 4 Seasons)
Titanium
Joy of Life (irish)
Viva La Vida
Sandstorm (david Guetta)
Pachebel's Canon
Shape of You
The Closest Thing to Crazy
Somewhere out There
Fields of Gold
Crouching Tiger
Autumn Leaves
At 17
Somewhere out There
Klubbed to Death (from Matrix)
Game of Thrones Theme
Viva (vivaldi - Spring 4 Seasons)
Pirates of the Carribean
Con Te Partiro
Explosive
Mr. Blue Sky
SAGE
Zurich
Skandia
Royal Variety Club of GB
Sheikh Mohammer of Dubai
The Dorchester
Claridges
Grosvenor House
Excel Centre
Al Bustan Palce - Muscat
Linde
Sony/Ericisson
Ford
BP oil
World Rally Championships
The Savoy
Celtic Manor
MPI International Conference at (The Painted Gallery, Royal Naval College in Greenwich)
King Hussein Bin Talal Convention Centre - Jordan
Battersea Power Station
" "Their performance was just what we needed to wow the clients!" "

Fresh Events
" "They were simply magical the way they performed so beautifully, they brought so much happiness and joy to so many people who´s lives have been shattered through their emotional pain. We are so grateful to them for giving us a night we will never forget!" "

The Warrior Programme
" "Seriously talented musicians, they´re glamorous and classy – they´re the whole package and I love their new set which includes vocals. Having used them 3 or 4 times now, I´ll continue to do so. They´re fantastic and I highly recommend them!" "

Rebecca Barnett, Marketing Manager Sage (UK) Ltd
" "Many thanks for the excellent entertainment at our Gala Dinner, It was good to be able to finish the conference on such a high note!" "

Private client
" "Your show was simply fantastic – high impact and something for everyone in the audience. Our guests loved it... And so did we!" "

Parcom Deutsche Private Equity
" "Simply fantastic! We want you back next year." "

PLC Awards
" "Like Bond but better!" "

Prelude
" "They were totally professional. The group's energy and enthusiasm shone through. A terrific performance!" "

John Worland, Fade to Black TV
" "We have received some tremendous feedback from your show, your music helped create a wonderful atmosphere and in turn added to the success of the launch of our new range!" "

Wolfgang Geuecke, MD of Linde
" "They entertained 220 delegates from all over the world at the Heart Awards Dinner held during the Annual Variety Children´s Charity International Convention at The Royal Lancaster Hotel, London. They were just sensational. I have nothing but praise!" "

Tony Hatch, Composer & Producer
" "Thank you for being brilliant!" "

ARK Gala Dinner
" "There were very high expectations from my client the band was a key piece to the evening. I have to say that not only did they blow me away, but they blew pretty much everyone away who attended. I have had nothing but praise for choosing the girls for the entertainment!" "

INV Events