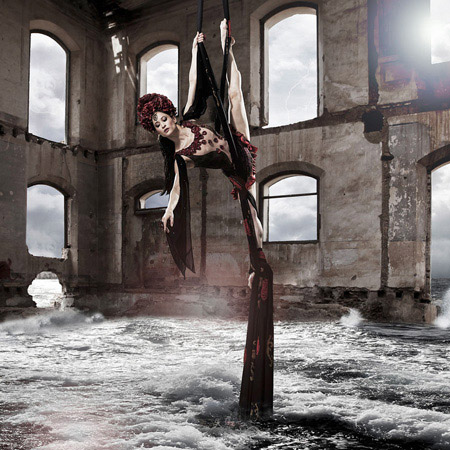 Magical Rose Air Theatre Show
Surreal aerial theatre show features aerial silks, live musicians and a soprano vocalist
Nominated in the Jury Selection of the Netherlands Theatre Festival
Performed in Monaco, Luxembourg, Austria, Munich and Belgium
Perfect for theatre shows, corporate events & after dinner entertainment
Based in Munich and available to perform at events worldwide
Magical Rose Air Theatre Show PHOTOS
Magical Rose Aerial Theatre Show takes audiences into an enchanting world as performers combine mesmerising acrobatics, music and singing to provide an out of this world aerial performance. Each colourful show is an astounding mix of mesmeric motion, stirring vocals, and moving instrumentals. One of the best aerial and music shows in Munich, the multi-talented group have received countless awards and citations. The latest is a nomination for the Jury Selection Prize of the Netherlands Theatre Festival.
Combining music and aerial acrobatics, handmade costumes, and special effects, Magical Air Theatre weaves wonderful tales that will be remembered be the audience for a long time. Testament to the beauty of the show is the fact that they have travelled around Europe to showcase their performance to international audiences. From Amsterdam to Monaco, Luxembourg, Austria, Munich and Belgium, the group delivers powerful, stirring performances every time.
Magical Rose Aerial Theatre Show provides any event with the unique excitement necessary to make it even more memorable, making them a sought after aerial group for corporate events, theatre shows, product launches, and private parties. A highly adaptable act, the show can be expanded in a number of ways: additional instruments can be incorporated including clarinet, saxophone and taiko drums, as well as a troupe of talented professional dancers. They can also provide a vibrant "Lovely World" themed 20 minute show with a storyteller, LED lights, bubbles, dance, aerial hoop, aerial silks, live music and beautiful costumes. Whatever your event, the adaptable artists led by professional aerialist Simone will ensure that your special occasion is perfectly catered for.
Simone is also an highly accomplished solo aerialist, available to perform for a wide range of events. Her previous experience experience has seen her working internationally as an aerial silk soloist with Cirque du Soleil, Holiday On Ice and others. She also offers a beautiful white swan themed aerial performance: Flying Swan Aerial Show.
Delivering world class performances, this one of a kind show will allow your event to really stand out from the crowd.
Contact us today to find out more!