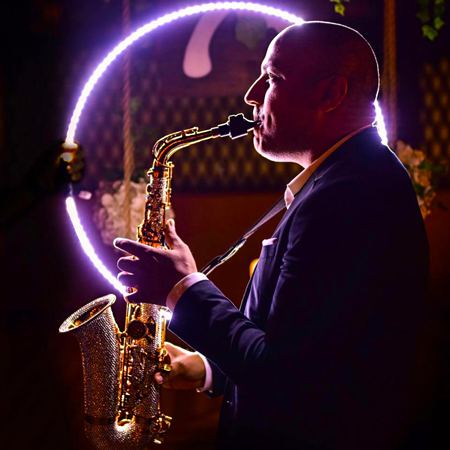 Male Sax Player Dubai
One of the most prolific freelance saxophonist in the whole of the UAE
Highly experienced sax player associated with VIP parties and high-end entertainment
Solo sax player performs alongside DJs or with his own music as well as with local musicians
Owner of a luxurious Swarovski saxophone that brings glamour to any special occasion
Dubai sax player can be booked for events throughout the UAE as well as internationally
Male Sax Player Dubai VIDEOS
Male Sax Player Dubai PHOTOS
As one of the most prolific freelance saxophonists in the whole of the UAE, our Male Sax Player Dubai comes with a wealth of experience and a keen desire to provide clients and guests with the very best live music experience. His very versatile sax music can be applied and tailored to suit just about any occasion, environment or crowd type. Always incredibly stylish and elegant, this Dubai sax player can dress anywhere from formal to casual. 
The freelance saxophonist is a recognisable figure on the Dubai live music circuit often associated with VIP parties, high-end hotels and some of the most classy venues around Dubai and Abu Dhabi. From the Jumeirah Etihad Towers and the Abu Dhabi Yacht Club to the likes of Nikki Beach and the Grand Hyatt, the freelance saxophonist has spent years entertaining and serenading a wide range of audiences with his live music.
The Dubai sax player mainly performs alongside DJs to bring a live element as well as providing his own backing tracks for solo performances. His sax music mainly orientates around house music, lounge, nu disco, and commercial dance music. However, he is a brilliantly talented musician who can play a wide range of styles. The Dubai sax player is involved with many live music projects from lounge duos to full jazz bands. 
Top Tip:
Our Male Sax Player Dubai is the owner of a luxurious Swarovski saxophone. This fantastic instrument brings glamour to any special occasion. 
If you are looking for sax music to entertain your guests, speak to our team at Scarlett Entertainment about our Male Sax Player Dubai. With stage or roaming options, he is guaranteed to be your number choice in the UAE.