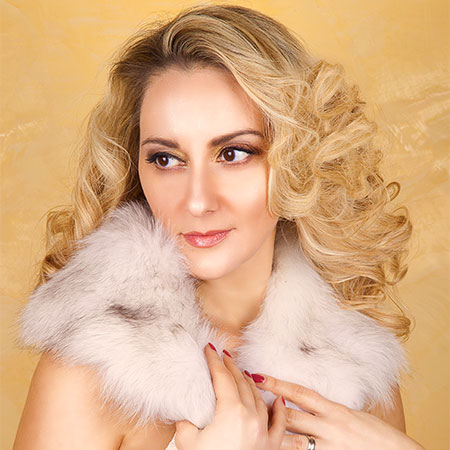 Modern Solo Opera Singer
Performs modern pop songs in a classical and elegant way
Can perform to tracking sounds, sing duets and carry out shows with a live orchestra
Has performed in important theatres, museums and opera houses in Italy
Stunnnig vocals will make the hairs on the back of your neck stand on end
Available for performances in Italy and overseas
Modern Solo Opera Singer PHOTOS
Elegance, sophistication and style define this Modern Solo Opera Singer. Her style has been compared to some big names in contemporary classic music such as Andrea Bocelli, Sara Brightman and Katherine Jenkins. This classical solo artist can be the perfect fit for your evening event, gala dinner or fancy afternoon garden party.
This versatile singer performs songs of different genres in a classical and elegant way. Her wide repertoire includes some of the greatest songs of all times such as "what a wonderful world" by Louis Armstrong, famous soundtracks from Hollywood films like "Moon River" and traditional Italian folk music.
Our Modern Solo Opera Singer can sing duets along with baritone and tenor singers, carry out shows with a piano as an accompaniment to vocals and perform with a live orchestra of up to 100 members. She can also sing with her own six piece live orchestra if required, and she could adapt her performance to be accompanied by as many instruments as desired.
Her live solo performance has captivated audiences in famous venues in Italy such as Marrucino Theatre, Istituto Musiscale Tostiano and Associazione Musicale Castelnuovo Tedesco.
Her performances' length vary from 60 minutes up to two and a half hours and they can take place indoors and outdoors, if weather conditions permit. Our classic solo artist loves to make audiences feel part of the show. That's why she can include special requests on her repertoire to satisfy any type of audience.
Available for performances in Italy, Europe and beyond, this Modern Solo Opera Singer will delight classical music lovers with her melodious voice and her engaging personality. Is contemporary classic music with a modern twist what you're looking for?
Then get in touch with a Scarlett Entertainment event coordinator that will be happy to discuss booking this stylish act.
Con Te Partirò - A. Bocelli
Il Cielo In Una Stanza - Mina
Lontano Iontano - L. Tenco
Mi Sono Innamorato Di Te - L. Tenco
Se Si Perde Un Amore - M. Marinangeli
Un Amore Cosi' Grande - C. Villa
Un Amore Per Sempre - M. Marinangeli
Una Lunga Storia D'amore - G. Paoli
Vedrai Vedrai - L. Tenco
Musicals:
All I Ask Of You from "Phantom of the Opera"
Memory from "Cats"
Somewhere from "West Side Story"
Italian Songs:
Every thing I Do - E. John
Your Song - E. John
Over The Rainbow -H Arlen
Tears In Haeven - E. Clapton
Change The Word - E. John
What A Wonderful Word - L. Armstrong
J'oublie - A. Piazzolla
Per te - J. Groban
International Songs:
Associazione Musicale "Mario Castelnuovo Tedesco"
Associazione "Zaccaria da Teramo"
Theater "Marrucino"
AIRC (Associazione Italiana per la Ricerca sul Cancro)
Associazione "Settembrata Abruzzese"
Istituto Musicale Tostiano
Agenzia "Les Artistes"