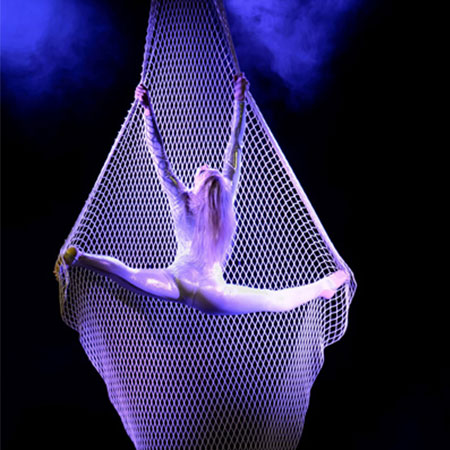 Net Aerial Dancer
Stunning aerial net act is a combination of breathtaking falls, flexibility and balance
Beautifully choreographed routines performed high above spectators' heads
Aerial dance performances are customisable and dancer and can be adapted to different performance spaces
Aerial arts performances are ideal for galas, ceremonies, festivals, concerts, after dinner shows, etc.
This Net Aerial Dancer is based in Germany and available for international bookings
Witness this sensational acrobatic aerial dancer defy gravity and vertigo with this aerial net act, a stunning circus performance that will captivate audiences as they see how she and the net becomes one! This skilled Net Aerial Dancer is guaranteed to leave a lasting impression with her mesmerising aerial dance performance.
Whether you're organising a gala, a ceremony, a festival or a concert, this net aerialist will make sure her routines are adapted to your event needs. This creative acrobatic aerial dancer can personalise her performances and create choreograph new dance routines especially for your occasion. On top of that, she can add an extra touch of drama by performing to requested music.
Highly skilled and flexible, this net aerialist will leave viewers speechless with her boundless creativity and flawless technique. High above people's heads, this specialist in aerial arts executes touching routines with a mixture of elegance and smoothness. Beautifully choreographed, this elegant and daring act is an extraordinary combination of breathtaking falls, flexibility and balance.
This net aerial act can also be the ideal entertainment option for variety shows of theatre productions, as our aerial acrobatic dancer is happy to adjust it to different situations and performance spaces and she is always happy to share the limelight with other artists.
Top Tip:
If you're thinking about hiring a multiskilled artist who also performs with other elements and aerialists and acrobats, then our net aerialist is what you're looking for! Check her Aerial Silks Act, Aerial Hoop Dancer, Water Bowl Act and Acrobatic Water Bowl Twins pages to find out more about all the performances she offers.
If you would like to book this Net Aerial Dancer for your upcoming event, then contact us right away and ask to speak to one of our Entertainment Coordinators. They will be more than happy to answer all the questions you may have about this net aerialist and assist you in the booking process.