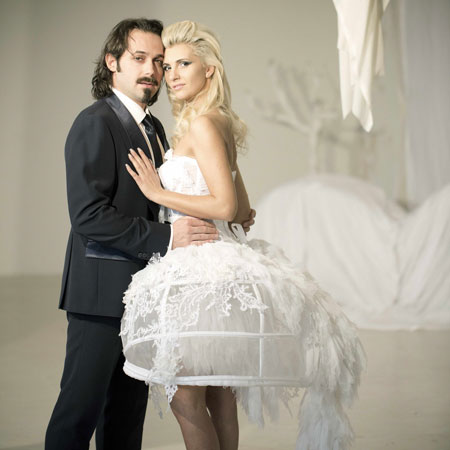 Operatic Pop Duo
Breath taking Italian opera singers WOW audiences with their phenomenal classical voices
An operatic duo who have fused pop and opera music together to form operatic pop that is contemporary yet elegant
Our duo have a wealth of experience performing to large audiences and TV shows all over the globe
Previous clients include; RAI 1, CHIN RADIO, Sanremo Festival, BBC1, TV2000 and many more
Based in Rome and available for worldwide bookings
An astonishing operatic duo who have fused opera music and pop hits to create operatic pop tracks that are elegant, sophisticated and contemporary. Our Italian opera singers WOW audiences with gorgeous classical voices that can create a tranquil atmosphere everywhere they perform.
An operatic duo who have blended the language of pop music with the experience of opera with a balance of powerful classical voices and an electrifying stage presence that creates breath taking performances that are a hit with all audiences. 
Opera singers who have an extensive wealth of experience performing their operatic pop music have performed all over the globe including TV and radio appearances for RAI 1, CHIN RADIO, BBC1, TV2000, Al Jazeera, TVAZTECA and many more international appearances. 
In addition to numerous TV and radio appearances our operatic duo have also been awarded 'The Marchigiani Year' National Award that celebrates their determination and commitment to their art. 
Our operatic pop duo have brought opera music into the 21st Century with their contemporary take on operatic performances that are highly entertaining and engaging yet still showcases their phenomenal classical voices. With a set list consisting of a variety of song choices from opera music to neapolitan and internationally renowned classical songs, our operatic duo have created a performance that provides audiences with a new means of experiencing classical and contemporary music. 
Opera singers who emit amazing chemistry both on and off stage are wonderful performers, perfect for weddings, gala dinners, corporate entertainment and any occasion that desires classical voices in a contemporary setting.
To book our versatile opera singers or for more information, contact our Entertainment Specialists today.