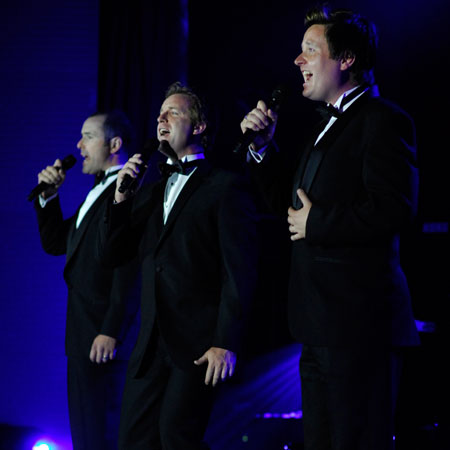 Popera Trio
Australasia's 'hottest and most vocally powerful new act'
Can perform opera to pop and swing at your corporate event
Blending the talents of some of Australia top musical theatre performers
Performing renditions of modern day classics from Il Divo and Michael Buble
Based in Australia and available to perform at events worldwide
Get ready for Australasia's 'hottest and most vocally powerful new act'! Dubbed Australia's answer to Il Divo, this Popera Trio are one of the best male operatic groups around. 
In the spirit of Il Divo, the three male performers live up to all expectations and deliver entertainment of the highest calibre! Their incredible brand of opera pop is the perfect way to entertain guests at at gala events, special occasions and corporate gatherings. 
It's not very often you get a chance to sit back and be entertained by three gorgeous guys with extremely beautiful and powerful voices singing some of the most stirring songs ever written. 
Blending the talents of some of Australia and New Zealand's top professional musical theatre performers who have performed throughout Asia, South Africa, Europe, Australia, New Zealand and London's West End, together they exude class and a pure vocal power that can't be matched. 
Performing spine tingling renditions of modern day classics from the likes Josh Groban, Il Divo, Andrea Bocelli and Michael Bublé, as well as some Rat Pack standards, our Popera Trio will be a huge hit with international audiences. 
Deliver the 'wow' factor to your corporate event with an entertaining, stylish and heartfelt vocal experience not to be forgotten.
Get in contact with our Entertainment Co-ordinators to find out more about booking this male operatic group for your next event! 
When You Say You Love Me – Josh Groban
Peter Allen Medley –
I Still Call Australia Home Tenterfield Saddler I Honestly Love You
Sway – Michael Buble
The Lady Is A Tramp
Nessun Dorma – Pavarotti
Music of the Night – Phantom of the Opera
Mama – Il Divo
New York New York – Sinatra
Bring Him Home – Les Miserables
You'll Never Walk Alone
Love Changes Everything – Aspects of Love
The Prayer
Hallelujah
You Raise Me Up – Josh Groban Il Divo
Josh Groban
Il Divo
Andrea Boccelli
Frank Sinatra
Pavarotti
Andrew Lloyd Webber
Michael Buble´
Peter Allen
RENDITIONS FROM ARTISTS
" Simply superb! We were all in awe of their amazing voices and they were undoubtedly one of the entertainment highlights of our event. "

Flight Centre, Australia
" We couldn't have wished for a more perfect group to entertain us all at our wedding. We're now your No.1 fans! Thank you. "

Susie Fenwick, Sydney
" It's a winning formula: great voices, excellent stage presence...and an wonderful combination of exquisite and powerful ballads. "

Otago Daily Times, New Zealand