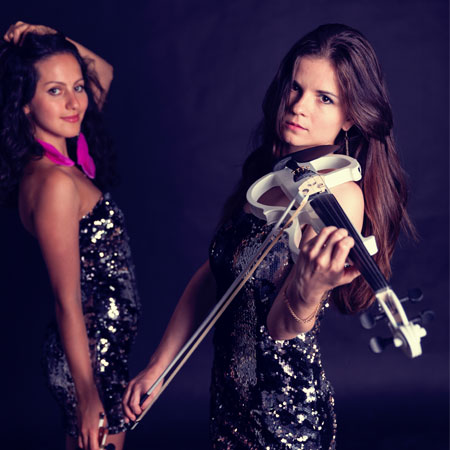 Russian Violin Duo
Super talented graduates from the world's leading conservatoires
A bright, theatrical show program on electronic or acoustic violins
Dynamic, energetic winners of many international competitions
Vintage violin artisans of the 19th century, covering a wide repertoire
Based in Moscow and available to perform at events worldwide
Russian Violin Duo PHOTOS
These beautiful and talented girls are graduates from the world's leading conservatoires, The Moscow Conservatory and the Gnesin Academy of Music and are vintage violin artisans of the 19th century. The duo are winners of many international competitions and perform their live music all over the world for private parties, weddings and large corporate companies.
A bright show program on electronic violins, with thematically selected costumes and spectacular stage movement, the violinists perform diversified music-copyright arrangements of classical and contemporary works made specifically for the duo violinists.
The duo can also perform as a solo or trio act, depending on the needs of the specific event. They choreograph their own moves to create an even greater, exciting stage presence and play and arrange for a wide variety of musical styles on both acoustic and electric instruments including, classical, jazz, folk, dance and pop.