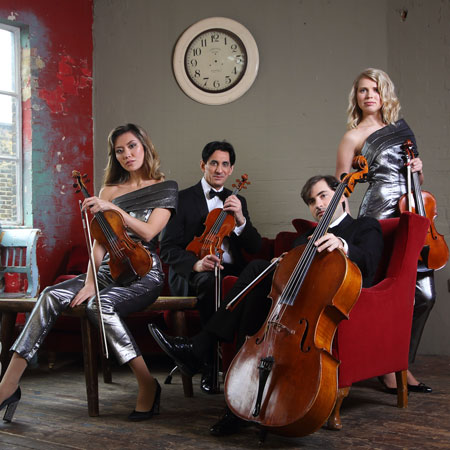 String Ensemble London
Amazing string quartet will provide your special occasion with outstanding live music entertainment
Professional string musicians can perform a vast repertoire of pop songs and classic masterpieces
Talented string performers will captivate guests both and young with their elegant soundtrack
Fantastic live music show ideal for gala dinners, wedding receptions, private parties, and more
Fun string ensemble available for booking across the UK and worldwide
String Ensemble London VIDEOS
String Ensemble London PHOTOS
If you're looking for an exceptional and unforgettable string ensemble to perform at your upcoming special occasion, then look no further than our skilled string performers who will put on a raving live music show that'll turn heads and capture the attention of your guests. Our talented ensemble of professional string musicians will delight and amuse audiences at your event with their amazing string act.
A fantastic live music show that will keep guests engaged and entertained, live music entertainment providing a song for everyone. Providing a sensational performance that'll bring an outstanding wow factor element to your event. 
Our fantastic string musicians offer the highest standards of musicianship and professionalism and have already performed at a variety of events, all to raving crowds that just couldn't get enough of our amazing string act. Providing a vast repertoire of classical pieces, pop covers, and more, our dedicated string quartet can provide a fully bespoke service and with given enough time can arrange one of your favourite songs that's not already included in their set list. A fantastic and versatile group of talented string performers can tailor their performance to fit most event themes and styles.
Our larger than life string act are professional musicians who have performed a variety of sessions that feature concert credits that are sure to help impress at your upcoming special occasion. Having performed at a vast host of prestigious and elegant venues that include The Dorchester, Leeds Castle, and The Grove Hotel. 
Their live music show can be provided in either a 60 minute performance, two 45 minute performances, or three 45 minute performances that are sure to leave guests with a host of unforgettable memories. They will fully tailor a string ensemble with just the right amount of musicians for your event.
Top Tip:
For a more modern performance option consider their Electric String Ensemble.
Contact our on hand team of entertainment experts here at Scarlett Entertainment if you're interested in booking our skilled string ensemble. Our amazing team of experts are looking forward to helping you with all of your booking needs.