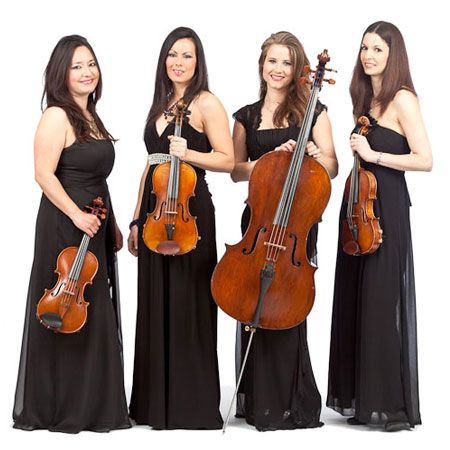 String Quartet London
Stunning female string quartet able to perform on acoustic or electric
Repertoire includes classical, pop, rock, bollywood, classical crossover
Performed at The Royal Albert Hall, Queen Elizabeth Hall, Bridgewater Hall
Previous clients inc BP, Turkish Airlines, Armani, Global Coal, RAF...
Based in London & available to perform at events worldwide
String Quartet London VIDEOS
String Quartet London PHOTOS
This London based String Quartet are a small collective group of professional musicians having studied at The Royal Academy of Music, The Guildhall School of Music and Drama, The Royal College of Music and The Royal Northern College of Music.
Their aim is to appeal to a wider audience performing music taken from their eclectic and extensive repertoire from Bach to The Beatles, Lady Gaga to Led Zepellin, Adele to Aerosmith, Baroque to Bollywood and much more. Not only do they play and perform to an exceptionally high standard, they can compose and arrange a variety of music for any occasion. Much of their repertoire is unique to their quartet which means they can provide an exciting programme of music whatever the occasion.
Their combined talent and varied performing experience has given them the opportunity and privilege to travel worldwide, touring extensively as individuals within the fields of TV, radio, orchestral and session, performing with the likes of Pavarotti, Leona Lewis, Take That, Il Divo, Andrea Bocelli, Sting, Rod Stewart, Westlife, Massive Attack amongst many others. They have played at many glamorous and prestigious venues such as The Royal Albert Hall, The Queen Elizabeth Hall, Bridgewater Hall, and the Barbican.
The String Quartet can be hired to play for any occasion grand or intimate playing on classical or electric instruments, and if required they can accommodate tighter budgets by offering an alternative set up of: Trio, Duo or Solo  Wedding Violinist. Their extensive Repertoire includes a number of Classical, Jazz, Latin, Rock, Contemporary Pop and also a few Bollywood songs unique to their quartet and would make a perfect soundtrack to your day.
Air (On a G-String) J.S Bach *
Amazing Grace arr.M.Naughtin
Anniversary Waltz Dubin/Franklin arr M.Naughtin
Arioso J.S Bach arr. Latham
Ave Maria Franz Schubert
Bridal Chorus Wagner
Entrance of the Queen of Sheba Handel *
Jesu Joy of Man's Desiring J.S Bach *
Largo from "Winter" Vivaldi
Minuet (water music suite) Handel arr. M.Naughtin
Ode to Joy Beethoven arr. Latham
Rondeau Jean Joseph Mouret
Sleeping Beauty Waltz Tchaikovsky arr.Latham *
Traumerei Schumann arr.Latham
Trumpet Voluntary Jeremiah Clarke
Wedding March Mendelssohn
Wedding song "There is love" arr. M.Naughtin
Act III Carmen G. Bizet
Adagio cantabile (from pathetique sonata) Beethoven
Air on a G String - Bach
Andantino(La Forza del destino) Giuseppe Verdi
Arioso Bach
Barcarolle - Offenbach *
Blue Danube waltzes Strauss
Brandenburg Concerto No.2 Bach
Caprice Viennois F. Kreisler
Che Galida Manina Puccini
Clair de Lune Debussy *
Danse Des Mirlitons Tchaikovsky
Divertimento in D Mozart
Duet from the Peartl Fishers - Bizet *
Fantasy in D - Mozart *
Golden Earrings Naughtin
Gypsy Life Victor Herbert
Hoe Down from Rodeo Aaron Copland
Hungarian dance No.10 Brahms
Hungarian dance No.2 Brahms
Hungarian dance No.3 Brahms
Hungarian dance no.5 Brahms *
Hungarian dance No.7 Brahms
Larghetto (serenade in E minor) Elgar
Largo (New World Symphony) Dvorak
Meditation (Thais) Massenet *
Midnight Bells waltz F. Kreisler
Musetta's waltz G. Puccini
Nimrod (Enigma Variations) Elgar
O Mio Babbino Caro - Puccini *
Pavane Pour infante defunte M. Ravel
Prelude No.2 Gershwin
Richard Rodgers waltzes suite for strings Naughtin
Romanza Andaluza Sarasate
Rumanina Folk Dances Bela Bartok
Saturday Night Waltz Aaron Copland
Simple gifts Naughtin
Sonata no.4 in D Handel
Tales from the Vienna Woods Strauss
Tango Albeniz
The girl with the flazen hair (Carmen) G. Bizet
Three Gymnopodies Eric Satie
Vilia F. Lehar
Waltz from symphony no.8 in G Dvorak
Waltzes from Der Rosenkavalier Strauss
Wiener Blut Strauss
All I ask of You (from Phantom) - A. Lloyd Webber
Annie (highlights) - Strousse
As time goes by - Hupfeld
Autumn Leaves
Begin the Beguine - Porter
Blue Moon
Cabaret
Come in from the rain - Manchester
Danzas Argentinas No.2 - Ginastera
El Choclo (Tango) - Villoldo
Evergreen - Streisand
Feelings - Albert
For just a moment (St Elmos fire) - Foster
Gabriels Oboe (from the film The Mission by Ennio Morricone)
Goodbye to Love - Carpenter
Hello Dolly
I Got Rhythm - Gershwin
If You Could Read My Mind - Lightfoot
It had to be You
Jeeves & Wooster jeeveswooster.mp3
Laura - Raksin
Looney Tunes Fugue - Naughtin
Love theme from Godfather - Rota
Maple Leaf Rag *
Memory (from Cats) - A. Lloyd Webber
Misty - Garner
My Heart Will Go On (Titanic) - Horner
New York New York - Kander
One hand one heart
Over the Rainbow - Arlen *
Por Una Cabeza (Scent of a woman tango) - Gardel *
Romeo & Juliet love theme - Rota
Smoke gets in your eyes *
Somewhere (West Side Story) - Bernstein
Spread a little Happiness
Stormy Weather - Arlen
Summertime (Gershwin)
Tanguedia III - Piazzolla
The Orange Blossom Special - Rousse
Theme tune - Gladiator (Now we are free)
Tico Tico - Abreu
What are you doing the rest of your life? - Legrand
When I fall in Love
You're the Inspiration - Foster
AC/DC medley
At Last*
Back in the U.S.S.R
Because of You - Kelly Clarkson
Bittersweet Symphony (The Verve) *
Blues Brothers medley
Bridge Over Troubled Water - Simon & Garfunkel
C'era Una Volta in America - Ennio Morricone
Closest Thing To Crazy - Katie Melua
Day Tripper - Beatles
Dream On - Aerosmith
Eleanor Rigby - Beatles
Fade To Black - Metallica
Fix You - Coldplay
Good Vibrations - Beach Boys
Have I Told You Lately - Van Morrison
Heard it through the grapevine
Here Comes The Sun - Beatles
Hoppipolla - Sigur Ros *
Hymn - Bond
I Gotta Feeling - Black Eyed Peas
Imagine - Beatles
Joga - Bjork
Kashmir - Led Zeppelin
Kismet - Bond
Lately - Stevie Wonder
Libertango - Piazzolla
Lilac Wine - James Shelton
Make You Feel My Love - Adele *
Michael Jackson Medley
Money - Pink Flloyd
Moondance - Van Morrison
Mrs Robinson - Simon & Garfunkel
Nothing Else Matters - Metallica
One Day Like This - Elbow *
Only Time - Enya
Paint It Black - Rolling Stones
Pretty Woman - Roy Orbison
Requiem for a Dream - Lux Aeterna
Set Fire to the Rain - Adele
She - Elvis Costello
Smoke gets into your eyes *
Songbird - Eva Cassidy
Stand By Me - Ben E King
Storm - Vivaldi
Sweet Child O' Mine - Guns n Roses
The Greatest Love of All
The Power of Love - Huey Lewis
The Unforgiven - Metallica
Theme tune - Gladiator (Now we are free)
Tik Tok - Kesha
Touch the Sky - Kanye West
Truly - Richie
Vivo Per Lei - Bocelli
Walking on Sunshine - Katrina and the Waves
We Found Love - Rhianna
When a Man loves a Woman - Percy Sledge *
When I'm sixty four - Beatles
Wind Beneath My Wings - Bette Middler
Winner takes It All - ABBA
Yellow - Coldplay
Yesterday - Beatles
You Raise Me Up - Josh Groban
Your Song - Elton John
Zombie - Cranberries
Drowsy Maggie/Cooley`s Reel - Traditional Irish
Fix You - Coldplay *
Grenade - Bruno Mars *
Hoppipolla - Sigur Ros *
James Bond medley
Michael Jackson medley
One Day Like This - Elbow
Paint it Black - Rolling Stones
Paparazzi - Lady Gaga *
Queen medley
Set Fire to the Rain - Adele *
Stairway to Heaven - Led Zeppelin
Sweet Child O'Mine - Guns 'n Roses
The Show Must Go On - Queen
Viva La Vida - Coldplay
Balle Balle (Pride and Prejedice)
Ghar aaja sonja (from Shazia Mansoor)
Kabhie Kabhie *
Kal ho na ho – theme tune
Mera Joota Hai Japani
Na tum Hamein Jaano
Teri Ore
Tum Dilki
Alleluja from "Exultate Jubilate" Mozart arr. Latham
Andante (piano concerto no.21) Mozat arr.Latham
Aria from "Xerxes" Handel
Ave Maria Bach/Gounod arr. M.Naughtin *
Ave Maria Schubert arr. M.Naughtin
Canon Pachelbel *
Hornpipe (water music suite) Handel arr.M.Naughtin *
La Rejouissance from The Royal Fireworks - Handel *
Liebestraum Franz Liszt
Ninveh W.Daniel arr M.Naughtin
Panis Angelicus C.Frank arr. Latham *
Sheep may safely graze J.S Bach arr. Latham
The Lords prayer A.H Malotte
Trumpet tune Henry Purcell
Wachet auf J.S Bach arr.Latham
Wedding March Wagner
Wedding Suite arr M.Naughtin
Act IV Carmen G. Bizet
Adagio for strings (theme from Platoon) Samuel Barber
Allegro from Spring (The Four Seasons) - Vivaldi *
Anna's Minuet Bach
Ave Maria arr Cecilia Weston
Belle Of The Ball (waltz) L. Anderson
Bolero Ravel
Brandengurg concerto No.3 Bach *
Chanson de Matin Elgar *
Chopin Waltzes Naughtin
Czardas from Die Fledermaus Strauss
Danube waltzes (Anniversary waltz) J. Ivanovici
Divertimento in F Mozart
Eine Kleine Nacht Musik in G Mozart *
Flower Duet from Lakme - Delibes *
Golliwogs Cakewalk Debussy
Habanera from Carmen G. Bizet
Hungarian dance No.1 Brahms
Hungarian dance no.11 Brahms
Hungarian dance No.21 Brahms
Hungarian dance no.4 Brahms
Hungarian dance No.6 Brahms
Intermezzo from Cavalleria Rusticana - Mascagni *
Largo (concerto for 2 violins) Bach
Liebesfreud F. Kreisler
Menuet (Le Tombeau de Couperin) M. Ravel
Minuet from Sprint Quintet no.11 - Boccherini
Nessun Dorma Puccini
Offenbachiana Naughtin
Pavane Faure *
Polovtsian Dances Borodin
Rhapsody on a theme of Paganini Rachmaninoff
Romance Shostakovich
Rondo Alla Turka *
Salut D'Amour - Elgar *
Schon Rosmarin F. Kreisler
Son of the Puszta Bela Keler
Symphony No.25 in G minor - Mozart *
Tambourin Chinois F. Kreisler
The girl with the flaxen hair Debussy
The Great Waltz (sleeping Beauty) Tchaikovsky
Two hearts R. Stolz
Vocalise Rachmaninoff
Waltz Suite from Die Fledermaus Strauss
Waltzes from Merry Widow F. Lehar
Tv and Film
America from West Side Story - Bernstein
Anything Goes
Ashokan Farewell - Ungar
Bachianas Brazileiras No.5 - Villa Lobos
Big Spender - From sweet charity
Blue Tango - Anderson
Chicago - Fisher
Country Medley - (trad.)
Do It Again - Gershwin
Embraceable You - Gershwin
Fawlty Towers
Fly me to the moon
Forgotten Dreams - Anderson
Getting sentimental over you
Heard it through the grapevine
I feel Pretty (Wet Side Story) - Bernstein
I Love Paris - Porter
In the Mood - Garland
Jalousie (Tango) - Gade
La Bamba - trad.
Leaving on a jet plane - Denver
Lord Of The Dance - trad Irish
Manha de Carnaval - Bonfa
Maria (West Side Story) - Bernstein
Mission Impossible (Theme tune funked up quartet remix)
My Funny Valentine - Rodgers
Natal variations (happy birthday) - Naughtin
Noites Cariocas - Bandolim
One hand one heart (West Side Story) - Bernstein
Pink Panther - Mancini
Red Sails in the sunset - Williams
Send in the clowns - Sondheim
Someone to watch over me - Gershwin
Spanish flea
Stardust
Suddenly - Diamond
Tango - Albeniz *
The music of the night (Phantom) - A Lloyd Webber
The summer knows (summer of 42) - Legrand
Theme tune - Rocky
Tonight (West Side Story) - Bernstein
What's new? - Haggart
You light up my Life - Brooks
A Hard Day's Night - Beatles
All You Need Is Love - Beatles
Babe I`m Gonna Leave You - Led Zepellin
Bad Romance - Lady Gaga
Big Spender - From sweet charity
Black Dog - Led Zepellin
Bohemian Rhapsody - Queen
Can You Feel the Love Tonight - Elton John
Chasing Cars - Snow Patrol Clocks - Coldplay
Crown of Love - Arcade Fire
Don`t know Why - Norah Jones
Dust In The Wind - Kansas
Explosive - Bond
Fields of Gold (Sting) *
Gabriels Oboe - from the film The Mission by Ennio Morricone
Goodbye Yellow Brick Road - Elton John
He`s a Pirate - pirates of the Carribean
Hello - Lionel Richie
Hey Jude - Beatles
House of the Rising Son - Animals
I Feel Good - James Brown
I`ll Stand By You - The Pretenders
Is This The Way to Amarillo
Just the Way You Are - Bruno Mars
Killing me Softly - Fugees
Lady in Red - Chris de Burgh
Layla - Eric Clapton
Light My Fire - Doors
Lord Of The Dance - trad Irish
May It Be - Enya
Mission Impossible (Theme tune funked up quartet remix)
Money Money Money - ABBA
Mr Brightside - The Killers
Night Swimming - R.E.M
Oblivion - Piazzolla
Only Girl In The World - Rhianna
Over the Rainbow - Arlen *
Palladio - karl Jenkins
Purple Haze - Jimi Hendrix
Satisfaction - Rolling Stones
Sex On Fire - Kings of Leon
Smells Like Teen Spirit - Nirvana
Someone Like You - Adele
Spread a little Happiness
Starlight - Muse
Sunny Afternoon - The Kinks
Take Five - Dave Brubeck
The Medallion Calls - Pirates of the Caribbean
The Prayer - Bocelli
The Universal - Blur
Theme tune - Rocky
Titanium - David Guetta
Toxic - Britney Spears
Viva La Vida - Coldplay
Waiting in Vain
Waterloo - ABBA
Whatever - Oasis
When I fall in Love
Whole Lotta Love - Led Zepellin
Wind of Change - Scorpions
Wonderwall - Oasis
Yellow Submarine - Beatles
You Are So Beautiful - Christina Aguilera
You`re the First the Last My Everything - Barry White
You're Beautiful - James Blunt
Chasing Cars - Snow Patrol
Explosive - Bond
Foxey Lady - Jimi Hendrix
Here Comes the Sun - The Beatles *
I Feel Good (I Got You) - James Brown *
Jeeves and Wooster
Moondance - Van Morrison
Only Time - Enya *
Palladio - Karl Jenkins *
Purple Haze - Jimi Hendrix
Rolling In The Deep - Adele *
Sex on Fire - Kings of Leon
Storm - Vivaldi
Sweet Dreams (are Made of This) - Eurythmics
Toxic - Britney Spears
Aye ho meri zindagi me
Chura liya Hai Tumne *
Kabhi Alvida Na Kehna
Kabootar Ja Ja Ja (from the film "Maine Pyar Kiya" )
Maula Mere Maula
Monsson Wedding
Pardesi Pardesi
Tujhe Dekha To Ye
Global Coal
Turkish Airlines
RAF
Outlook
Capital Connexion
Landrover
Preston Motorpark
Crazy Bear Stadhampton
The Waldorf Hotel, Aldwych, London
Roast restaurant, Borough Market, London
Wentworth Golf Club, Virginia Waters
Stringfellows nightclub
RAF Lyneham
Holiday Inn, Bromsgrove
The Guildhall, Windsor
Celtic Manor, Newport
Waddesdon Manor, Aylesbury
Great Barn - Ruislip
Fawsley Hall, Daventry
Sudeley Castle, Cheltenham
Womens Institute - Mayfair
Bushey Hall Golf Club - Bushey/Watford
The Barn Hotel - Ruislip/London
Painshill Park - Cobham/Surrey
Stoke Place Hotel - Bucks
Buckland Tout Saints Hotel - Kingsbridge/Devon
Star and Garter - Putney
Pembroke Lodge - Richmond Park/Surrey
Parklands - Quendon/Essex
High Rocks - Tunbridge Wells
Braxted Park - Essex
Harte & Garter, Windsor
Monkey Island Hotel, Bray
Mayfair Hotel, Piccadilly
Stoke Poges Golf club
Royal Courts of Justice, London
Hawkswell House, Oxford
The Ashes, Staffordshire
Tylney Hall Hotel, Hampshire
The Fennes - Essex
Channels Golf Club - Essex
Owlpen Manor - Gloucestershire
Savill Court - Egham/Surrey
Agorra Group
UEA Law Society
Brighton Interspeech
Shining Wit
BP
Armani
Banqueting Hall, Whitehall, London
Bluebird restaurant, Chelsea, London
Brighton Conference Centre
Hilton Hotel, Park Lane, London
Denham Country House, Buckinghamshire
Emporium Club, London
Dunstan Hall, Norwich
Halswell House, Somerset
Christopher Wren Hotel, Windsor
Clivedon, Buckinghamshire
Oracle - Reading
Alexander House Hotel - East Grinstead
Squerryes Court - Westerham/ Kent
Bury Court, Hampshire
Wroxall Abbey Estate - Warwickshire
Notley Abbey Hotel - Bucks
Aynhoe Park - Oxfordshire
Coombe Abbey Hotel - Warwickshire
Berystede Hotel - Berkshire
Hedsor Hall - Taplow
Thrumpton Hall - Nottinghamshire
Sketchley Grange Hotel - Leicestershire
Dodmoor House - Northamptonshire
Foxhills - Surrey
Highclere Castle, Newbury
Luton Hoo hotel
Mandarin Oriental, Knightsbridge
Pendley Manor hotel, Tring
The Watermill, Hemel Hempstead
RAC, Epsom
Hengrave Hall, Suffolk
Tuddenham Mill, Norfolk
Kilworth House, Leicestershire
Thistle Hotel - Brands Hatch
Caswell House - Brize Norton
Lainston Hotel - Winchester
St Michaels Manor hotel - St Albans
" Thanks for doing a wonderful job at my wedding on the 15th October at Whipsnade Zoo. Myself and the other guests thought that you were outstanding. I hope to be able to hire you again in the future. "

Priya
" Thank you so much for all your help in making Vishal and my wedding day a real day to remember! We were so happy with how smoothly everything went and how all your hard work paid off. The day went so smoothly, and so many of our guests have commented on how much they enjoyed it - each and every one of you have had special mentions from various friends and family. I think that's it for most of us, but I'm sure our paths will cross at future events and I look forward to speaking with you all soon. "

Mandira
" Thank you so much for the amazing 3 hours of play that you 4 did at our wedding at How Caple Court, you were all absolutely fantastic and so beautiful and talented. Our guests absolutely loved you and your play list and you were worth every penny. Thank you also for writing the halo song ready for the day it was lovely and made our day into the perfect day. "

Sian and Dan
" I just wanted to take the opportunity to thank the String Quartet for playing at our wedding on 30th June. Unfortunately, I didn't get the opportunity to speak to the ladies on the day, but I loved the music that was played during our ceremony and received many comments throughout the day about the fantastic music they played. It was also a pleasure to know that the quartet were entertaining our guests whilst we were having photo's taken and continuing through till the wedding breakfast. Please pass on our thanks to the ladies who played. They really helped to make our day and I wish I had a copy of the music which helped make my wedding ceremony so magical! it makes me smile just thinking about it. "

Lindsay and Steve
" I just wanted to drop you a quick line to say thank you so much for playing at our wedding on 19th May 2012 at Monkey Island. You were all really amazing and the music was wonderful both during the drinks reception and during the wedding breakfast. Sorry I didn't even get a chance to say hello but as you can imagine it was a bit mad and I always had to be somewhere! That didn't stop until about 9pm. I did notice that our flower girls took a shining to you and someone even told me you were doing requests from them!? "

Anita
" Everything was perfect, excellent range of diverse music was offered and very well played. The performers were attired perfectly and all our guests were impressed, things could not have been better, so congratulations all round. "

Luigi. Private dinner party in Mayfair, London.
" We were incredibly happy and were very impressed with the quality of the String Quartets performance. They certainly did live up to our expectations and our guests thoroughly enjoyed them too. "

Charmian Scott
" I just wanted to email you and say a big thank you for playig our wedding reception. The response I have had from my friends has been amazing and everyone loved it. It made the start of our reception both romantic and original. A few times I had to wipe tears from my wife and friends as it was such a magical moment when we walked in. You guys were incredible, and people are still talking about this now. Thanks again. "

Olly, Maida Vale (Wedding at the Amadeus Centre) 2011
" We would both like to say a very big thank you, to you and the other three members of the String Quartet for helping us make our wedding so special. Your performance was truly amazing and fitted in so perfectly with everything we`d organised. We weren`t the only ones to think that, so many of our guests have commented on your performance, and they`re still talking about how fantastic you all were. You certainly exceeded our expectations. You are all incredibly talented and professional musicians. "

Best wishes, Stuart and Leanne. 2011
" The String Quartet are as aesthetically impeccable as they are musically talented. They provided a soundtrack which was perfectly matched to the venue and nature of our event with a mix of modern music, seasonal tunes and accessible classics. Highly recommended. "

J.Webb, Mayfair hotel, London, Dec 2010
" Hope your all well. Just wanted to say thank you for playing at our wedding on the 8th October. You played beautifully and everyone was so impressed, we loved it!! Would definitely recommend you for any future events, thank you again! "

Lucy and Kev
" The String Quartet performed very well indeed and wowed our audience. They were really lovely people to work with. Lots of very appreciative comments received from my guests. "

G. Sanderson
" They were excellent, very professional, looked great and played really good music. They completed our wedding day perfectly and I wouldn't have changed anything. I would definitely recommend. Thank you. "

Amy
" Just a quick note just to say thank you so much you were amazing and so many of our guests commented on how wonderful you were. It was very important to us to have good entertainment and we couldn't of asked for anything better. Once again thank you so much and sorry about the singing!!! Thank you for everything. "

Amber and Daniel, Sept 24th 2010
" We'd just like to say how perfect you made our whole day (even if it was a little damp at first!). Everyone commented on your fantastic abilities and I understand you even had a few dancers on the stage area in the Long Room, courtesy of Karens' 84 year old Grandad! Sorry we didn't get a further chance to speak to you, but thanks again for performing so perfectly and making our wedding day a day we will never forget. "

Best Regards, Adrian & Karen, Aug 14th 2010
" Thank you girls for providing a beautiful background to our corporate event. Professional, unobtrusive and accomplished musicians. "

Stephanie, 29/10/09
" The String Quartet braved the snowy conditions and completed our winter wonderland wedding. The music was perfect, the presentation was beautiful and they helped to make our day very special. "

Steph
" Thank-you so much for playing at our wedding, you made the day so special, the guests are still talking about how wonderfully you played and how it gave our wedding the feel of class. Your rendition of the Metallica song was outstanding and gave our first dance that extra edge. You were an integral part of our wedding day and we and our guest's will never forget our big day. "

Thank you Mr & Mrs S Woodhill
" When organising our annual Law Society Christmas ball, we knew that we needed that something special to create the 'wow' factor we were aiming for; the String Quartet did not fail to impress! The girls- dressed beautifully in their finery- played a selection of songs and melodies (including some well received 'Beatles' numbers!) throughout our three-course dinner, and really helped to create the magical ambience we were hoping to achieve. I would most definitely recommend the String Quartet to anyone organising a special occasion, and would like to thank them for making our ball so perfect! "

Anwobo - c/o UEA Law Society
" The String Quartet provided a short programme of music for the introductory session at our conference. Despite booking them at short notice they found time to consult with us about a suitable choice of music, make suggestions and come up with 3 pieces that fitted our needs. They were reassuringly professional in all aspects of the arrangements and on the day they performed beautifully. Our delegates were delighted. "

A.Barney (Brighton Interspeech 2009)